One Marine killed, six hurt in training crash at Camp Pendleton; second fatal crash since April
One Marine was killed and six others were injured Thursday when a light armored vehicle rolled over during training at Camp Pendleton in Southern California, U.S. military officials said. It was the second fatal crash to occur at the military base since last month.
The seven Marines were a part of the 1st Light Armored Reconnaissance Battalion, 1st Marine Division and were conducting training exercises at the camp located north of San Diego around 9 a.m. when their vehicle rolled over. The identity of the deceased Marine will not be released until 24 hours after the next-of-kin are notified, as per Defense Department policy.
MARINE KILLED, 2 OTHERS INJURED IN CAMP PENDLETON TACTICAL VEHICLE ACCIDENT
"This is a tragic event and our thoughts are with the family, friends, and unit at this difficult time," 1st Lt. Cameron Edinburgh, a division spokesman, said in a statement. The six other Marines involved in the crash were transported to a local hospital and were not seriously injured, officials said.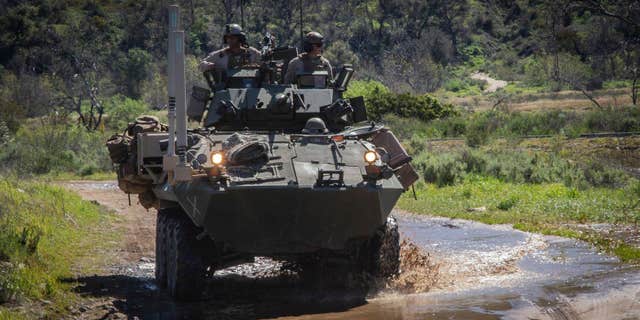 The cause of the crash is under investigation. The type of vehicle was not immediately disclosed.
In April, a 29-year-old One Marine Raider died following a similar type of incident at Camp Pendleton. Staff Sgt. Joshua Braica from Sacramento, Calif., suffered critical injuries when his Polaris MRZR, an all-terrain tactile utility vehicle, flipped over during training exercises.
CLICK HERE TO GET THE FOX NEWS APP
Braica was transported to Scripps Memorial Hospital in La Jolla, Calif., where he died the next day, Marine Corps Times reported. He was a critical skills operator with the 1st Marine Raider Battalion and was an eight-year veteran. Two other Marines had minor injuries after the crash, which was also under investigation.
The Polaris MRZR is expected to age out of service in the 2030s and has been in the fleet since the 1980s, the publication said.
The Associated Press contributed to this report.