1 dead, 6 injured as blaze engulfs building in San Francisco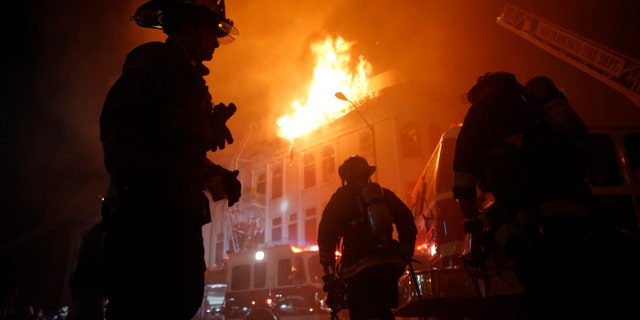 A massive four-alarm fire in San Francisco at a residential building has left one dead and six others injured, fire officials say.
A man was pronounced dead at the scene as a blaze engulfed a building in the city's Mission District Wednesday night. Four people were taken to San Francisco General Hospital with smoke inhalation and burns, the San Francisco Chronicle reports.
Firefighters rescued 12 people from the burning building, including six people struck on a fire escape. Others were rescued after hiding from the flames and the smoke in interior stairwells, the paper reports.
The smoke started at around 7 p.m. with more than 100 firefighters responding to the call. The smoke could be seen for miles.
A neighbor told The Associated Press that families live on the third floor of the building, while offices occupy the second floor. The ground floor houses restaurants, including a Popeye's.
The Associated Press contributed to this report