Rangers advise Americans to stay safe as record numbers flock to national parks
Got your map? How about a compass? Whatever you carry, make sure not to depend on your smartphone in a national park. Cell service can be spotty or even nonexistent, which means your phone may be useless if you get lost or hurt on the trail.
"The biggest mistake visitors make is thinking if they have a smartphone, they'll be safe," said John Kelly, a public affairs officer at Acadia National Park in Maine.
Since mistakes like that contribute to injuries, it may be getting harder for rangers to keep visitors safe this year, as record numbers are arriving to celebrate the National Park Service's centennial year.
The park service predicts 10 million more Americans will visit national parks this year, topping last year's record attendance of 307 million. AAA reports that 79 percent of Americans and nearly half of millennials it surveyed said they are likely to visit a national park in the next 12 months.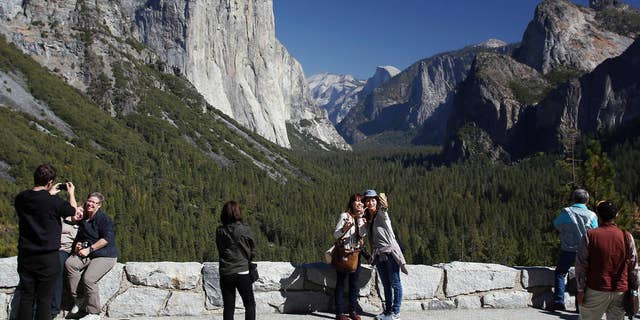 That's a good thing for America's national park system-- but many of those visitors aren't aware of or fail to prepare for the risks associated with the outdoors. And even those who do prepare may not pay sufficient attention to their surroundings. That, national park spokesmen say, is the leading cause of injuries and deaths. There were 164 fatalities and 1,184 injuries across the National Park Service in 2014, the last year such numbers were available.
The majority of accidents are related to driving, hiking and water activities, said National Parks Service spokeswoman Kathy Kupper.
"People get really excited and forget this is a wild place," said Jamie Richards, public affairs officer for Yosemite National Park in California. "You get people climbing over railings to get closer to the waterfalls … Those railings and barriers are there for your safety."
A few years ago, three young hikers died after one climbed over a railing at Yosemite's Vernal Falls, and the others attempted a rescue. All three were swept over the falls.
This past June, a 23-year-old man died in Yellowstone National Park after he left a boardwalk where tourists are required to walk and fell into a scalding hot acidic spring.
And a few weeks later, just hours after a young woman posted a photo of herself at the edge of the Grand Canyon on Instagram, she fell 400 feet to her death when she apparently moved out of the way of hikers on the narrow trail.
Many National Park Service spokesmen don't think trying to take selfies is necessarily making visitors less safe, unless they are disregarding safety protocols to do so.
Another concern, Richards says, is that some visitors don't consider their fitness levels or ask enough questions before heading out.
"There is no shuttle bus to bring you back from the top of the mountain," she said.
Another is parents who let their kids race ahead on a trail. Kyle Patterson, spokesman for Rocky Mountain National Park in Colorado, suggests keeping everyone together, giving older kids their own trail maps and having the kids mark a specific trail on their own maps.
And don't even think of going on a hike without carrying sufficient water. Many people don't realize that dehydration can lead to very serious repercussions – even death. A tip: Consider the CamelBak All Clear water bottle, which purifies stream water in a minute using UV technology.
Hikers also don't always think about the wearing proper footwear. "Flip-flops on any trail is not good," said Kelly.
The chances of dying in a national park are very slim, but an injury or mishap can derail a vacation and demand many hours from search and rescue teams. "We are seeing an increase in injuries and search and rescue incidents this year due in part to unsafe behavior on the part of visitors," Crater Lake National Park posted July 27 on Facebook and shared more than 650 times.
The experts offer some safety tips for visitors:
--Use free park shuttles to lessen traffic and help prevent car accidents.
--Keep a safe distance — at least 25 feet — from animals. Those squirrels and deer may look cute, but they are wild.
--Stay out of fast water. "Rushing streams in the park can be dangerous so don't get in the water — ever," said Patterson. "The fast water is very powerful and can knock you over even if you are just wading."
--Tell someone where you are going and when you expect to return, so they can alert authorities if you're not back at the expected time.
--If a problem arises, you can help rangers find you – or your lost child – by "hugging a tree" and staying where you are. One person can head down the trail to alert authorities and, along the way, ask passing hikers to report a missing child or an injury.
--Carry a first-aid kit. (I learned this the hard way in Joshua Tree National Park when one of my kids fell into some thorny cacti.) Christina Tunnah, the regional manager for the Americas at World Nomads, which supplies travel insurance and travel safety advice, suggests the kit should contain gauze, bandage tape, disinfectant, tweezers (for tics and splinters), scissors, cotton buds, etc. Bee sting ointment, bug bite spray and antihistamine pills and cream are also good bets — as well as a few lollipops or hard candies to ease the pain.
Especially for kids, Tunnah said, "If there is a mishap on the trail, nothing soothes tears, pain and fear better than candy. "
The most important tip: Use common sense. Now where is that trail map?