France launches terror alert app ahead of Euro 2016 soccer tournament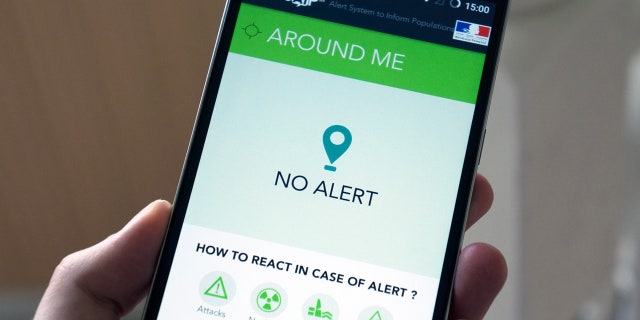 NEWYou can now listen to Fox News articles!
Traveling to Europe this weekend for Euro 2016 but worried about staying safe?
There's an app for that.
This week, the French government released the SAIP app (Système d'Alerte et d'Information des Populations or Alert System and Population Information) that provides real-time security alerts--making use of the phone's geo-location--safety tips, and emergency information in French and English. Launched through the French Ministry of Home Affairs's, it's available for iOS and Android.
But downloading an app is just one of several measures tourists can and should take before joining in the fun of the Euro games.
On May 31, the State Department issued a Europe Travel Alert, warning Americans about "the risk of potential terrorist attacks throughout Europe, targeting major events, tourist sites, restaurants, commercial centers and transportation." The alert specifically mentioned the monthlong soccer tournament (think of it as the World Cup of Europe) that will take place in 10 cities in France beginning June 10.
On Monday, the United Kingdom's Foreign Office issued a similar warning, stating that "stadiums, fan zones, venues broadcasting the tournament and transport hubs and links represent potential targets for terrorists," and warning fans to be "vigilant at all times."
But the games will be played nonetheless. So if you're planning to be there, here's what you should know.
First of all, go.
Don't cancel your plans, says retired U.S. Navy Vice Admiral Robert Murrett, who's currently a faculty member at the Maxwell School of Syracuse University and deputy director of the university's Institute for National Security and Counterterrorism.
"For certain parts of the world there are definitely high-threat areas, and the State Department does a good job of telling people that we do not recommend you go there," said Murrett, who lived in Europe in the 1980s, when the continent was battling homegrown extremism.
"This is just an advisory for people to do things that are prudent. I would have no reluctance at all for going to France for the Euro 2016 soccer tournament — and, for that matter, just about any place else in Western Europe. I'm sure in this case the French will be providing terrific security."
The State Department concurs with Murrett in its Country Reports on Terrorism 2015. "In general," it says, "France has advanced law enforcement capacity to combat terrorism and sufficient information sharing at the domestic level."
Be comfortable with the risk
If the potential threat, however remote, gets in the way of your enjoyment, consider adjusting your plans.
Tara Cannon, founder of the Pint Size Pilot family travel blog, planned to attend two games in Paris with her soccer-loving husband and their two children, but they adjusted their plans after the terrorist attacks there last November. Now Cannon's husband will go to Euro 2016 alone, while she and the kids enjoy Paris' other attractions.
"It felt selfish to be taking them to an event that a) they were not terribly interested in attending, b) has an elevated risk associated with it and c) they have no say in," Cannon said.
"While the risk of something terrible happening is probably very slim, I don't know how you reconcile that if something does go sideways. Better the one true fan [my husband] attend on his own. He's an adult who can competently assess the risk."
Avoid being singled out as a citizen of the U.S. or one of its allies
The U.S. has enjoyed favorable relationships with most European nations for years but Murrett says now isn't the time to be parading around in your post patriotic attire. Avoiding wearing clothes or accessories that scream "I'm from the U.S." Even if July 4th is just around the corner.
"I think the important thing is just not put yourself in a position where you're going to make it easy for them to target you," Murrett said.
Know your environment
Be aware of where you are and keep your eyes open for anything unusual. Follow the news (especially English-language local outlets), local advisories and social media. "Those kind of precautions apply any place in the world," Murrett said.
Sometimes it's easy to get caught up in the excitement of a game or event, so in the morning, before you leave your hotel for the day, set a phone alert to remind yourself to periodically check the news.
Airbnb also alerted Cannon to two Twitter accounts to follow: the French Ministry of Home Affairs (@Place_Beauvau) and the Paris Préfecture de Police (@prefpolice). They're in French but any updated can be translated through Google. For the duration of your stay for Euro 2016, set up push notifications for when either account Tweets. Also, Airbnb's email pointed out that, "In the unlikely event that you need to contact emergency services, 112 is a free phone number that connects to local emergency services across Europe."
Murrett also recommends monitoring the State Department website for time-sensitive advisories and threat situations. This information is also available on the State Department's Smart Traveler app for iOS and Android.
Avoid disturbances
"If there is any commotion of any type that you see, try to not get involved in it, unless you're in a position to help," Murrett said, citing the three U.S. servicemen who thwarted a terrorist attack on a train in France last year. But any effort to help needs to be balanced with the need to defend yourself.
To minimize his chance of being near a disturbance, Cannon said her husband will take taxis to the games rather than ride the Metro.
Be prepared
In the event something does happen, stay in touch with your family. As part of my pre-departure packing routine, I use the free online travel organizer TripIt to map out my itinerary and share it with my wife and parents, so they'll know where I am. If I revise my plans, all I need to do is update TripIt, and my family will have access to the changes.
Murrett advises registering your trip with the State Department's Smart Traveler Enrollment Program, which informs the nearest U.S. Embassy or consulate about your plans.
But he also emphasizes that he sees no cause for alarm. On Monday, Ukraine's intelligence agency announced the arrest of a man who was planning a terrorist attack at Euro 2016, which Murrett said "is actually a good sign."
"The fact that the threat was there could be taken as a negative, but, on the other hand, the very effective response by the French authorities in taking this organization down and confiscating all the arms that were associated with a potential attack is actually kind of a vote of confidence, and a pretty good example of how the French — who are very capable in these things — are responding to it."