Airline Industry Seeks Less Hassle for Passengers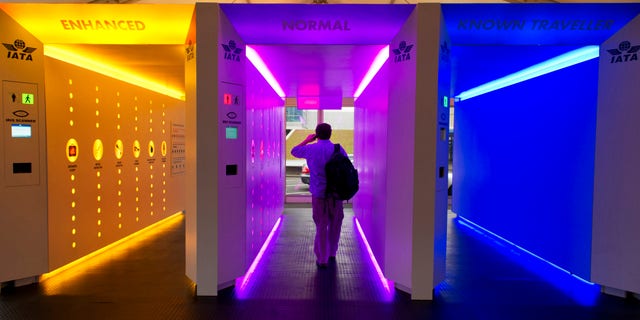 AMSTERDAM-- The airline industry presented a model of its vision for the future of check-in security on Tuesday, including high-tech color-coded scanning corridors and what they said was the use of risk assessment techniques to ease the burden of airport security for the common traveler.
Airline passengers will get to keep their shoes on and their bags in their hand -- toothpaste, nail clippers, laptops and all -- as they pass through the "checkpoint of the future."
"We spend too much time on the 99.9999999 percent who mean us no harm, when threat detection surely should be focused on those with greater potential to do damage," International Air Transport Association chief Tony Tyler said at a conference in Amsterdam.
"By making our checkpoints smarter, and using 'known traveler' programs, we can give everybody a baseline level of security ... and in the end get everybody through security much faster," he said.
The concept faces technical and financial hurdles, and likely will be opposed by people who object to profiling or believe passing through body scanners violates their privacy. But it indicates the direction the industry hopes to go, Tyler said. He added that many elements of the plan are already in place, and others on the way.
He argued the "risk-based approach" is not the same as profiling, since it doesn't use ethnic or religious data. It relies partly on preflight information submitted by passengers, partly on biometric scans and data stored in passports, and partly on human observers who would have the discretion to choose a more rigorous scan for someone acting suspiciously.
Under a mock-up checkpoint on display at the Aviation Security World Conference, passengers are guided into one of three corridors upon presenting their passports: blue for frequent travelers, purple for normal passengers and orange for those deemed to require enhanced vetting.
People don't have to empty their pockets, remove any of their clothing or subject themselves to pat-downs before walking through a 20-foot tunnel that scans metals, liquids, laptops and other potential dangers one by one.
Security guards don't need to waste any time on small children or wheelchair-bound grandmothers unless they trigger an alarm.
U.S. Transport Security Authority chief John Pistole said the checkpoint of the future idea parallels the TSA's own new emphasis on "risk-based security."
"It's an idea clearly worth consideration as technology develops," said TSA chief John Pistole.
"Segmenting the passenger population for different levels of security screening is exactly what we're pursuing."
He cited an ongoing TSA trial where frequent fliers "who are willing to voluntarily share information with us before they travel" are allowed to pass security more swiftly at Dallas/Ft. Worth and Miami International airports, as well as domestic airports in Atlanta and Detroit.
Peter Hartman, CEO of Dutch airline KLM, a subsidiary of Air France, said he didn't think profiling on some grounds was objectionable. Separately, he called on governments to contribute to costs for rolling out the technology used in new checkpoints. He said at present airlines pay around $7.4 billion per year for security, which they pass on to customers, while security costs for events such as football matches are often borne by the police.
Tyler said elements of the 'checkpoint of the future' plan will be introduced first on most highly traveled routes, and will gradually expand to smaller airports over a period of three to seven years.
Click here for more good news stories.