What to Expect From Tuesday's Apple iPhone Event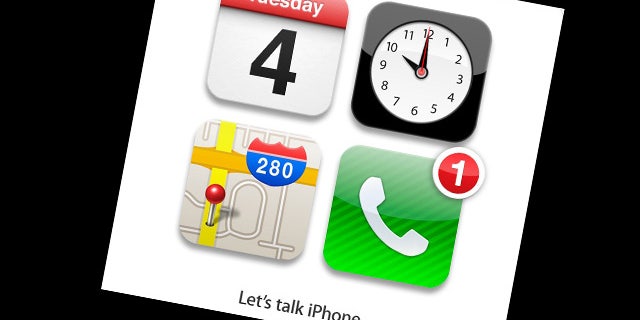 NEWYou can now listen to Fox News articles!
Get ready: Tuesday is iPhone day.
Tim Cook will take the stage for the first time as Apple's new permanent CEO Tuesday morning, replacing the recently-retired Steve Jobs to reveal the company's newest gadgets. Cook may not be the star that Jobs has become, but sources at Apple assure me that the holiday product lineup will be the real star of the event.
The most anticipated product is the new iPhone. Rumor has it that the phone will be called the iPhone 4S, not iPhone 5. We have seen Apple do this before when its flagship phone has not been fully refreshed but rather updated incrementally. The 3G and 3GS are good examples.
I think this update will have faster software and hardware, and possibly some speech-to-text features similar to those Android phones have natively. I also believe the company will upgrade the camera from 5 megapixels to 8 for even better photos and videos.
This will be a hot seller this Christmas, like every previous generation of iPhone. In fact, some analysts have said that the only thing that will compete with the iPhone for holiday sales will be the iPad.
The iPad lineup was already refreshed this year so I don't expect any announcements about Apple's tablet. I do, however, expect a refresh to Apple TV, the company's set-top streaming media box. The Apple TV is likely to get a complete makeover to its software and user interface, as well as a major new content partner. I wonder who that could be? Hulu Plus, anyone?
I also expect a major update to iTunes, version 10.5, focusing on wireless syncing of your music, videos, and podcasts from device to device, freeing us all once and for all from syncing our iPhones, iPads, and iPods to a computer with those white charging cords! Hallelujah!
iTunes Match is another new feature I'm excited to learn more about. This will index all the music you have in your library, not purchased through iTunes, and store those files in the cloud so you can access your music library anywhere you go on any Apple device.
Apple usually updates its lineup of iPods in the fall, in preparation for the holiday shopping season. But I haven't heard a peep about that as of late. It makes me wonder if Apple will phase out the iPods in favor of the iPod Touch. If so, we could see the Touch get a price reduction as well as the same software upgrade we'll see for the new iPhone. And will the Touch finally get a decent camera? We will have to wait and see.
Follow my live Tweets of Apple's announcement as it happens on Tuesday and stay with FoxNews.com for complete coverage.
Clayton Morris is a Fox and Friends host. Follow Clayton's adventures online on Twitter @ClaytonMorris and by reading his daily updates at his blog.