Four centenarian World War II veterans honored at Super Bowl LIV
In the 100th season of the NFL, four centenarian World War II veterans were honored by participating in the Super Bowl LIV opening coin flip as the Kansas City Chiefs take on the San Francisco 49ers.
In addition to deciding what team gets the ball first, the result of the flip was closely watched by gamblers across the nation who have money on Super Bowl proposition bets.
The 49ers won the toss, and elected to defer; the Chiefs took the ball to start the game.
CLICK HERE FOR MORE SUPER BOWL LIV COVERAGE
"By honoring these four veterans at the championship game, the league is preserving the national memory of the Greatest Generation and World War II,'' said Holly Rotondi, executive director of the Friends of the National World War II Memorial.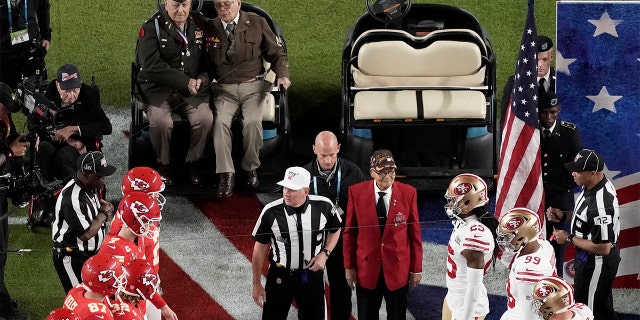 The 100-year-old veterans for the coin flip were:
The veterans were asked by the NFL to participate to honor both their military heritage and the 100th anniversary of the NFL as a professional football league.
"It was quite a thrill to be asked,'' McGee said. "I couldn't say no.''
Vets have already picked a favorite.
Sixty-two percent of U.S. veterans said they think the Chiefs will win the big game, according to a blog post from Veterans United Home Loans, which provides home loans and other home-buying educational information for veterans. The remaining 38 percent believe the 49ers will win.
More than 1,600 vets responded to the question posed by the company, which is not affiliated with the Department of Veterans Affairs.
"I just hope for a good game, and good refereeing,'' McGee added. "I'm looking forward to seeing the coin and then seeing the game.''
McGee was home on holiday in Chicago celebrating his 22nd birthday when Japanese planes bombed Pearl Harbor in 1941, sending the nation into war.
He remembers vividly being in the car with others in his glee club driving to perform at a South Chicago church when President Franklin Roosevelt came on the radio to announce the bombing.
CLICK HERE FOR MORE SPORTS COVERAGE ON FOXNEWS.COM
A few years into the war he would join the only African-American pilot squadron training in segregated Tuskegee, Alabama.
He's one of the last surviving airmen of the 996 pilots — 84 of whom lost their lives in the war — who trained in Alabama.
"The Army policy at the time was we didn't have the brainpower and moral fiber to become pilots,'' he said. "We dispelled that notion.''
The Associated Press contributed to this report.