So now what's next for the Sooners?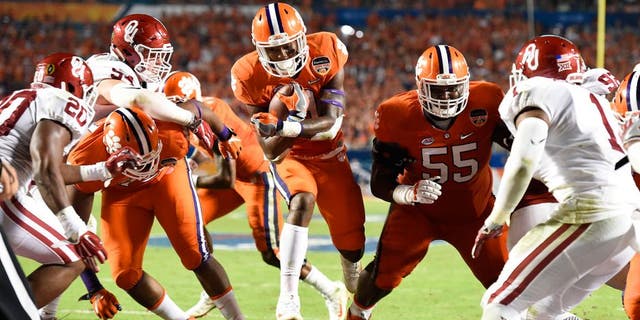 MIAMI, Fla. - Oklahoma deserved to be in this national semifinal.
But Clemson deserved to win.
Oklahoma lost its running backs to injuries and then it lost the game 37-17, but perhaps Oklahoma was exposed Thursday night before being undone by Clemson.
Clemson talked a dumpster's worth of trash during the week, had players sent home and lost its best defensive lineman just minutes into the game, but the Tigers so thoroughly whipped the Sooners on both sides the injuries to its running backs, to Jordan Evans at linebacker and to Charles Walker at defensive line, while crucial in importance, only seemed like side stories.
"Give Clemson credit," OU center Ty Darlington said after the game. "They beat the heck out of us."

That's what happens when a team gives up 530 yards, 312 on the ground and then turns around and only manages less than 70 rushing yards.
This Oklahoma team rode a wave of momentum after a loss to Texas, pushed along by victories over mediocre teams and then wins over good teams destroyed by injuries to their quarterbacks. Oklahoma deserved to be in Miami and deserved to play Clemson in a national semifinal, but the Sooners didn't deserve any more than that.
The Sooners also had a supreme motivator in quarterback Baker Mayfield that was unquantifiable and unexplainable in value and worth.
But those kind of things only last so long and rarely carry over. Momentum dies off when its Clemson, not Kansas, on the other sideline. Motivation fades when Mayfield goes from crafty and cunning to making a handful of poor decisions, some of his worst throws of the year and a feeling he was trying to be a hero when even a hero wouldn't have beaten a better Clemson team. Not this time, anyway.
So, spin this thing forward, look ahead. It's OK to wonder and question what's next for Oklahoma in 2016 because there's no reason to think this team gets a free pas to next year's college playoff.
Coach Bob Stoops did a make-over after an 8-5 disaster, thanks to an offensive switch and to Mayfield, a player unlike the stoic, personality free quarterbacks of OU's recent past.
But can Mayfield's approach -- part magician, part motivator -- work another season? The idea of Mayfield improvising while avoiding sack after sack and possibly another injury seems unlikely to last another year, too. And who will do what Eric Striker has done for the defense? There's no Ty Darlington on the offensive line and there's no Sterling Shepard at receiver. There's questions if Mayfield did in fact suffer another concussion and there's issues about who can motivate this team now through a road opener at Houston and then games against Ohio State, TCU and on and on?
So much has risen and dipped in the past two seasons of Oklahoma football. Remember, OU was supposed to be here after the 2013 season and that Sugar Bowl win over Alabama. Perhaps, folks think it will happen again, but all that proved was a fall can happen quickly.
It came quickly against Clemson Thursday. After a first half where the Sooners escaped uppercuts from Clemson after the Tigers repeatedly got deep into Sooner territory, OU couldn't do much on offense and did less on defense. The Tigers scored on their first drive of the second half and had less than 60 second-half yards when Clemson scored again to go up 30-17.
Injured running back Samaje Perine and injured running back Joe Mixon will be back next season, along with Mayfield, but what made the Sooners great in 2015 was the intangible combination of anger from losing to Texas mixed with a second-half schedule that allowed for a quick rebound before games against the best in the Big 12.
The schedule won't set up the same in 2016. The personalities on the team will be a lot different, too.