Sergio Aguero rescues Man City with late winner against Watford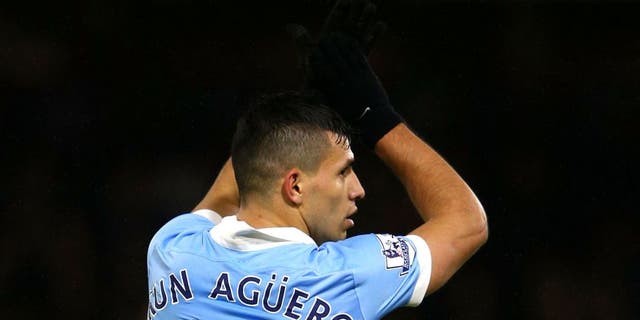 Manchester City got a big win Saturday afternoon, downing Watford 2-1 thanks to a late goal from Sergio Aguero. The result kept City three points behind leaders Arsenal and snapped a dreadful run of away form. Yaya Toure leveled for City after an Alexsandar Kolarov own goal had given the Hornets a lead, and Kun's header in the 85th provided a knockout punch.
It was a poor game on what was, overall, a ragged weekend in England as both teams looked like endurance runners begging for the finish line. City, who have been poor on the road this season, again failed to completely convince against a Watford side that while not spectacular, are clearly not a fluke. That said, a win is a win and City will certainly take it back up the M6.
The Hornets, who are a surprise team in the top half of the table, showed a lot of their trademark muscle and grit, with Odion Ighalo again a major handful for the opposition defense. Yet it must also be allowed that they lack real class, and a City side with the ability to ping the ball about at will should have taken them out far earlier than they did. City, unfortunately for neutrals, showed little of that endeavor today, with Aguero again a man largely on the periphery.
Had Almen Abdi taken his chance in the 2nd minute, things might have been different. The Watford midfielder figured he might a well have a go from 30 yards, and didn't miss Joe Hart's crossbar by much at all in the end. The aforementioned Ighalo also had a fine chance 15 minutes in, turning Nicolas Otamendi and forcing Hart into a sprawling stop.
Ighalo was too often the lone runner up top, and when City started to hog the ball a little more, the Hornets were pushed back and neutered for an entire half. Yet, for all the pretty passing of David Silva or Kevin de Bruyne, there was little end product for City, either Heurelho Gomes wasn't seriously bothered before the interval and Toure remained a frustratingly invisible man on the pitch.
The continuing absence of Vincent Kompany plays a major role in City's woes: the would-be champions do not look confident with Eliaquim Mangala and Otamendi in the middle, which has forced Toure to play a far deeper role than he should. But fans should also take a look at City's finishing on the road: it is terrible. Aguero has been dreadful since his return from injury; Wilfried Bony has apparently not convinced manager Manuel Pellegrini that he is a proper starter (he is not); and Raheem Sterling remains a work very much in progress.
Kolarov's goal came in the 55th when he headed on a corner kick from Ben Watson to foil Joe Hart. Watson's shot might have well gone in on its own, bending in for the Olimpico, but Kolarov's touch, just the slightest off the top of his head, threw the ball past Hart at the far post. In truth, it was no less than Watford deserved, for City had looked reckless in the back.
Still: City had their chances, in increasing number. Fernandinho spurned one of them early in the second half, putting a free header over the bar after Etienne Capoue switched off. De Bruyne also had a fine shot well-saved by Gomes in the 68th minute.
They finally broke through thanks to a simple play, a tap-in by Toure off a Kolarov corner kick in the 81st. Toure simply slipped around his marker to stick a big boot out onto the ball and Gomes, screened, could do nothing about it.
But the goal that followed four minutes later was pure class. Bacary Sagna whipped in a great cross that Aguero rose up to head home in emphatic fashion. The goal sent the away fans into pandemonium and City's players rushed to the end to celebrate with them. They knew how much the win mattered.
Had City spit the bit Saturday, they would have been a full six points behind Arsenal heading into a week of Cup play, and would have faced increasing speculation as to their ability and fiber. Pellegrini, widely rumored to be out at City in favor of Pep Guardiola may be a dead man walking -- but his team is not dead yet.