Ronda Rousey will fight to reclaim title from Amanda Nunes at UFC 207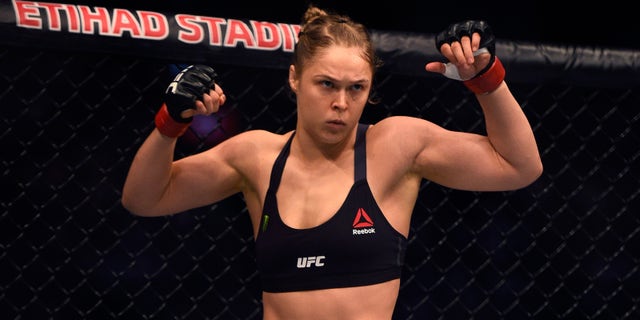 NEWYou can now listen to Fox News articles!
Ronda Rousey is headed back into the UFC octagon.
The former women's bantamweight champion, who hasn't fought in nearly a year, will face Amanda Nunes on Dec. 30 in Las Vegas with a chance to reclaim the title.
Dana White, UFC president, confirmed on Colin Cowherd's "The Herd" on FS1 on Wednesday that Rousey's return will be the main event at UFC 207 at T-Mobile Arena.
"[She] had a bad loss and lost her title, but she's still Ronda Rousey at the end of the day," he said.
The 29-year-old MMA fighter confirmed the news with a photo on Twitter.
Rousey (12-1), who is partly of Venezuelan descent, hasn't fought since November 2015, when Holly Holm stunned the champion with a second-round knockout at UFC 193 in Melbourne, Australia.
The 135-pound title has changed hands two times since then, with Miesha Tate bdefeating Holm and then losing to the Brazilian Nunes at UFC 200 last summer.
Nunes, the first openly gay UFC fighter, told Fox News Latino in August that her heart was set on defending her title against Rousey.
"She is big in the sport," Nunes said. "She is the first one to make it happen. Many have been waiting for her. She was a dominant fighter in this division. I think it'll be amazing to fight her ... It would be a huge fight."
Nunes got her wish.
Rousey, who won a bronze medal at the 2008 Beijing Olympics in judo, became one of the world's most popular female athletes during her meteoric rise through the UFC ranks. She took a competitive break after her loss to Holm to pursue her acting career.
She told Ellen DeGeneres in February that the loss hit her hard, and she even contemplated suicide.
"I was like, down in the medical room [after the match], and I was down in the corner, and I was like, 'What am I anymore if I'm not this?'" Rousey told DeGeneres. "I was literally sitting there and thinking about killing myself, and that exact second I'm like, 'I'm nothing. What do I do anymore? And no one gives a s--- about me anymore without this."
According to White, more fights are expected to be announced in the coming weeks.