Reds start rare interleague series with Rays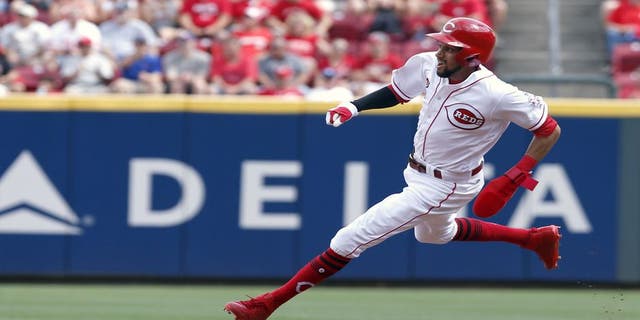 NEWYou can now listen to Fox News articles!
ST. PETERSBURG, Fla. -- The Tampa Bay Rays look to continue their success with the long ball when they welcome the Cincinnati Reds to Tropicana Field for a rare three-game interleague series between the two teams starting Monday.
Coverage begins at 6:30 p.m. on Fox Sports Ohio
The Reds and Rays have only met 12 times total with the Reds holding a 9-3 advantage in those games.
Tampa Bay (37-35) continues to stay a couple of games above .500 after going 3-3 on a six-game road trip to Toronto and Detroit but the Rays have won two in a row and showed a lot of power against the Tigers with five home runs in a 9-1 win Sunday.
Logan Morrison had two home runs Sunday, giving him 21 for the season, and Steven Souza Jr. had a grand slam to lead the onslaught. The Rays are among the most prolific power-hitting teams in the majors with 109 homers, one behind the Yankees for the major league lead.
"Today guys came out swinging," Rays manager Kevin Cash said "Big day for (Morrison). Big day for Souza. He's having a lot of good at-bats. The big blast (Sunday) was the key one. It was the separator."
Souza also had a home run on Mother's Day. In his last 10 games, Souza is batting .333 (12-for-36) with three homers and 11 RBIs following a 1-for-24 slump.
"It's a cool day," Souza Jr. said to MLB.com. "Hit a home run on Mother's Day for my mom, today hit a home run on Father's Day for my dad and my son. It's a really special thing. And it's huge to come back and split a series against a team like this, especially after playing two ugly games to start."
Cincinnati (29-39) will need its history against the Rays to be kind based on recent results.
The Reds are currently dealing with a nine-game losing streak and sitting in last place in the NL Central after an 8-7 loss to the Los Angeles Dodgers on Sunday.
The Reds were down 8-2 in the seventh inning Sunday and made a late charge to make the game close. Manager Bryan Price said he sees his team fighting to break out of their collective slump and appreciates the effort.
"It ended up being a much better game and much more entertaining game than anyone would have anticipated, but no one wants to talk about it when you're losing," Price said. "No one wants to talk about the effort. But I do, because it makes a difference. It makes a difference to the guys who are still playing hard."
Adam Duvall, Scooter Gennett and Eugenio Suarez homered for the Reds, who have 98 homers this season.
Although most of the current Reds are not familiar with the Rays, right-hander Scott Feldman has spent 12 of his 13 seasons in the American League and will get the start Monday. He is 4-3 record and 3.09 ERA in 17 appearances (seven starts) against Tampa Bay.
Feldman is 5-5 with a 4.29 ERA in 14 starts this season. He last pitched in a 6-2 loss in San Diego on Tuesday when he allowed four runs and eight hits in five innings.
Right hander Jake Odorizzi will be on the mound for the Rays and he's been a solid piece of the rotation when he's pitching at home. Odorizzi is 3-2 with a 3.11 ERA at Tropicana Field this season and has five quality starts in a row at home.
Odorizzi did not make it out of the fifth inning in his last start, a road game against the Blue Jays, when he gave up three runs in 4 1/3 innings and got a no decision despite struggling with his control and throwing 99 pitches in the outing.
"I know I'm very capable of throwing a lot better than I am for the most part this season," Odorizzi said to the Tampa Bay Times. "It's just kind of been a grind from start to start. It's better than what I was doing last year on a start to start basis. So I can't really discouraged too much about how the results have gone, because I've seen it go much worse when I've been feeling much better. So it's baseball. And I just have to be better next time out and continue that trend."
This will be Odorizzi's first appearance against the Reds.