Mark Sanchez Says He Wants To Play For The Jets Next Season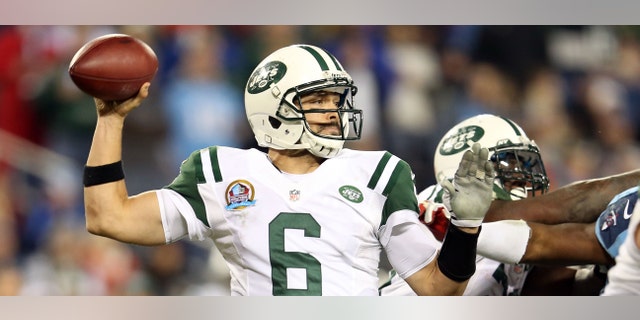 MORRISTOWN, N.J. (AP) – Mark Sanchez plans on staying put after this season.
As unlikely as it may seem because of his hefty contract, the injured quarterback wants to return to the New York Jets. And, Sanchez joked, he could be back with a super-powered arm.
"The way things are coming along, it sounds like I'll be bionic," Sanchez said with a big smile Tuesday. "I don't want to say like 'Rookie of the Year,' but hopefully something like that, where I'll come back better."
Sanchez is out for the season after tearing the labrum in his right shoulder in the preseason and having surgery early last month. He spoke publicly Tuesday for the first time since his surgery before volunteering at a community soup kitchen at Church of the Redeemer in Morristown.
The quarterback has three years remaining on his contract, but his $13.1 million salary cap number for next season makes it unlikely the team would keep him at that amount. If it were up to Sanchez, though, he wouldn't go anywhere.
"That's all I'm thinking about, coming back next year, leading this team and playing well," he said. "I know I've heard a lot of stuff on the outside about me not being here and stuff like that. I don't know if that's necessarily the case in the building. Hopefully, not. Hopefully, I'm a Jet.
"That's where I am. That's where I want to be."
When asked if he truly sees a future in New York as the Jets' quarterback, Sanchez didn't hesitate.
"Absolutely," he said. "I mean, there's no doubt about that. It's been a dream come true to play here and I don't want to go anywhere else, that's for sure. I know I have (three) years left, and I don't ever want that to end. I love being a Jet and I plan on being here."
Sanchez has not spoken to the team about his future with the franchise, but it would make financial sense for the Jets to release him in March. That's when a $2 million roster bonus is due, and the move would save the Jets $8.3 million in cap space.
"We'll see what happens," he said.
Sanchez was injured in the Jets' third preseason game against the Giants when Marvin Austin slammed into his shoulder. Coach Rex Ryan was heavily criticized for putting Sanchez in the game in relief of rookie Geno Smith because it was widely assumed the veteran had likely won the quarterback competition — and was playing with mostly backups and third-stringers at the time of the injury.
While his doctors have been happy with his progress, Sanchez acknowledged it has been tough to be a spectator while bouncing between doctor visits in New Jersey, California and Florida.
"It's definitely different, something I don't wish on anybody," he said. "Not even on your worst enemy you don't wish this on. It's hard to be away. It's hard to not be in the locker room, be on the plane, be on the bus. Little things like that, you miss it so much.
"All the wins, even the tough times, the struggles, it makes you appreciate those times and how much you love being out on the field and how much you love playing."
In an ironic twist, the Jets could actually use Sanchez in a big way at this point. He looked mostly solid during the summer in Marty Mornhinweg's system before the injury.
"It's just tearing me up that I can't play for him," Sanchez said.
Smith is struggling mightily with one touchdown and 10 interceptions in his last six games, but the only other options are inexperienced backup Matt Simms and veteran David Garrard, who hasn't played a regular-season game since 2010.
Through it all, Sanchez focuses only on getting back on the field.
"This could be a blessing in disguise," he said. "A lot of people have told me that. It's hard to see that while you're going through it, but it does give you a different perspective."
Follow us on twitter.com/foxnewslatino
Like us at facebook.com/foxnewslatino