New York Jets Pick Up 5th Quarterback To Compete With Mark Sanchez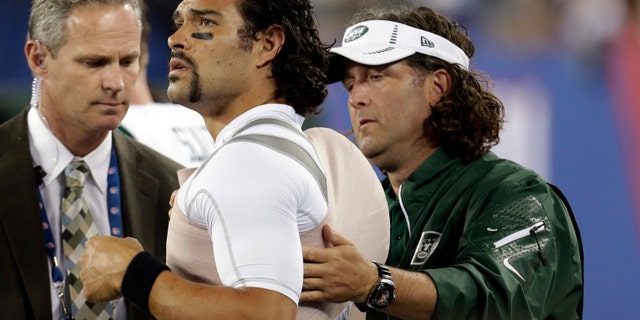 Mark Sanchez now has one more player competing to take his job as the starting quarterback for the New York Jets.
As Sanchez battles "day-to-day" a shoulder injury he sustained Saturday during his team's overtime preseason victory against the Giants, the Jets have decided to add a fifth quarterback to their roster.
According to Fox Sports, the Jets have agreed to sign former Green Bay Packers quarterback Graham Harrell.
The 28-year-old has been with the Packers over the past three seasons and served as Aaron Rodgers' backup in 2012. However, Harrell was released by the team Sunday after it became clear Vince Young would serve as the team's new second-stringer.
The good news for Harrell is he may be starting in the Jets' preseason finale Thursday against the Philadelphia Eagles, since three out of the team's four other quarterbacks are currently dealing with injury issues.
Aside Sanchez and rookie Geno Smith, who struggled in his first NFL start Saturday throwing three interceptions, the Jets also have reserve quarterbacks Greg McElroy, who reportedly re-injured his knee in practice this week, and Matt Simms.
Prior to the news of the acquisition of Harrell, Jets head coach Rex Ryan was mum on whether Smith would play this week.
"We'll announce that on gameday," Ryan said.
The coach also said it's possible the team could wait until the morning of the regular season opener against Tampa Bay to announce who the Jets' starting quarterback for the season will be.
"Until we name the starting quarterback, I would say that really anything's possible because we haven't named the quarterback yet," Ryan said.
Follow us on twitter.com/foxnewslatino
Like us at facebook.com/foxnewslatino