New York Jets Mark Sanchez Has Season-Ending Shoulder Surgery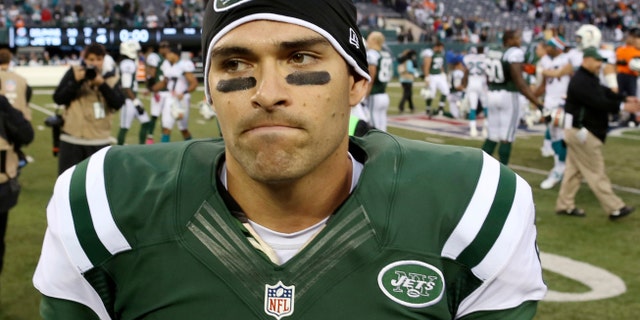 It's the end of the Sanchize – at least for the season.
New York Jets quarterback Mark Sanchez – once thought of as the best quarterback on the team since Joe Namath though recently his popularity has plummeted – is having season-ending surgery on his right shoulder.
I'm very disappointed that I can't be out there to help my team on the field
The maligned quarterback, was once dubbed "The Sanchize," had been angling to be starting quarterback for the team to try and redeem himself as a player. But now he won't be able to play for the entire season.
The procedure, which repaired a torn labrum, was performed by Dr. James Andrews, the team announced. Sanchez, who hasn't played since being injured in the third preseason game, said he was advised by Andrews and other doctors to have surgery after seven weeks of rehabilitation.
"I'm very disappointed that I can't be out there to help my team on the field," Sanchez said in a statement, "but I'll continue to help our team in whatever capacity I can."
Whether that is the case beyond this season remains to be seen.
Sanchez, the team's top draft pick out of Southern California in 2009, helped lead the Jets to consecutive trips to the AFC championship game in his first two seasons. While his overall numbers were far from eye-popping, his success with the team was unparalleled for a Jets quarterback in his first two seasons. With his good looks and big-time potential, many fans and media likened Sanchez to the next Broadway Joe.
The Jets and then-general manager Mike Tannenbaum rewarded Sanchez with a hefty three-year contract extension following the 2011 season, a deal that included about $20 million in guarantees.
But things really unraveled last season, culminating in him being benched for a game in favor of Greg McElroy. His 52 turnovers the last two years were the most in the NFL during that span, leading to concerns as to whether Sanchez could turn things around and live up to the expectations the Jets had when they made him the No. 5 overall pick.
The Jets drafted Geno Smith in the second round in April to provide stiff competition for Sanchez for the first time in his career, and the rookie now appears to be the future of the team.
Sanchez still has three years remaining on his contract, which included $8.25 million in guarantees this year, but it's a strong possibility the Jets could make room under their salary cap next offseason by parting ways with him.
"Throughout this process, our goal has been to provide Mark every opportunity to return this season," general manager John Idzik said in a statement. "He and our medical staff have worked very diligently to that end and now it has been concluded that surgery is required. He will have our full support for a complete recovery."
Sanchez was placed on short-term injured reserve on Sept. 14, meaning he would not be able to play for eight weeks while he recovered. At that time, he thought he would still be able to return this season and possibly reclaim his starting job.
He acknowledged then that surgery was a possibility at some point, but doctors were encouraged by his rehab to that point.
"After over seven weeks of hard work and intense rehab, I've been advised by Dr. Andrews and other doctors that my shoulder injury clearly needs to be addressed surgically," Sanchez said in the statement issued by the team. "The injury was recovering at an encouraging rate early on and I avoided surgery as long as I could.
"But, ultimately, I was counseled by the doctors that they simply would have to repair my shoulder."
Sanchez was in a tight competition with Smith for the starting job this summer before he was injured against the Giants when he took a hard shot to his shoulder from Marvin Austin. The injury occurred in the fourth quarter with mostly backups in the game, and coach Rex Ryan has taken a lot of criticism for putting the quarterback in that position.
Many speculated that, after a poor showing by Smith in that game, Sanchez had wrapped up the starting job after a solid preseason. Ryan disagreed with that notion, saying a decision on the starter had not been determined at that point.
Smith has been up and down in his first five NFL starts, but led the team to a 30-28 victory on Monday night at Atlanta with a terrific performance. Many believe Smith is the future of the franchise — meaning Sanchez has seen his likely final days as a starter with the Jets.
Still, even knowing that he was to undergo surgery the next day and his status with the team beyond this season unclear, Sanchez pumped his fist and yelled in celebration as Nick Folk kicked the winning field goal to beat the Falcons on Monday night. Smith has often spoke highly of how Sanchez handled himself during the training camp competition, and how he has helped him adjust to playing in the NFL.
"All doctors expect a full recovery and I look forward to getting back on the field," Sanchez said, while also thanking his doctors. "Until then, Go Jets!"
Sanchez has thrown for 12,092 yards in his NFL career, with 68 touchdowns and 69 interceptions.
Based on reporting by The Associated Press.
Follow us on twitter.com/foxnewslatino
Like us at facebook.com/foxnewslatino