Mark Sanchez Opts Against Surgery, Jets Place QB On Short Term Injured Reserve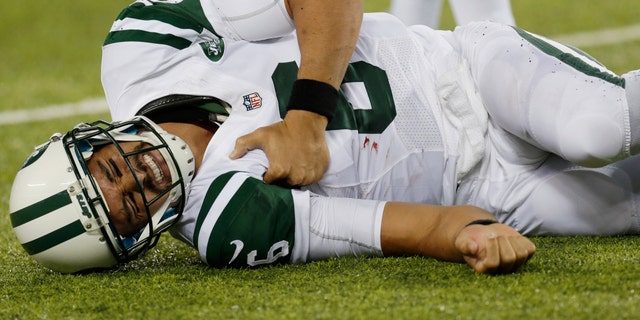 Mark Sanchez is saying no to surgery and yes to rehab.
Announcing he will opt to rehabilitate his right shoulder injury rather than have season-ending surgery, the New York Jets placed the quarterback on injured reserve-designated for return.
On Saturday the team announced Sanchez will be out for at least eight weeks but will be back later this season.
The exact nature of the injury has not been announced by the team. However, on Wednesday Dr. James Andrews confirmed to ESPN that Sanchez has a labral tear in his right shoulder.
While Sanchez is sidelined, it appears Geno Smith will continue to be the team's starter. Matt Simms and Brady Quinn are the other quarterbacks on the roster.
Last week, when the Jets expressed their enthusiasm about their new rookie starting quarterback, a source close to Sanchez said he believes the "organization wants to see him placed on (injured reserve) and be done with him."
Speaking with USA Today Sports, the source said Sanchez feels the "organization has turned its back" on him "and is prepared to move on. It is ready to start fresh with Geno."
The Associated Press contributed to this report.
Follow us on twitter.com/foxnewslatino
Like us at facebook.com/foxnewslatino