New York Jets Prepare For Mark Sanchez-Geno Smith Quarterback Battle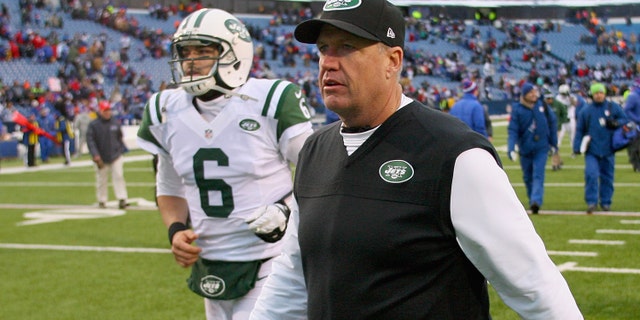 The battle everyone predicted is finally happening.
Mark Sanchez arrived in his car around the same time as the bus carrying Geno Smith and the rest of the New York Jets' rookies rolled up to the dorms at SUNY Cortland.
For Day 1 of training camp, this quarterback competition was even.
Now the real stuff starts when the team practices for the first time Friday, with all eyes on the two guys under center as the Jets try to decide on a starter.
"That's something you want to do sooner rather than later," coach Rex Ryan said Thursday. "But I think the big thing is to make sure there's fair competition and you feel good about the decision."
And, it's one that can set the tone for the season and go a long way into determining Ryan's fate with the franchise.
After a 6-10 season and missing the playoffs for the second straight year, Ryan faces an uncertain future — especially if the Jets are sitting home again when the postseason begins in January.
"When I make that decision, clearly I'll feel great about it," Ryan said. "And not just me, but I'll lean on several other people. But, it has to be the right decision."
Sanchez was last involved in a true competition when he was a rookie in 2009, when he beat out Kellen Clemens and then went to two straight AFC title games. Times sure have changed. Turning over the ball 52 times in a two-year span will certainly threaten anyone's job security.
The hype of last training camp with Tim Tebow in town probably won't be even close to matched, but Sanchez is in for the biggest fight of his career.
The strong-armed Smith was considered a first-round talent after a record-setting career at West Virginia, but unexpectedly fell in the draft — all the way into the second round. That's where the Jets snatched him up and immediately inserted him into an open competition with Sanchez.
"I have a goal in mind, a job to do, which is to come in and compete," Smith said. "And that's what I'm going to do."
Neither quarterback was particularly impressive running Marty Mornhinweg's offense in minicamp, but both are confident in their chances that they'll be the starter in Week 1 at home against Tampa Bay.
"In my heart, I expect to have a shot," Smith said. "That's all I can ask for myself and my teammates and my coaches. The coaches are going to determine that through preseason and up until Week 1. Once we get there, then we'll know."
Ryan is excited to see how it all unfolds.
"I think it will be a great competition and one thing he doesn't have to worry about is getting a fair shake," he said. "He'll definitely get that opportunity."
Smith realizes he has a lot of work to do to get to the point that he's a starting quarterback in the NFL. But he's not stopping there. He wants to develop into one of the greatest the game has seen.
"That's my goal," Smith said without hesitation, adding that it has been a dream of his since he was in fifth grade.
Sanchez appeared possibly on his way to being one of the Jets' greats with success in his first two seasons that had some comparing him to Joe Namath. He was called "The Sanchize" and expectations rose — but his production dipped.
So much so, he was benched for the first time in his career at the end of last season — a year defined by one play: when Sanchez fumbled after running into the backside of one of his offensive linemen in front of a Thanksgiving night national TV audience against New England.
He has tried to put all that in the past, though, and is focused on the task at hand. That, of course, is to hold on to the job that once seemed destined to be his for as long as the Jets could imagine.
"I'm confident the coaches will pick the best player," Sanchez said. "And I'm confident in my ability to be the best player."
Sanchez has a big fan in newly re-signed wide receiver Braylon Edwards, who was on the receiving end of some of the quarterback's biggest throws in the 2009 and 2010 seasons. But, in his third stint with the team after playing in three games last season, Edwards wants to win.
"Mark is definitely a friend of mine off the field, as well as away from the Jets, so I wish him well and I hope he can be the guy," Edwards said. "But at the same time, I'm a Jet first. So I hope the guy that wins the job is the guy that's going to help us prepare to the next level, the guy who is going to take us to the playoffs and get us back where we belong, hopefully even further.
"So whichever guy that is, that's the guy I want to win."
Smith raised some eyebrows earlier this month when he didn't attend Sanchez's annual "Jets West" camp with other teammates in California — adding extra juice to what should be a heated competition. But both quarterbacks said that was much ado about nothing.
"I don't think I need to set any record straight," Smith said. "Everyone was invited to go, and I decided to stay home in Florida to be closer to home. I still got in good work and was able to prepare. Me and Mark, people are trying to make an issue out of that. There's no issue there."
Both Sanchez and Smith said they have a good working relationship, one that could be tested as one man tries to keep his job and the other tries to swipe it from him.
"I'm ready to go," Sanchez said. "I'm ready to go compete and play my best."
Based on reporting by The Associated Press.
Follow us on twitter.com/foxnewslatino
Like us at facebook.com/foxnewslatino