Jets Former Starting QB Mark Sanchez Assumes He Won't Start Against Giants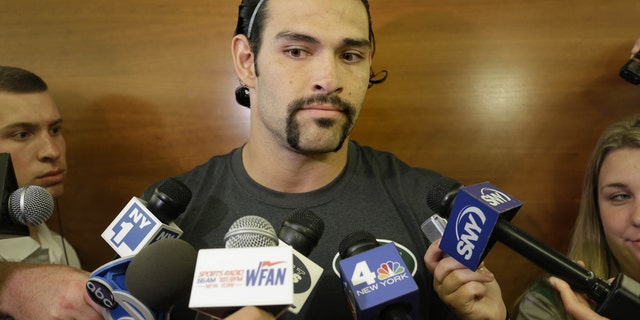 Mark Sanchez has an idea who might be the New York Jets starting quarterback for their preseason game against the Giants — and it's not him.
Sanchez and rookie Geno Smith are in a tightly contested competition for the opportunity to start the regular season under center. Sanchez has started the first two preseason games, including last Saturday when Smith was hobbled by a sprained ankle. So, it seems logical to him that it'll be Smith's turn to go this weekend.
"I'm assuming," Sanchez said Wednesday when asked if he expected Smith to start. "I don't know. They haven't said."
Ryan has played the quarterback situation close to the vest all summer, and it appears he'll continue to do so this week. The reality is this: Sanchez has had up-and-down moments during his two preseason appearances, but hasn't done enough to pull away from Smith.
Smith, meanwhile, has just two quarters of preseason game action after spraining his right ankle in the opener at Detroit. That's kept him from being thoroughly evaluated, and holding up the team's ultimate decision on who'll be the quarterback during Week 1 against Tampa Bay Sept. 8.
"It's getting better," Smith said of his ankle. "I wouldn't say it's 100 percent. I just got to continue to treat it every single day. Every day, it has felt better than the previous day. I just got to continue to treat it and just get better."
Smith has worked with the first-team offense for three straight days, mainly because Sanchez did the same last week while Smith was slowed by the injury. Both quarterbacks had solid practices Wednesday, but Smith was outstanding in team drills while completing 15 of 16 passes, including two touchdowns.
That came exactly a week after Smith threw four interceptions, including three in 11-on-11 team drills, prompting Ryan to say it was a "brutal" performance by the second-round draft pick.
"It wasn't brutal, that's for sure," Ryan said with a smile. "That was a great day. I don't know if that was his best day because he's had a lot of good ones, but he had a great one today."
Smith also wasn't sure if it was his top performance of training camp, but he certainly feels a lot better physically than he did at this time last week.
"Well, last week I would say (the injury) hurt me a bit with velocity on my throws," he said. "I wasn't able to step into it as much. This week has been better because now I'm able to plant that foot in the ground and explode off of it.
"So, I've been doing better with it."
Most teams play their starters into the third quarter of the third preseason game, but Ryan insists the Jets aren't required to stick to any perceived deadline. It would seem logical if the two quarterbacks are even in the competition that the Jets would want to see Smith in at least one more game of extended action before picking a season starter. The team also wants to make sure Smith is completely healthy before announcing that he'll go Saturday night.
"You know eventually we have to name one," Ryan said, "so we'll see."
Sanchez was unofficially 10 of 14 with a touchdown while working with the second team Wednesday. That could be his role again against the Giants if Smith does indeed get the start.
"I've got to be ready to play," Sanchez said. "That's all I've been told. No matter what happens, I'll be ready to play."
Based on reporting by The Associated Press.
Follow us on twitter.com/foxnewslatino
Like us at facebook.com/foxnewslatino