MadFriars: Fort Wayne's youngsters holding their own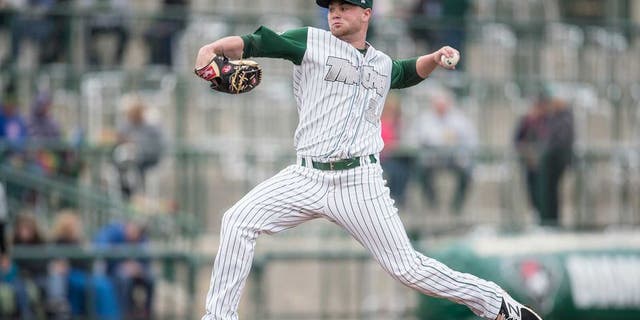 NEWYou can now listen to Fox News articles!
FORT WAYNE, Ind. The Fort Wayne TinCaps are the youngest team in the minor leagues. Four position players -- infielders Reinaldo Illaraza, Hudson Potts, Fernando Tatis and outfielder Jack Suwinski -- are 18. The rotation recently added two high profile 19-year-old prospects in RHPs Mason Thompson and Reggie Lawson and the dean of the pitching staff is 20-year-old Logan Allen.
We definitely understand that we are sending these guys to a very advanced level where they might be four or even five years younger than guys they are competing against., said Sam Geaney, the Padres Director of Player Development, before the season.
All of us felt good about their ability to handle struggles mentally, and more importantly be able to learn from it and bounce back.
So far, the brightest star has been Tatis, Jr. -- a 6-foot-3, 200-pound shortstop who could be in the Corey Saeger and Carlos Correa mold once he finishes growing.
I was 6-foot and 150-pounds when I signed at 16 with the White Sox, laughed Tatis, Jr. That is what happens when you sign so young; your body is still developing.
Tatis, Jr. was acquired from the Chicago for pitcher James Shields in what was largely seen at the time as a salary dump by the Padres, but may turn out in the end to be one of Padres General Manager A.J. Prellers better trades.
Both Chris [Kemp, the Padres Director of International Scouting] and I had seen him internationally and Pete and his group did a good job of identifying him on the back fields with the White Sox, said Preller about targeting Tatis.
He was someone that hadnt played in a professional game yet -- even on the Rookie Ball level -- but he was someone that was a target for us.
Last year in the rookie-level Arizona League, Tatis, Jr. hit .273/.312/.373 at only 17 and showed a skill set that dazzled many evaluators. After a slow start in April, he put together a monster May posting a slash line of .295/.364/.505 with four home runs and 12 extra-base hits.
I think I got smarter at the plate and tried to not hit the ball out every time, Tatis said on his improvement. I talked with my dad [former big leaguer Fernando Tatis, Sr.] and he told me to just take it easy, the home runs will come with a good swing. I try to stick to the middle of the field and its been working.
***
In the offseason before the 2016 season, Prellers biggest move was sending All-Star closer Craig Kimbrel to the Boston Red Sox for four prospects, including Manuel Margot, who is now playing center field every day in the big leagues, and left-handed pitcher Logan Allen.
The Red Sox were able to buy Allen out of his commitment to the University of South Carolina when they drafted him in the eighth round in 2015. He responded with a strong debut in the GCL as a 17-year old, throwing 20 innings with 24 strikeouts against only one walk. Last year his season was cut short last year with elbow inflammation, a condition that Allen attributed to having to learn how to pitch at the professional level.
I noticed after one start it was a little sore, there was some minor swelling around the elbow area and bicep, said Allen before a recent game. In high school I didnt pitch that much and [I] had to learn that when you are expected to throw every five days you have to do more than just go out there and throw.
The Padres are still being careful with Allen, but so far he has been one of the best pitchers in the Midwest League with 64 strikeouts in 51.1 innings against 21 walks with a 1.75 ERA.
Allen throws a four-seam fastball, 12-6 curve, slider and a vulcan change, which is like a splitter. The one knock is that he has yet to go more than six innings in any start, something that Allen is working to correct.
I have to because last year I was throwing 75 pitches in three or four innings and that has to change. This year I am trying to get more efficient by getting ahead of guys early which will let me go deeper and that starts with commanding the fastball.
The statistic that I really focus on is first-pitch strikes. When I can do that the likelihood that of them doing anything is so much lower. It also helps to really limit your walks, which Ive had too many this year.
***
One of the elders of the TinCaps is Cuban right fielder Jorge Ona, 20, who the Padres signed for $7 million dollars as part of the clubs massive expenditure in the international free agent market.
Despite not having played in over a year since leaving Cuba, the 6-foot-1, 220-pound right fielder seemingly hasnt missed a step, hitting .302/.353/.424 and has shown impressive plate discipline for a player in his first full-season league.
The pitchers here throw harder than in Cuba and are able to throw their secondary pitches at any time, said Ona, who was still bundled in a heavy sweatshirt before a recent game in Fort Wayne.
The only bad part about coming to the States was the cold in April; I was not used to that and dont think Im ever going to like it, laughed Ona.
To me its just the consistent quality of his at-bats, especially when you compare them to his peers around the same age, said Geaney. You see the strength and the bat speed and that is a pretty big separator in itself but how he grinds out each at-bat is the most impressive aspect of his game to me right now.
Anthony Contreras, in his third year managing in the Padres organization and second with Fort Wayne, understands that he doesnt have the easiest task, but so far likes what is in front of him.
The teaching aspect is probably the biggest aspect of what I have to do with a team this young because so many of these guys need to learn how to become a professional. How to make adjustments and how to learn from their mistakes.
If they do that, the talent on the field is going to take care of itself.
John Conniff is a contributor to Fox Sports San Diego and you can follow him @madfriars.com.