LeBron expected to play on US Olympic team, coach says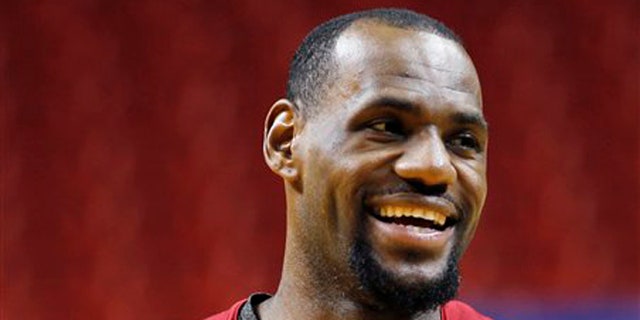 DURHAM, North Carolina – Coach Mike Krzyzewski expects LeBron James to play for the U.S. Olympic team in London.
Speaking less than two weeks before the candidates for the Olympic team begin practice in Las Vegas, Krzyzewski said on Thursday he's deep into his preparations. While it's not certain yet who will be going to London, he said matter-of-factly that "I know LeBron will play."
"I'm proud of LeBron and where he's at right now, and I do think that when you're that great a player, that great a talent, that you learn openly," Krzyzewski added. "You don't go learn in private. You're out there while you're learning, and while you're learning, you're going to be criticized for the things that you're in the process of learning. ... There's some things you cannot learn unless you're in that moment. Like, you can't rehearse it.
"You can't feel it until you're in the moment of a finals, a gold medal game, a seventh game, a national championship. He's been in two of those moments, and I think he's shown in this series that he's learned from those moments."
James was part of the Krzyzewski-led team that won Olympic gold at the Beijing Games four years ago, and he presently has the Miami Heat in the NBA Finals.
Injuries have thinned the pool of players from which Krzyzewski and USA Basketball will select the U.S. squad.
With Dwight Howard, Derrick Rose, Chauncey Billups and LaMarcus Aldridge among those hurt, the Americans had to obtain permission from the U.S. Olympic Committee to add James Harden and University of Kentucky player Anthony Davis to the pool long after the original deadline so they would have 18 players.
The combination of the condensed NBA season, late playoffs and an earlier Olympics has eliminated the buffer between the events and means "you're going to have a mentally different team and a physically different team," Krzyzewski said.
"We don't even know who the guys on the team are yet because we have to wait until we get them in Vegas to see where they are physically, family and contractually. Those three things, that I've learned over the last seven years, can cause a change just like that," he added, snapping his fingers. "And then you have to be prepared for it."