Jessica Andrade explains exactly how she will knockout Joanna Jedrzejcyzk at UFC 211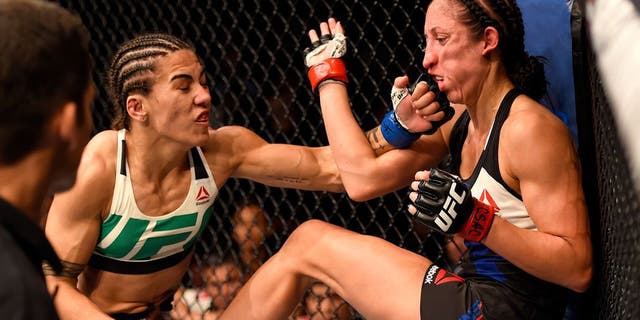 Through her first three fights at strawweight in the UFC, Jessica Andrade has been as dominant as anyone on the roster as she's torn through her opponents en route to a championship this weekend in Dallas.
At UFC 211, Andrade will face Joanna Jedrzejczyk, who is currently the second longest reigning champion in the UFC behind Demetrious Johnson as she looks for her fifth consecutive title defense.
While Jedrzejczyk has experienced a few minor hiccups in her fights, she's been fairly dominant during her reign as champion while taking out every contender the division has thrown at her including two wins over highly touted grappler Claudia Gadelha.
As much as Jedrzejczyk has been able to dispatch all of her past opponents, Andrade has still seen a few weaknesses in her game and one particularly glaring flaw that stood out to her during the champion's last title defense against Karolina Kowalkiewicz last November.
"Watching the last fight, especially, we saw that Karolina [Kowalkiewicz] was a girl that didn't back away from Joanna when she was getting pressured, which was something new. Pretty much everybody that fought her before, once Joanna put pressure they would walk back. We noticed that she didn't do as well with other people that would back away from her," Andrade described when speaking to FOX Sports.
"We are very much aware of everything Joanna does well and we are even more aware of what I do well and how those two match. If Claudia [Gadelha] was able to knock her down with a jab, once my straight [punch] lands or one of my hooks, I know there's going to be a party in Brazil."
Harry How/Zuffa LLC/Zuffa LLC via Getty Images
Andrade is well known for the way she stalks opponents across the Octagon before unleashing a hellish flurry of punches.
Like many of the old school greats from Brazil such as Wanderlei Silva or Mauricio "Shogun" Rua, Andrade is relentless with her offensive onslaught and she's not sure Jedrzejczyk has ever faced anyone like her before or maybe never will again.
"The way that I put pressure on in fights is something Joanna has never had to deal with. She's not used to someone just bullying her or just grabbing her and with pressure all the time," Andrade said. "This is something we're expecting her to have problems with because she is so technical, she is someone who comes from a really strong technical background. We know this from history that people who are too technical, they sometimes lose themselves with an opponent who are not as technical or not as predictable as them. This is something we are really hoping will make a difference. We know that it's going to make a difference cause I'll be honest, it's really difficult to prepare against someone like me.
"The way that I fight, it's not easy for my opponent to just sit there and think. Once I start getting my punches going, they aren't going to have time to think."
Jake Roth-USA TODAY Sports
Of course, Andrade doesn't discount what Jedrzejczyk offers in return because she wouldnt be champion for as long as she's been without a ton of skill to counter everything her opponents throw at her.
Before she was UFC champion, Jedrzejczyk was a multi-time title holder in Muay Thai kickboxing and she's translated her striking art to mixed martial arts where she's become one of the most fearsome stand up fighters in the world.
As strange as it might sound, Andrade concedes that Jedrzejczyk is probably the better technical kickboxer in this fight, but that doesn't mean she won't get hurt when getting punched in the mouth with a thudding left or right hand from the Brazilian contender.
"The thing with Joanna, she does have a lot of punching power but it comes a lot from speed and technique. We are very much aware of that. I'm not as technical as her, probably won't ever be because that's not the game that works for me," Andrade said. "I know my strength. I know there's probably no one at strawweight that is as strong as I am. There's probably no other strawweight that has the power and strength that I have and that's going to show in the fight.
"I don't think she can even prepare for someone my size and my strength in her camp. It's not something very easy to prepare for."
Between her strategy to put the pressure on Jedrzejczyk from the opening bell to the power she possesses in both hands, Andrade feels like she has every weapon necessary to walk into UFC 211 as the challenger and walk out as the champion.
Andrade absolutely respects Jedrzejczyk but that's not going to save her once they step into the Octagon together where she's predicting a violent end to the fight.
"Since we got the fight, even before, I've seen the fight playing out in many ways. I think I could knock her out, I could finish her. She's got that long skinny neck that I could grab onto and get a submission," Andrade described. "Honestly, the way I see it, I'm going to get a knock out before the third round.
"At some point in those 15 minutes, my hand is going to connect and I'm not going to let her get back up. I'm not going to let her recover. I'm predicting a knockout by the third round."
Mark J. Rebilas | Mark J. Rebilas-USA TODAY Sports