Houston Texans QB situation proves having two QBs in NFL is equal to having none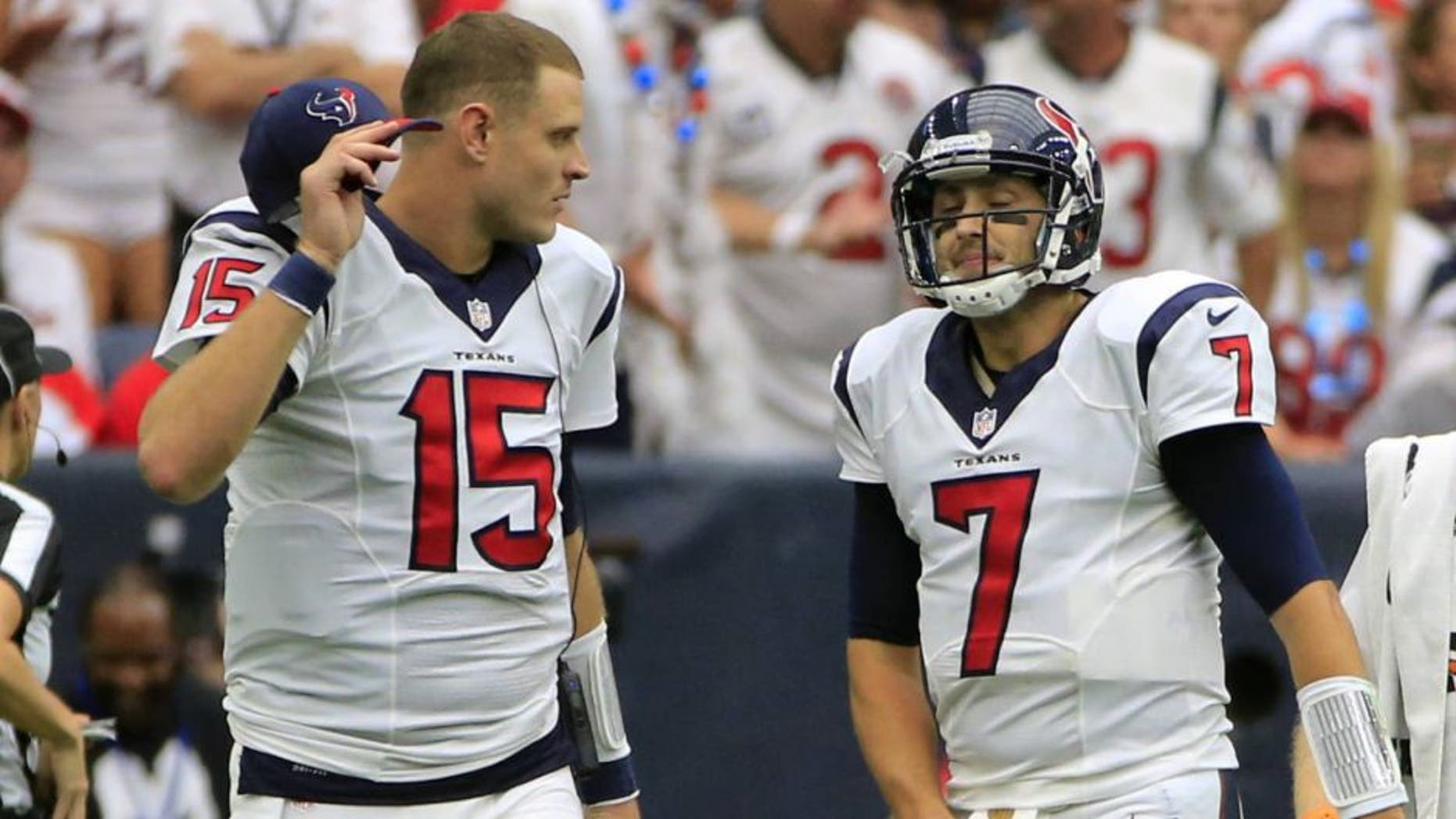 By Andrea Hangst
What's that NFL cliche? "Next man up?" No, that's not it. "The greatest ability is availability?" Nope, not that either. Oh, that's right: "If you have two quarterbacks, you really have none." That's what we're discussing today.
This is the situation that the Houston Texans and head coach Bill O'Brien, found themselves in, not just in Week 1 when O'Brien chose to pull starter Brian Hoyer for Ryan Mallett in the fourth quarter against the Kansas City Chiefs. This has been the situation since Hoyer was brought in during the spring. The summer-long neck-and-neck battle between the two was inevitably going to end one way: With a quarterback change.
This only seemed more likely when O'Brien named Hoyer the Week 1 starter. It was as though O'Brien was the last on earth to know what Hoyer's ceiling is and that it's already been hit. Yes, Hoyer led the Cleveland Browns to a 7-4 start to the 2014 season. But he was almost singlehandedly the architect of the Browns' five-game losing streak to end the year. Hoyer gave way to an overwhelmed and unprepared Johnny Manziel—that's how poorly he played.
But O'Brien chose to stockpile former Tom Brady backups, players with whom he was incredibly familiar, in hopes that the greatness of Brady somehow rubbed off on them, much as the Texans hoped that O'Brien's career of being Bill Belichick-adjacent would result in having a Super Bowl-caliber coach of their own. That, unfortunately, is not how this stuff works.
Hoyer was pulled on Sunday after completing 18 of his 34 passes for 236 yards, one touchdown and one interception (his first pass of the game) while being sacked four times. Things improved marginally with Mallett under center; he completed eight of 13 pass attempts, for 98 yards, a touchdown and one sack. And that's why, after less than one game played, Hoyer is being pulled for Mallett in Week 2 against the Carolina Panthers, something O'Brien confirmed on Thursday after playing coy for most of the week.
This is on the heels of O'Brien's choice to go with Hoyer in Week 1 and to stick with him for, well, not the long term, but at least for a while. We all heard him say it, because HBO's Hard Knocks cameras caught it: "We're not on a short leash here, but we're not going to sit there and let it go eight games of not being very good." Hoyer didn't get eight games, and he didn't even get eight quarters. And O'Brien's itchy trigger finger only seems to point to this switch being a temporary one. O'Brien said, as part of the Texans' official press release on the matter, that "When Ryan went into the game, he added a spark to our team," and said this move was "not an indictment of Hoyer." Which, to my eyes, means that O'Brien is a coach willing to make a quarterback change at any moment the Texans seem to lack—and need—that ephemeral "spark." If O'Brien is willing to do this in Week 1 to Hoyer, why would he not be just as willing to do the same with Mallett, even this Sunday?
That's the danger of a neck-and-neck quarterback battle. When both passers seem to have the same level of talent, the same mastery of the playbook, the same arm strength and the same accuracy, there's nothing glaring holding a coach back from playing one over the other—and the other over the one. If neither quarterback can clearly separate himself from the other, the coach has two identical entities to choose between. It makes it easier to pull Hoyer for Mallett—or Mallett for Hoyer—when the only thing O'Brien is searching for is a "spark."
There's an old story about the nature of a donkey. You can put two identical bales of hay in front of a donkey and, because neither is more appealing than the other, the donkey won't choose one over the other. The donkey winds up starving because he cannot differentiate between the two hay bales and why one is more appetizing. This is why the NFL cliche of "if you have two quarterbacks, you really have none," is the truth. The Texans are going to starve trying to figure out whether Hoyer or Mallett is their better option at quarterback this year.
More from The Sports Daily: