Holly Holm wanted Miesha Tate rematch to avenge her loss, not win back the title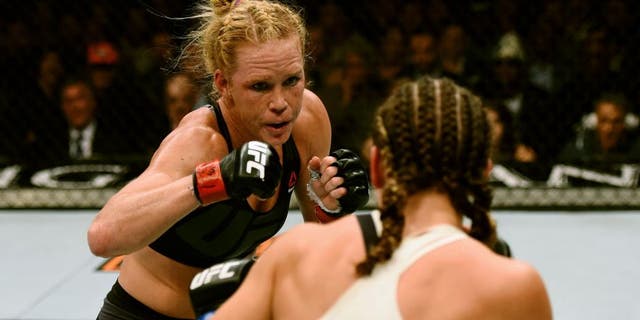 NEWYou can now listen to Fox News articles!
Holly Holm really doesn't enjoy losing.
Now that might seem like a statement that fits any competitor, whether it's a fighter in the UFC, a quarterback in the NFL or leadoff hitter in the major leagues, but Holm has a very special relationship with winning and losing that truly defines her pursuits as a professional athlete.
Only twice during her entire boxing career did Holm experience defeat, and both times she bounced back a better and more dominant fighter.
So as Holm returns to action this Saturday night on FOX after suffering her first defeat as an MMA fighter when she fell to Miesha Tate in March, she's ready to once again show the world that she's a winner and that's all she'll ever be again.
"I've come back hard and strong, but coming off losses you always battle with your own doubt in your mind with things, which is good because it keeps it real," Holm told FOX Sports. "It keeps me realizing that I need to keep learning and never get complacent and never be OK with, 'You win some, you lose some.'
"I don't want to win some and lose some. I want to win them all. It gives me that hunger. I always have that hunger, even if I'm not coming off a loss, but it does make it extra motivating, and it's just a reminder of things you need to work on. It's never perfect. There's always room to improve."
As she prepares for her bout with Valentina Shevchenko this weekend, Holm has been asked similar questions dozens of times at this point about earning another title shot or fighting to win back the belt she lost in March.
Even UFC president Dana White has said that he'll be keeping a close eye on Holm's fight with Shevchenko because a win could propel her into a matchup with new champion Amanda Nunes later this year.
Holm appreciates the fact that everybody wants to talk about the title, but that's not what gets her out of bed in the morning and that certainly isn't what's pushing her to win against Shevchenko. Actually, Holm couldn't care less about the title in the grand scheme of things because her obsession isn't with gold trinkets wrapped around her waist at the end of a fight.
It's all about winning.
I want to win. I don't care who I'm facing, I don't care what it's for -- I want to win. I wanted the rematch with Miesha after the fight because I wanted to avenge my loss. It has nothing to do with the actual belt. -- Holly Holm
"It's the fight with the fighter," Holm said. "Whether the fight is for a belt or not, I don't want to lose any fight. I want to win just as badly whether it's for a belt or not. It has nothing to do with the actual championship."
That's part of the reason Holm has no real interest in discussing a potential showdown with Nunes after this fight because none of that matters without a win over Shevchenko.
The Russian-born striker has developed into one of the best prospects in the women's bantamweight division and went three hard rounds with Nunes in March. The fight was so close that Holm believes if there had been another round, Shevchenko could have potentially put Nunes away, but alas time ran out.
"If that fight would have gone any longer Valentina would have won that fight, and Nunes is the champion now," Holm said. "As much as people say, 'What do you want after this fight?', it's like I need to deal with this one. I'm facing one of the best girls out there.
"I can't look past this weekend. I've got a lot of work ahead of me."
Holm understands the interest people have in what comes next for her -- whether that's a fight with Nunes or a potential rematch against Tate or Ronda Rousey.
Still, Holm prefers to think about right now because without today there is no tomorrow.
"People are always going to wonder about the whole big picture. That's why they ask all these questions related to the whole division and obviously with recent events they want to know what you think about it," Holm said. "They want to know about the Miesha fight and all that, and obviously that's the most recent thing. I have a loss to her. I understand it.
"But my job is to make sure I stay focused on the important things. I can't think about my last fight or what comes next. You are never promised another opportunity. This could be it. Treat every fight like it's your last fight because it could be. You never know."