GM Mozeliak: Cardinals need to 'improve our offense' moving forward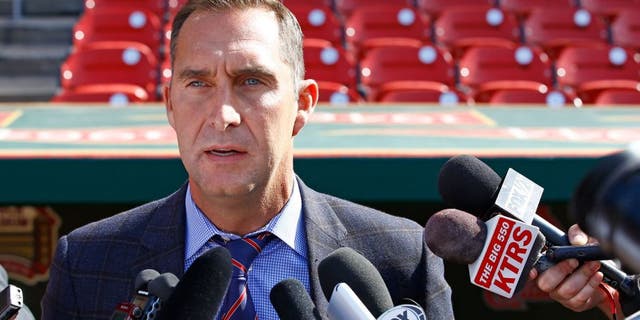 When a club wins 100 games in a season, it might be hard to recognize some of its drawbacks - that's why a general manager is so important.
In the wake of the St. Louis Cardinals' four-game NLDS exit last week, GM John Mozeliak addressed some things he sees necessary in order to improve his team's chances next season. Specifically, he told Derrick Goold of the St. Louis Post-Dispatch, they could focus on forming a new offensive identity.
Again, with 100 wins it's easy to cloud judgment and/or make it difficult to step back and see some glaring issues, but these 2015 Cards were 11th in the NL in runs scored (with 647) and home runs (137). Their .253 team batting average was good for fifth, but as Goold pointed out the lineup scored three or fewer runs in 79 regular season games and saw its OBP finish at .321 (as compared to .320 last season and .332 in 2013).
Said Mozeliak to Goold about the team's offensive performance:
"When you look at the makeup of this roster as it's currently constructed, you can imagine an uptick in offense. You look at our roster and you could argue that there are a couple players who are on the backside of their careers, but you could also argue that there are five or six who could be in that lineup and have a lot more upside. That's what we need to sort of focus on. We do need to improve our offense. But I don't think it's as drastic as other people interpret it."
Where could the Cards focus in order to improve on the offensive side of the game? Well, bringing back free agent Jason Heyward could be an option (and it's one the team is reportedly interested in doing).
The Cards won 100 games on the strength of a pitching staff that helped post the club's lowest team ERA since 1969 (a statistic Goold mentions) and allowed for a plus-122 run differential, but Mozeliak was careful to note that can't be relied upon again for next season:
"We won 100 games. That means we're accomplishing things that others weren't. From a scoring perspective, no, we didn't score the runs that Toronto did but we still had a very positive run differential and net-net that allowed us to win our division."
The Cardinals may have been the cream of the proverbial NL crop this past regular season, but that doesn't mean they have nothing to improve upon for next year.