Drivers, crew chiefs react favorably to 2016 rules package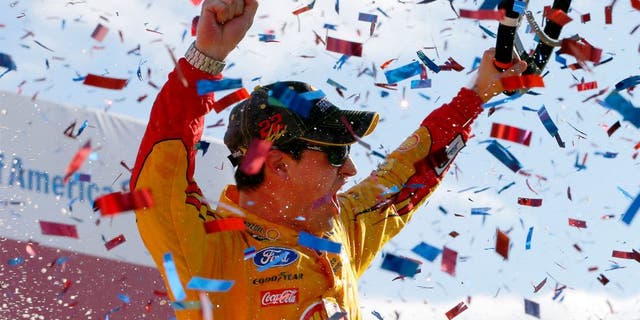 NEWYou can now listen to Fox News articles!
It's only been two days since NASCAR announced its base rules package for the 2016 Sprint Cup season, but some drivers and crew chiefs have wasted no time giving it their seal of approval.
The package, which includes a 3.5-inch spoiler, a 0.25-inch front leading splitter edge and a 33-inch wide radiator pan, is designed to create lower downforce on the cars and substantially lessen the effect of the dreaded "aero push" that has made passing so difficult with the 2015 rules package.
So why has the 2016 rules package -- which will be used everywhere except Daytona and Talladega -- garnered such quick affection?
Quite simply, it mirrors the one-off, low-downforce aero package used in races earlier this year at Kentucky Speedway and Darlington Raceway where competitors almost unanimously heaped praise on the quality of the racing at the front of the field.
"It seems like every place that we've run it, it's been a good thing," Rodney Childers, the 2014 Sprint Cup Series champion crew chief for Kevin Harvick, told FOXSports.com on Friday at Kansas Speedway. "That last one at Darlington we were able to get really close to guys through the corner and get right up to their back bumper, and that's something we've struggled with (with the 2015 rules package). I think you saw that at Charlotte last week. We had a little better car than the 22 (race winner Joey Logano) at the end, and we just came to a certain point and just stopped and couldn't go anywhere. So hopefully it can make the racing better."
Adam Stevens, crew chief on the No. 18 Toyota of Chase driver Kyle Busch, isn't sure if there's anything he would change about the new package.
"I don't know. It's so hard to say," Stevens told FOXSports.com. "I think the steps they're taking are what the industry thinks is the right direction, and I agree. You can always debate whether it's too far or not far enough, but it's definitely been proven on the track already, so I'm excited about it."
Like Childers, Stevens liked what he saw from the low-downforce package at Darlington and Kentucky.
"It seemed like it put on a really good show both races we had it," Stevens said. "I think it will be a little bit harder on the tires, and they're going to build some tires to accommodate it, which will put a lot more of a mechanical setup into play at a lot of these mile-and-a-halves. I think it will put on a good show and it'll be fun."
Each track will continue to feature specific rules, including different tire combinations, which will ultimately have a huge impact on the overall success of the package.
"I think it'll be a challenge for Goodyear trying to find the right tire everywhere, you know what I mean?" said Cole Pearn, crew chief for Chase driver Martin Truex Jr. "But I still think that's the least ride-height sensitive, car-behind-sensitive package there is, so I think that's definitely going to breed the best racing."
Greg Stucker, director of racing for Goodyear, doesn't expect any drastic changes in how the tire manufacturer goes about its business next year.
"If you look at the Cup Series alone, it's probably going to end up being about the same number of different tire combinations we run now," he said on Friday at Kansas. "The racetracks aren't changing -- just the downforce package is -- so I think we can probably end up at about the same point. Racetracks where we run a (certain tire) combination are going to probably still like that similar type of combination -- even in the low-downforce configuration."
But what do the folks who are actually going to be driving the cars think about the 2016 rules package?
From the few drivers already polled, initial impressions couldn't be more favorable.
"I think there's been some great tests this year as far as race conditions -- Darlington, Kentucky," said Joey Logano, the first driver to punch his ticket to the Eliminator Round of the Chase. "We've seen, I feel like, a huge improvement in racing at those two race tracks. Darlington has been a race track in the past that's been kind of a tough racetrack to see a great race, and this year is one of the best races we've had all year. And the only thing that's different is the rules package, and a softer tire to go along with it. Heck yeah, perfect. What else do you need to hear? It's obviously the right direction after that, so I'm excited to see where that's gonna go."
Though not quite as outwardly enthusiastic as Logano, Matt Kenseth basically agrees with the Team Penske driver's assessment.
"There's less grip, less ill aero effects behind other cars back in traffic, and all that," said Kenseth, the 2003 Sprint Cup Series champion. "I think it can definitely (create) more opportunities to pass if you catch a car."
And more passing opportunities mean drivers having more fun behind the wheel.
"It's a package that really puts the drivers more in control during the race," said Aric Almirola. "In the past, we've just flat-footed at the mile-and-a-half tracks, but now, you're working the gas and using the brake more, which allows for more passing. It's going to be more exciting for us, the fans and the sport overall.
"I really give credit to NASCAR for listening to the drivers and all the stakeholders in the sport. They studied it, took their time to get the best package possible and have now made a decision that's really the best for everyone. I think it's a big plus for our sport."
VIDEO: A look back at when Kyle Busch won at Kentucky Speedway in the first race featuring the low-downforce package that will be used in 2016