Alexi Ogando of the Texas Rangers, Making the Most of 2nd Chance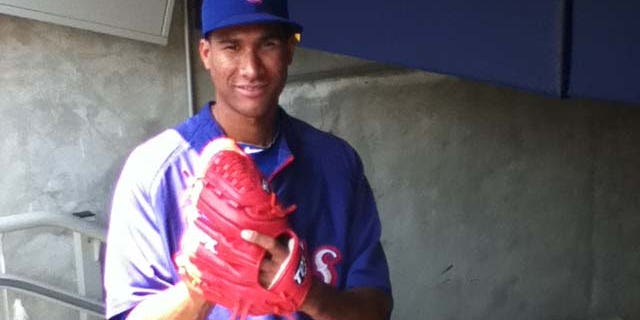 NEW YORK – Like many Dominican youngsters, the baseball diamond was the only path out of the Caribbean island for Alexi Ogando.
And Ogando, a right-handed pitcher for the Texas Rangers, has taken that opportunity and has run with it. Despite never having started a game in the majors, the lanky hurler went 7-0 in his first 12 starts.
He's lost twice since, but the end of the winning streak is relative to Ogando. The Dominican phenom had to overcome the biggest "L" of his life six years ago when his clear path to the big leagues went horribly off track.
In 2002, Ogando, then 18, signed with the Oakland A's as an outfielder and made it to the team's short-season Class-A affiliate in Vancouver, Canada, two years later.
That's when Ogando's fast track to the big leagues hit a fateful bump. Ogando, along with 30 other Dominican minor leaguers, including another Rangers prospect, Omar Beltre, was in involved in a marriage scam with women back home. For a few thousand bucks, the players, who had work visas, would clear the way for their would-be wives to enter the United States.
The scheme raised a red flag to officials at the U.S. embassy in the Dominican Republic when they noticed that an unusually high number of ballplayers had been married in such a short time. Authorities also noticed that the women previously had been denied visas.
Ogando and his teammate were questioned and confessed. Among other penalties, the players were banned from the U.S. for five years.
Just like that, their baseball dreams were shattered.
Ogando was suddenly on a road to nowhere, but still never gave up hope.
"There were some difficult moments. There were some moments when I thought, 'Wow, everything is going to end here,'" Ogando told Fox News Latino during the Rangers' recent series against the New York Yankees. "I always kept the faith."
The time away, difficult as it was, helped Ogando mature, he says.
"It was an experience that hurt a lot. It was something that helps you a lot," Ogando said. "When you trip, it helps you keep your head up. You just keep going forward. It serves a lot as an example for a lot of those youngsters not to make the same errors."
The Texas Rangers have a reputation of sticking by their players and personnel. They could have parted ways after manager Ron Washington failed a cocaine drug test in 2009, or dumped All-Star John Hamilton, who for years battled drug and alcohol abuse, after he had a relapse around the same time.
The club was aware of Ogando's problem, but still decided to take a flier on him, plucking the prospect away from the Athletics in the Rule 5 Draft in December 2005; the Rangers paid just $12,000 for the rights.
Jon Daniels had just become the general manager and a scout, who had seen Ogando in the minors, had visions of converting the Dominican into a pitcher. Daniels not only wanted to help Ogando the athlete, but Ogando the human being, the kid he felt just made an honest mistake.
The general manager told Fox News Latino that during the first three years, it was just one roadblock after another. Daniels said that the franchise had a number of people working the scenes with authorities to get Ogando on U.S. soil again.
The Rangers almost gave up, and even thought about selling Ogando's contract to a Japanese team. But Daniels and the Rangers organization felt they owed it one more shot.
"He made a mistake and he got involved with something you shouldn't have gotten involved with," said Daniels, adding that he respected the rules in place to protect the country. "We felt from the outset that the punishment probably exceeded the crime.… He was a naïve kid who just got involved with something he didn't understand.
"I think we took the standpoint that we had the chance to help him from a human interest standpoint. Selfishly...we realized this guy was a really good prospect. A very good talent," he added. "We wanted to see if we could both help him and help ourselves and get him over here...he could accomplish some things on the field and earn a living and accomplish a dream."
The team finally got its man when the ban ended in 2010, and Ogando has been thanking the team, particularly Danial and Nolan Ryan, ever since.
"It's something that was very special on their part and I treat them as if they were my own family. They supported me a lot. They were always there for me," Ogando said. "They always had me at the top of their list. They showed a lot of confidence, which allowed me to keep playing. They gave me all of the support so that I could maintain myself ready until the chance finally arrived."
Beyond what Ogando does every fifth day on the mound for the Rangers, Hamilton is glad that the team took the necessary measures to help his teammate get another shot.
"He's funny because it will be his day to pitch and he'll be walking around the clubhouse singing and dancing. Just carefree. Just enjoying the moment and enjoying the opportunity that he has to pitch again," Hamilton said. "You know, obviously, when people have talent to play the game and make mistakes, a lot of people write them off. But the Rangers, in the past and now...has been the club that takes chances. They're a family-oriented organization."
Hamilton is glad Ogando – the once shy, uncomfortable, out-of-place newcomer who finally broke out of his shell – was given a second chance.
"I mean, he's loud...loves music...loves to dance...loves to joke around," Hamilton said. "And we wouldn't want to have him any other way."
Adry Torres, who has covered MLB, NFL, NBA and NCAA basketball games and related events, is a regular contributor to Fox News Latino. He can be reached at elpiloto137@gmail.com or follow him on Twitter: @adrytorresnyc.