Al Iaquinta explains why he decided to return to the UFC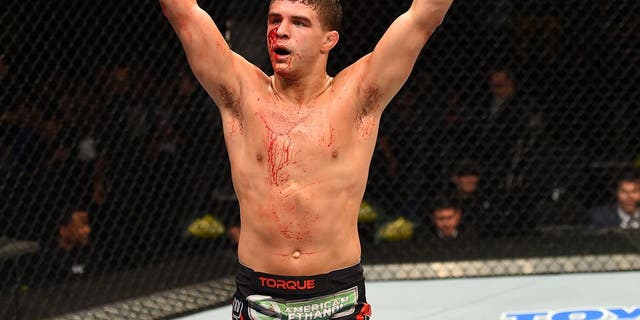 It's been two years since Al Iaquinta last stepped foot inside the UFC Octagon and after raising several grievances against the promotion many wondered if he'd ever walk into that same cage again.
Iaquinta detailed his issues with the UFC in an interview with FOX Sports in 2016 where he divulged problems with sponsor pay, no longer being allowed to receive post-fight bonuses as well as a long battle to get approved by insurance so he could get the necessary surgery to repair damage done while competing in the promotion.
The long list of grievances eventually resulted in Iaquinta dropping out of a previously scheduled fight with Thiago Alves this past November and it appeared based on his statements that he may never fight in the UFC again.
Months later and Iaquinta is scheduled for a fight this weekend in Nashville against Diego Sanchez, but what exactly brought him back to the table after raising so many issues with the UFC last year?
"It's not just one thing, it's a combination of a lot of things," Iaquinta explained when speaking to FOX Sports. "Back in November, I was hurt, my body wasn't feeling good. I was still rehabbing my knee. I was still healing up from injuries from past fights. So that was one thing, and I wasn't really making money. Now I started making money outside of the UFC. I enjoy that. I found something else I can do. If I get hurt in this fight, I know that I don't have to rely on sponsors, I have another source of income. I'm not reliant on the UFC. I can do what I want to do.
"I'm independent. The rest of these guys they love the UFC so much, and the UFC is awesome, I love fighting for the UFC, but they have their best interests at heart. I now have my best interests at heart. There's more to life than just being a UFC fighter."
In his time away from the UFC, Iaquinta started his own real estate company and from the sound of things, business has been doing well for him.
That additional income that made Iaquinta no longer dependent solely on what he was making from his fights played a large part in re-aligning his perspective on the sport. Add to that, Iaquinta was also enthusiastic after the UFC offered him a matchup against Sanchez, who is considered one of the most exciting fighters on the roster with a career that stretches back more than a decade with the promotion.
"It's a guy I've looked up to since before I got into the sport," Iaquinta said about Sanchez. "I remember watching 'The Ultimate Fighter' and seeing this lunatic that was just out of his mind, great entertainment, but I still saw weaknesses. Even back then, I hadn't trained a day in my life, but I saw weaknesses being crazy like that. He's a guy I respect tremendously. He's going to be there from the beginning to the end."
Jeff Bottari/Zuffa LLC/Zuffa LLC via Getty Images
Iaquinta knows that Sanchez is capable of putting on a 'Fight of the Year' candidate every single time he steps into the Octagon and that's exactly the kind of opponent he wants to face at this point in his career.
While he's currently riding a four-fight win streak, Iaquinta is more concerned about enjoying the sport with an enticing matchup and he knows Sanchez will provide him with everything he can handle and more.
"He likes to get into that crazy brawl and I think I could do that and I could still beat him at his game. But he can't swim in my pool. A technical fight where we really find out who the better fighter is. I'm going to show that I'm younger, stronger, I'm faster. It's just a fun fight for me," Iaquinta said.
"That's what I'm looking for, just a fun fight. I think that's what makes this fight so exciting. He's in it until the end. He's going to be coming after me. I just see him as a bloody mess coming forward."
More than anything, Iaquinta is just excited to move forward with his career and nothing will help that more than when he steps through the curtain on Saturday night and feels the energy that can only come from fighting in the UFC.
"Everything aside, that's why I do it," Iaquinta said. "That's why I love doing it. That's when I feel the most at home. I love the crowd's energy. The first fight I saw was back at UFC 53, I got like $250 tickets, which back then got you real close and I was in high school and I thought I've got to get in there. I've got to experience this. When I got in there I fell in love with it.
"Everything aside, this is why I'm doing it. I love that. I can't wait."