U.S. to Sell F-15 Fighter Jets to Saudis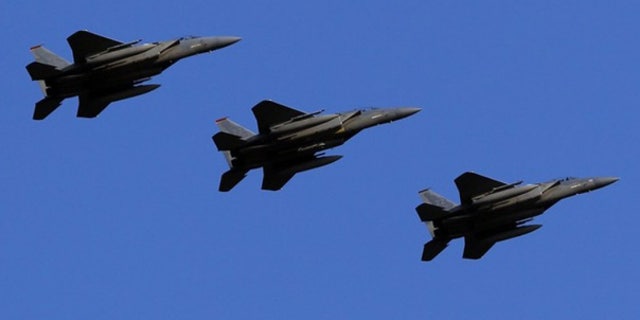 WASHINGTON—The Obama administration plans to sell advanced F-15 fighter jets to Saudi Arabia but won't equip them with long-range weapons systems and other arms whose inclusion was strongly opposed by Israel, diplomats and officials said.
The proposed $30 billion, 10-year arms package, which would be one of the biggest single deals of its kind, has been a source of behind-the-scenes tension during months of negotiations. Israeli officials have repeatedly conveyed their concerns in private that the U.S. risks undermining its military advantage by equipping regional rivals with top-flight technologies.
U.S. officials say they provided "clarifications" in recent weeks about the deal to help damp Israel's qualms. Two officials close to the negotiations said Israel still had some reservations, but that the country isn't expected to challenge the sale by lobbying Congress, which can hold up the deal or push for assurances of its own. The administration is expected to formally notify Congress of its plans as early as next month.
The information-sharing with Israel is part of a longstanding commitment by successive U.S. administrations to maintain its military edge in the region. Congress has the power to block any weapons sales deemed detrimental to Israel's military advantage.
The tussle is a window into the White House's delicate balancing act in the Middle East. The administration has championed advanced weapons sales to Gulf states as a way to check Iranian power. In addition to Saudi Arabia, the U.S. has moved to sell arms to the United Arab Emirates and other Gulf states, as well as support on a smaller scale the Lebanese army and Palestinian security forces in the West Bank.
Iran is far from the only security challenge facing Saudi Arabia, which has considerably beefed up its standing army since Iraq's invasion of Kuwait, when the ruling Saud family began to see potential border troubles as a more serious threat.
Earlier this year, Saudi armed forces sustained heavy losses during extended skirmishes with Yemeni rebels on the southern border, the kind of flare-up a new crop of fighter jets would seemingly be ideal to fight.
But the scope and size of the Saudi deal has unnerved Israel and its allies in Congress at a time when U.S.-Israeli relations are particularly unsteady.
Continue reading at The Wall Street Journal