Democratic Convention: Michelle Obama Praises Hubby in Speech to Latinos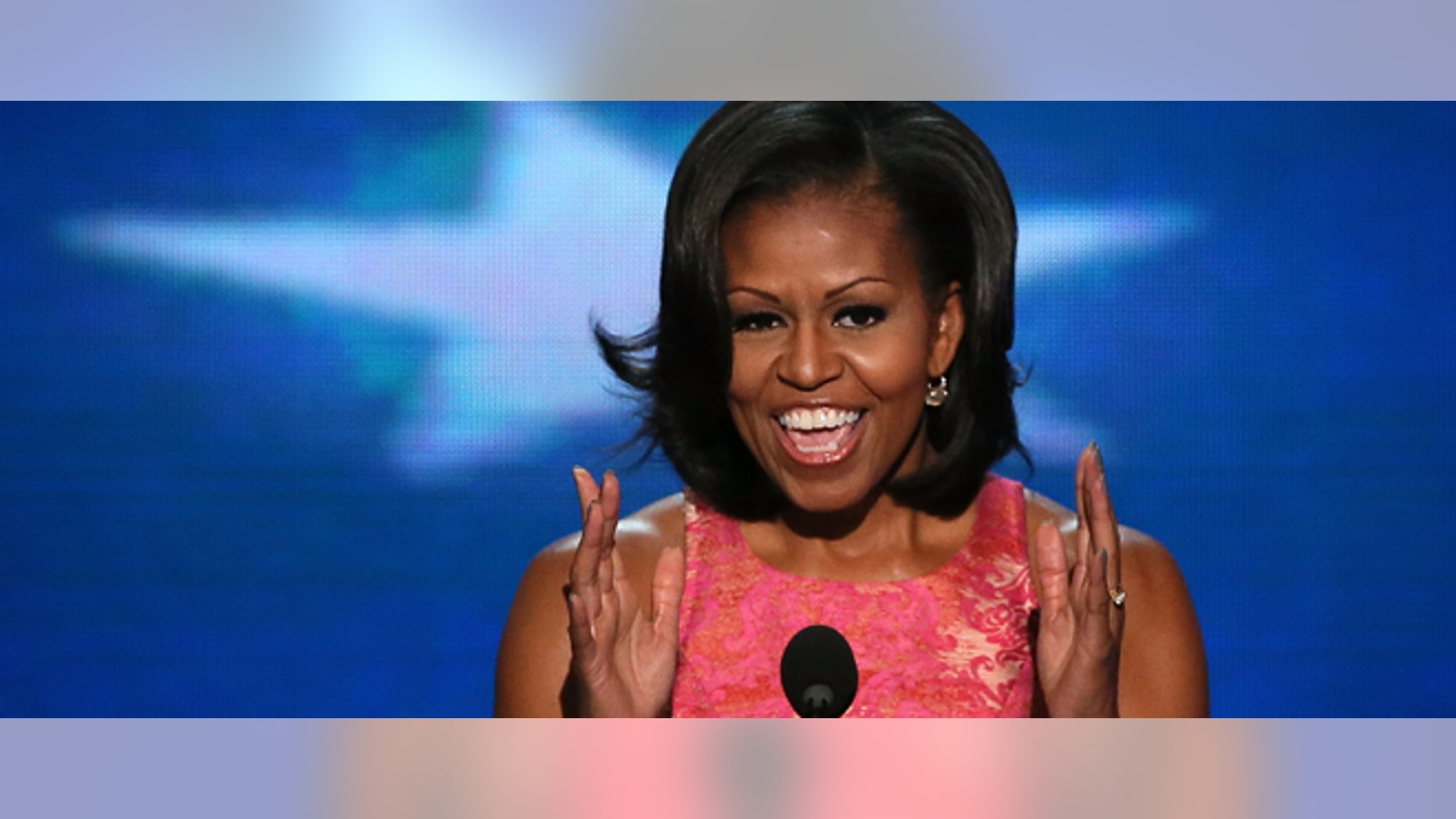 Charlotte, N.C. – First Lady Michelle Obama told an audience attending the Hispanic caucus meeting Wednesday that her husband, and not his Republican challenger, would be committed to helping everyone – not just the privileged – improve their lives.
The first lady, who gave a highly praised primetime speech Tuesday to kickoff of the Democratic National Convention, reiterated the portrayal on Wednesday of President Barack Obama as someone who believed in policies and programs to help those who are struggling, and to help those who are middle-class feel less financially squeezed.
She contrasted that portrayal of compassion with what she described as the elitist and unsympathetic approach of GOP presidential nominee Mitt Romney and his running mate Paul Ryan.
"My husband has been working hard to build a ladder to the middle class for all Americans," she said.
We should all have a fair chance in this country to make it.
The President, whom she often referred to as simply "my husband," sees the United States as "a place where every single one of us has something very unique and very special to contribute. We should all have a fair chance in this country to make it."
She said the President had pushed healthcare reform "so that families don't go broke because someone gets sick."
The President, she said, believed in "fighting for the DREAM Act," a measure that would allow undocumented immigrants brought as minors and who meet a strict set of criteria to pursue a pathway to legalization.
The measure passed the House of Representatives in 2010, but not the Senate.
A man in the audience yelled "I love you, Michelle!"
The first lady paused and smiled and said "Love you, love you babe" to cheers and laughter.
The Democrats have been pushing the message that Romney and the Republican Party cater to the wealthier in the country, and seek to cut expenses that predominantly hurt the less well-off and the poor.
Republicans say that Democrats are stubbornly dedicated to keeping the government large and they are reluctant to cut the fat – programs that keep people dependent on them for too long and dissuade people from becoming self-reliant.
The first lady, like other Democrats, maintains that Republicans are insensitive to the needy and to those who need a boost to move up to the next socioeconomic rung.
"All of that is at stake in this election," she said, "it's all on the line."
She ended with "Si se puede!" ("Yes we can!")
Indiana delegate Timothy Banter Jr., whose mother is Latina, said the first lady's speech "was incredibly inspiring."
Her message about how hard work should propel people to better opportunities and better lives in general, he said, especially resonates with Latinos like him.
"Latinos want what every American wants," he said. "We want good education, we want to be safe in our communities, we want clean air, and opportunities. Wherever we go we work hard to make sure our kids, the next generation, succeeds."
Estella Kessler, a Latina delegate from California, was unabashed in her delight.
"I love her," she said, her eyes beaming under a straw hat festooned with Obama buttons. "She said everything I wanted to hear. She comes across like an everyday person, not elitist, like the other side."
Kessler said she recently became a grandmother to a little girl born with heart problems.
Her eyes filling with tears, she said "Thank goodness we have health insurance. It's important for everyone to have it. I'm afraid that if the Republicans win, that would be taken away."