Democratic Convention: Democrats Tout Latino Delegates, Republicans Remain Silent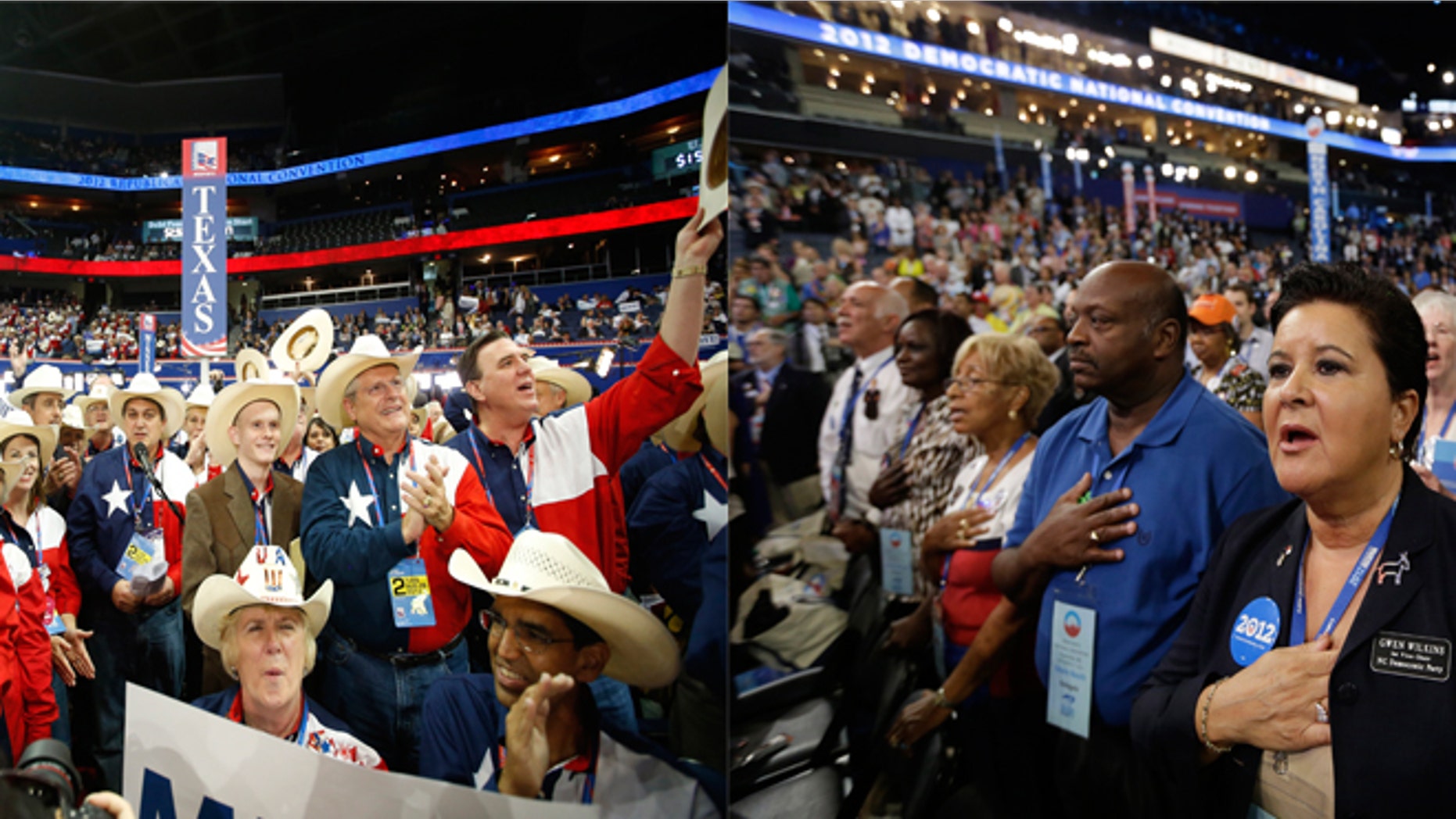 While Republicans remain relatively silent on the number of Latino delegates at last week's convention in Tampa, Democrats are boasting a record estimated 800 Latino delegates at this year's Democratic National Convention, more than any convention in U.S. history.
"It sends a clear message that we're important in this election, and to the Obama administration," said labor rights leader Linda Chávez-Thompson of Texas. "The administration and the DNC worked very hard in making sure that there were many Hispanics and African Americans in this convention."
Republicans made a big to-do about their Latino-heavy convention line-up but little was said about their Latino delegates. The numbers have been tough to come by, and finding Latino delegates was difficult in the sea of mostly white faces of the Republican convention hall.
GOP spokespeople have not responded to numerous Fox News Latino requests for the number of Latino delegates in Tampa.
The RNC featured a speaker list that included Nevada Gov. Brian Sandoval, the first Latino governor of that state, New Mexico Gov. Susana Martinez, the first Latina governor in U.S. history, and U.S. Sen. Marco Rubio of Florida, widely regarded as a potential future presidential candidate.
"The sad part for me as I watched last week they had had all these big profile people of color, but they were not in the audience," Chávez-Thompson said.
While Republicans point to their Latino stars, Democrats point to their rising star San Antonio Mayor Julian Castro, the first to give a DNC keynote speech; Alejandra Salinas is the first Latina president of the College Democrats of America, and Katherine Archuleta is the first Hispanic to serve as a national political director for a presidential campaign.
Still, Rosario Marin, former U.S. treasurer under George W. Bush, blasted the Democratic lineup in an op-ed published in Fox News Latino, saying that while the GOP had three sitting Latino governors and a US senator, the Democrats have mayors and three Latino Hollywood stars.
"No disrespect to these famous stars, but, really? Is Hollywood in charge of public policy now, according to the Democrats? Or things are so bad that we just need TV and movie personalities to make us feel better about the precarious state of the economy in our Latino households?" she wrote.
Last week, Los Angeles Mayor Antonio Villaraigosa made waves for accusing the Republicans of trying to sugarcoat the apparent lack of diversity on the floor of their convention with a high-profile line-up of minority speakers.
Republican Latino delegates who did speak to Fox News Latino last week, say they are happy to represent their party, and pointed proudly to the many Latino speakers at the RNC, saying that's a sign that their party is best for Hispanics.
Still, Democrats like U.S.  Rep. Charles Gonzalez, a Texan who chairs the Congressional Hispanic Caucus, said the Latino delegate milestone in Charlotte is "in keeping with what's going on nationwide."
"This should be the case in all conventions, not just Democrat, and not just presidential," Gonzalez said. "Latino influence on politics is growing."
Gay Latinos also say they are heartened by another historic delegate milestone -- this presidential convention has the highest-ever record of LGBT delegates -- 540, including alternates and others who fall into the delegate category.
"If you believe in equality for all, in what the Constitution says, there's no question what party you belong to," said Zach Adamson, a Mexican-American councilor-at-large from Indianapolis. "This is also the first time marriage equality is being made part of a major party's platform."