Close governor races to watch during midterm elections
Multiple gubernatorial races across the nation are close this year.
Ahead of Nov. 6, Republicans lead 33 states in the U.S., compared to the 16 led by Democrats. Of the 36 seats up for grabs this year, 13 are ranked as likely Republican and two lean Republican, according to Fox News' rankings. On other side, six are ranked as likely Democrat and seven lean Democrat. Eight are considered a toss-up.
Read on for a look at those eight gubernatorial races ahead of Election Day.
Alaska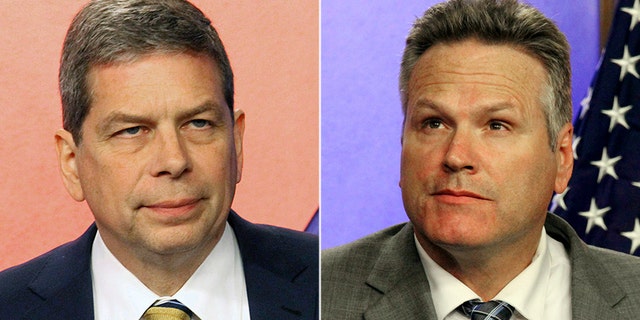 With less than a month to go until Election Day, Alaska Gov. Bill Walker threw a wrench in the race – by dropping out and endorsing the Democratic candidate.
Walker, an independent, initially faced Democrat Mark Begich and Republican Mike Dunleavy in the three-way race. But in October, the 67-year-old said it had "become clear" he could not win re-election.
Left in the race is Dunleavy, a former state senator and educator who has worked in Alaska as a teacher, principal and superintendent, and Begich, a former U.S. senator and mayor of Anchorage.
FOX NEWS MIDTERM ELECTION HEADQUARTERS
Begich was a late entry to the gubernatorial race, saying at the time he thought he could "bring some new ideas and a fresh approach."
Florida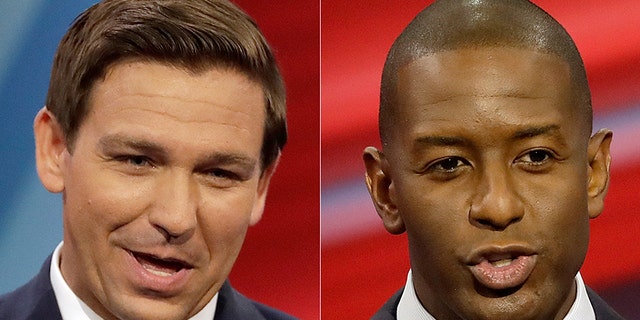 With Gov. Rick Scott term-limited, the race to replace him has been competitive and contentious. Former Republican Rep. Ron DeSantis faces Tallahassee Mayor Andrew Gillum, a Democrat, in the gubernatorial race.
DeSantis, 40, is an Iraq War veteran and decorated military lawyer who served in the U.S. House from 2013 until September when he resigned to focus on the gubernatorial campaign. He is a graduate of Yale University and Harvard Law School.
He's an ardent defender of President Trump, who backed him in his campaign.
Gillum, 39, has touted his efforts for greater gun control, particularly in wake of the Parkland school shooting. If elected, he would be Florida's first black governor and the first Democrat elected to the office since 1994.
HOUSE RACES TO WATCH DURING MIDTERM ELECTIONS
He is also caught up in a public corruption investigation by the FBI. But Gillum has maintained he's not a target of the probe.
Racial division has been an issue at the forefront of the gubernatorial race. A day after the primaries, DeSantis said Florida voters shouldn't "monkey this up" by electing Gillum. He then spent weeks explaining the remark, maintaining it had nothing to do with race, but rather his belief that Gillum would hurt Florida's economy.
In turn, Gillum has been criticized for his ties to a radical far-left group associated with Palestinian terrorism. Additionally, his campaign cut ties with a campaign volunteer in the final weeks who was caught on video calling Florida a "cracker" state and saying the campaign was taking advantage of "white guilt."
Georgia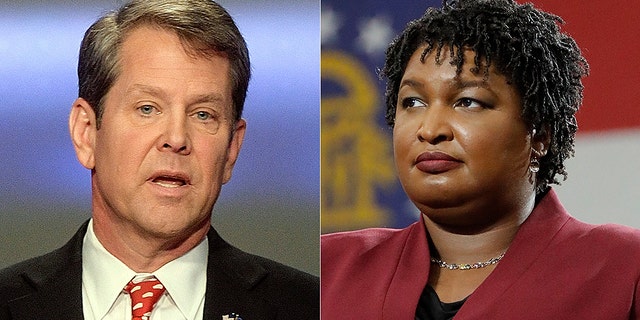 Stacey Abrams has a chance to make history as Georgia's first black, female state leader. But first, the Democrat faces Republican Secretary of State Brian Kemp in the closely watched gubernatorial race.
The election has been mired with accusations of voter suppression from both sides in the weeks leading up to the election. Abrams and Democrats have called for Kemp to resign from his position as Georgia's secretary of state, accusing him of using his position to make it more difficult for certain people to vote.
Then, Kemp asked the FBI to investigate the Georgia Democratic Party, accusing it of trying to hack the system he controls as secretary of state. His office did not detail any of the alleged acts or offer evidence for opening the probe.
5 SENATE LONGSHOTS WHO COULD SURPRISE EVERYONE IN TUESDAY'S MIDTERMS
In response, Abrams said, "There was never a hack. What was wrong is that he failed to do his job. He is abusing his power."
In the race, Kemp has the backing of Heisman Trophy winner Herschel Walker, while Abrams boasts the endorsement of Oprah Winfrey.
Iowa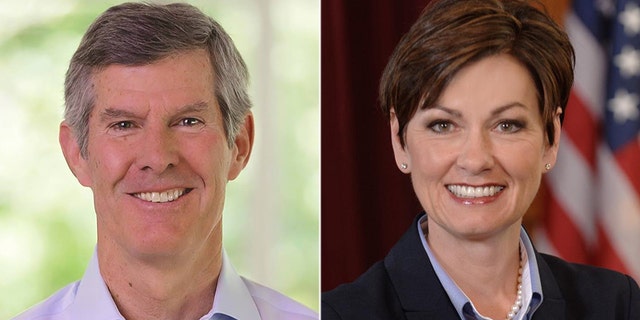 Republican Kim Reynolds is seeking her first full term as Iowa's governor, locked in a bitter race against Democrat Fred Hubbell.
Reynolds became the first female governor of Iowa in 2017 when Terry Branstad resigned to become the U.S. ambassador to China. She previously served as the state's lieutenant governor.
Hubbell, a wealthy businessman, has raised a record $18 million for his campaign, including $6.4 million of his own money. He's served on numerous corporate and community organization boards, and a trust he and his wife created has given millions of dollars to charities.
MIDTERM ELECTIONS GIVE DEMOCRATS CHANCE TO GAIN CONTROL: THREE THINGS TO WATCH IF THEY DO
His family businesses include the Younkers department stores and Equitable life insurance company, which he's managed in the past, according to the Des Moines Register.
Reynolds, who grew up in a blue-collar family in a small town, has attacked Hubbell's wealth throughout the campaign. "The issue isn't that Fred Hubbell has been rich his entire life; it's that he has no idea what it's [like] not to be," she previously said.
Kansas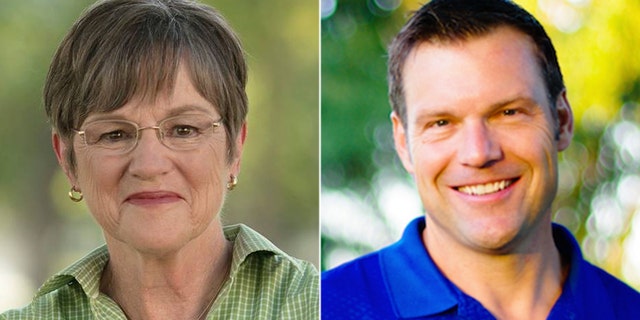 Nationally, Kansas has been a reliable state for Republicans. Trump bested Democratic contender Hillary Clinton by about 21 points in the 2016 election.
But Kansas Secretary of State Kris Kobach is facing a tough campaign against longtime state Sen. Laura Kelly. Whoever wins will replace Republican Jeff Colyer, who took over the position once Trump selected Gov. Sam Brownback to serve in his administration. Colyer ran for a full term but was defeated in the GOP primary by Kobach.
Kobach is a staunch ally of the president, who has endorsed him in his gubernatorial bid. He was the vice chairman of the White House's controversial voter fraud commission, which was dismantled by Trump earlier this year as it faced multiple legal battles and opposition from states. He's advocated for tough state policies against immigration and has promised to shrink state government and cut taxes.
WHAT TIME DO POLLS CLOSE ON ELECTION DAY? A STATE-BY-STATE GUIDE
Kelly, on the other hand, has focused on more moderate Republicans who might be put off by Kobach. Multiple Kansas Republicans, including former Govs. Mike Hayden and Bill Graves, have publicly declared their support for Kelly over Kobach, bucking their own party.
Kelly also led the Kansas Recreation and Park Association, according to her campaign website.
Maine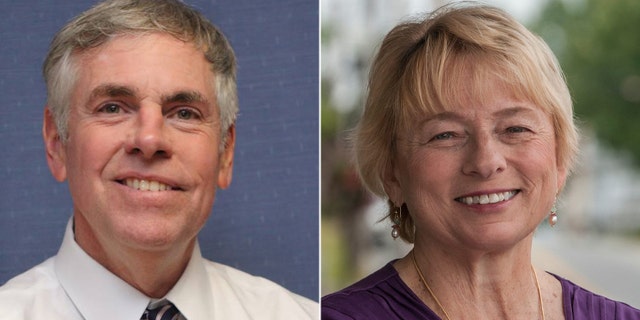 With Republican Gov. Paul LePage prevented from re-election due to term limits, the race to replace him is a tough one between Democrat Janet Mills and Republican Shawn Moody.
Mills, the attorney general of Maine, has raked in multiple endorsements from high-level Democrats ahead of the race, including Hillary Clinton and Joe Biden.
Moody is a businessman who once ran for a state House seat by saying: "I'm not a liberal. I'm not a conservative."
AM I REGISTERED TO VOTE? HOW TO CHECK
Mills has hit Moody over a 2006 settlement with a former employee who accused him of firing her because she had a baby, according to the Bangor Daily News. Moody has said the allegations were "false."
Nevada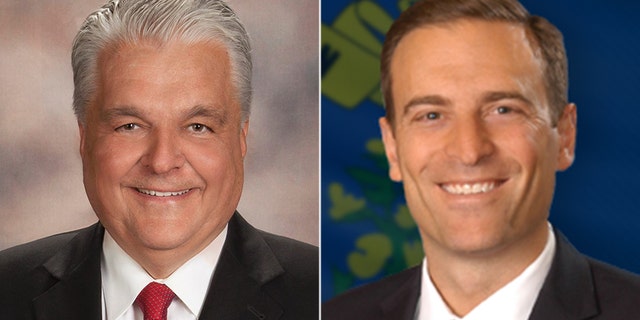 Nevada's tight gubernatorial races pit a powerful Las Vegas-area politician against a Republican from a political dynasty in a bid to replace outgoing Gov. Brian Sandoval, a Republican who is term-limited.
Adam Laxalt, a Republican, was first elected to as the state's attorney general in 2014. His father is former U.S. Sen. Pete Domenici of New Mexico, and his grandfather is former Nevada governor and U.S. Sen. Paul Laxalt.
A resounding theme among Laxalt's campaign – which has been backed by Trump – is a promise to keep the state from resembling its liberal neighbor California. Laxalt says to do that, he will oppose raising taxes and implement more regulations.
TOP DEBATE BLUNDERS OF 2018 MIDTERMS, FROM BAD JOKES TO RACIAL REMARKS
Democrat Steve Sisolak, on the other hand, has the support of Barack Obama and Eric Holder. A businessman, he chairs the Clark County Commission overseeing the Las Vegas Strip and also played a key role in the plan to build a new NFL stadium in Vegas for the Oakland Raiders, funded by a hotel room tax.
He's promised to stand up to Trump and the National Rifle Association and was a visible figure following the mass shooting at a country music festival in Las Vegas in 2017.
Ohio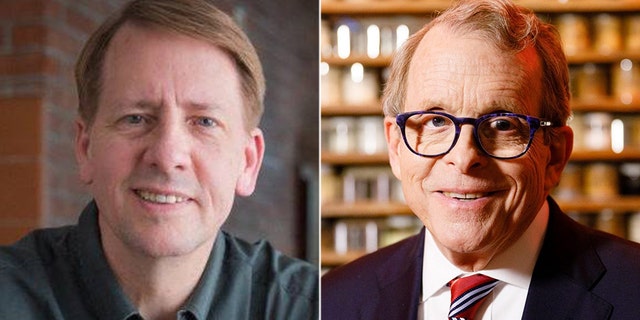 The race between Democrat Richard Cordray and Mike DeWine for Ohio governor is a tough one. Republican Gov. John Kasich – also a 2016 presidential contender – is term-limited and prevented from running for re-election.
DeWine is Ohio's 71-year-old attorney general. A longtime politician, he previously served as a U.S. senator and lieutenant governor.
WHY ELECTION DAY IS ALWAYS ON A TUESDAY
Cordray, his Democratic counterpart, is a former director of the Consumer Financial Protection Bureau. When he resigned from his position in November 2017, he set off a kerfuffle over who would replace him. Cordray, 59, appointed his own successor whereas the White House announced Mick Mulvaney, head of the Office of Management and Budget as interim director. Cordray also previously served as the state's attorney general.
Trump has endorsed DeWine whereas Biden and Sen. Elizabeth Warren have campaigned for Cordray.
The Associated Press contributed to this report.