Top debate blunders of 2018 midterms, from bad jokes to racial remarks
From a candidate being dragged offstage to comments with racial undertones, several debate moments in the 2018 midterm elections have stood out for their cringe factor.
A few candidates have even had to walk back statements made from the debate stage.
Read on for a look at six debate moments of 2018 that left viewers shaking their heads.
No ifs, ands or buts
Indiana Democratic Sen. Joe Donnelly apologized for awkwardly describing his minority staff members during a debate with Republican Mike Braun.
"Our state director is Indian American, but he does an amazing job," Donnelly said, responding to a question about diversity on staff. "Our director of all constituent services – she's African American, but she does an even more incredible job than you could ever imagine."
Republicans immediately called out Donnelly for using the conjunction "but" in describing the employees' performance.
Donnelly later told Fox News he "misspoke" during the debate.
FOX NEWS MIDTERM ELECTIONS HEADQUARTERS
"I meant to say 'and' instead of 'but,'" Donnelly said. "That would have communicated what I have tried to do my entire life: that I make a habit to seek out and promote people of color for both my campaign and official staff."
During the October debate, Donnelly said there needs to be a special focus on giving minorities opportunities.
"We want everybody to have a chance in Indiana and in America," he said. "And my offices reflect that, both on the campaign side and on the Senate side."
The race between Donnelly and Braun is ranked a toss-up by Fox News.
Jewish democracy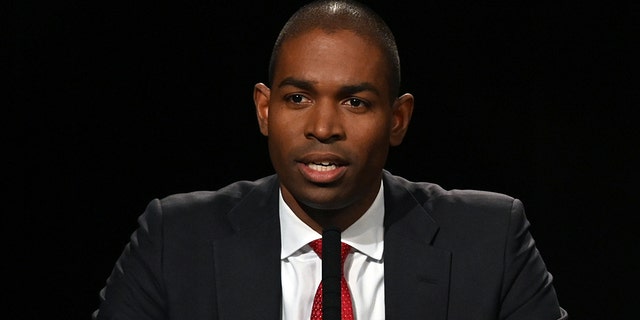 New York Democratic congressional candidate Antonio Delgado reversed course after he unequivocally stated: "Israel is not a Jewish democracy."
"As currently constructed, you know, Israel is not a Jewish democracy. Those settlements make it so that it can't be. So, we've got to have a two-state solution," Delgado said in the October debate, according to the New York Post.
He stood by his statements even after Rep. John Faso, the Republican he is challenging in the election, disputed him.
"I said it is not a Jewish democracy. Meaning that given the fact that we have settlements currently in the region, it is not deemed a nation of Jewish democracy until we deal with the settlements," Delgado said.
But in a later debate, Delgado walked it back, the Post reported.
MIDTERM ELECTION VOTERS CAN DECIDE ABORTION, MARIJUANA, IMMIGRATION ISSUES: 12 BALLOT MEASURES TO WATCH
"Israel is a democracy, and it is a Jewish democracy," he said.
"My point in the debate … was to say that, if it is to remain one for generations to come, it is urgent, critical that we have a two-state solution. As a man who is married to a Jewish woman, raising two Jewish children, I care deeply about the fate of Israel," he said.
New York's 19th congressional district is ranked a toss-up by Fox News.
To vote or not to vote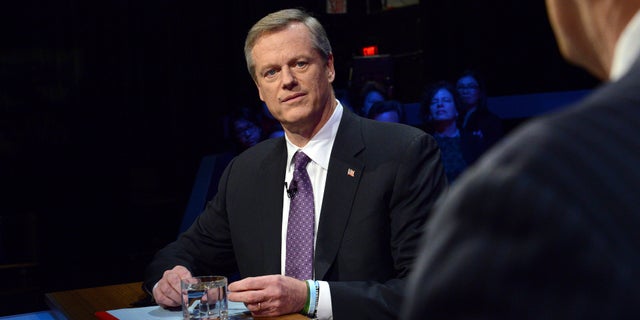 Massachusetts GOP Gov. Charlie Baker said he "misspoke" after he declared during an October debate he wasn't sure if he would vote for Geoff Diehl, the Republican Senate candidate.
Diehl is challenging progressive Sen. Elizabeth Warren, who is likely to win.
"I don't know what I'm going to do yet with respect to that one. I'll make my decision eventually," Baker said during the debate.
Afterward, while speaking to reporters, Baker promised to "vote for the ticket" – including Diehl.
Baker faces Democrat Jay Gonzalez in the gubernatorial race, which Fox News has ranked as likely Republican.
What a drag
Lee Whitnum, a Democratic gubernatorial hopeful in Connecticut at the time, didn't mind that she wasn't invited to participate in an April forum. She attended anyway.
And when she wouldn't leave the stage, law enforcement officials had to – quite literally – drag her off the stage.
"I am a declared Democratic candidate, and I have a right to be here," Whitnum repeatedly said, even as she laid on the ground.
She was charged with second-degree breach of peace and simple trespass, WTIC-TV reported.
AM I REGISTERED TO VOTE? HOW TO CHECK AND SIGN UP BEFORE ELECTION DAY
"We invite people from all walks of life to participate in our Party and the electoral process. But based on Lee Whitnum's behavior tonight, and based on her behavior in the past, it's clear that Lee Whitnum should not hold elected office and does not represent the Democratic Party," Connecticut Democratic Party Chairman Nick Balletto said in a statement.
Whitnum reportedly called Sen. Chris Murphy, another Democrat, a "whore" who "sells his soul" during a 2012 debate.
Ned Lamont won the Democratic nomination for governor and faces Republican Bob Stefanowski; Fox News has ranked the race as leaning Democrat.
'Not silver-throated'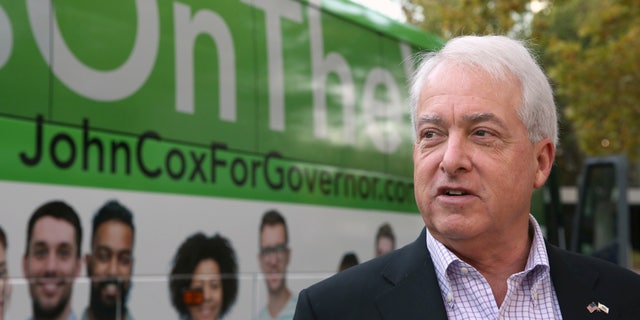 John Cox, the GOP nominee for governor in California, raised eyebrows when he said the state needs immigrants "who can pick the fruits and vegetables that have made California No. 1 in agriculture."
Cox made the remarks during a January gubernatorial town hall, according to the Sacramento Bee.
He sought to clarify his comments, saying he is not a "silver-throated politician."
"And of course I recognize that legal immigrants are in all facets and contribute to all facets of our economy," Cox said. "But we have to have the respect for law. It is absolutely irresponsible to foster a disrespect for the law."
Cox faces Democrat Gavin Newsom in the gubernatorial race; Fox News has ranked it as likely Democrat.
What is … a bad joke?
"Jeopardy!" host Alex Trebek moderated an October debate between the Pennsylvania gubernatorial candidates – and his jokes didn't necessarily land well.
Trebek opened with a quip that the only thing less popular than the Pennsylvania legislature is the Catholic Church, eliciting boos from some in the audience, according to The Washington Post.
Those who watched the debate also complained that Trebek talked too much, not letting the candidates – incumbent Gov. Tom Wolf and Republican challenger Scott Wagner – speak much.
VOTER REGISTRATION DEADLINES FOR EACH STATE
Trebek later said he agreed to moderate the debate as long as it was okay that he did it in a "conversation" style, The Washington Post reported.
"What on earth was I thinking? My god, I'm not as bright as some of you people in the audience think I am," Trebek said. "This is not a game show tonight. This is serious stuff. And I can't begin to tell you how much agony and stress I have experienced over these many months because I accepted that invitation."
Fox News has ranked the race between Wagner and Wolf as likely Democrat.
Fox News' Alex Pappas and The Associated Press contributed to this report.