Multiple Kansas Republicans back Kris Kobach's Democratic opponent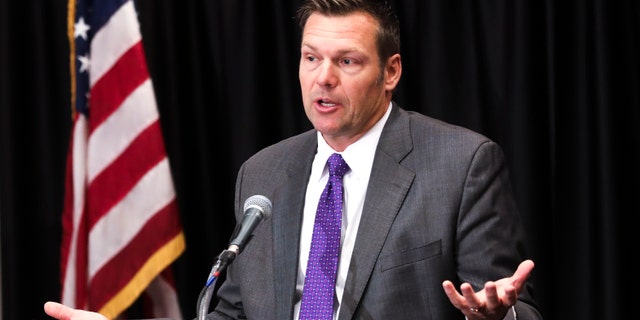 Multiple Republican leaders in Kansas have publicly backed Democrat Laura Kelly's gubernatorial bid – a blow to controversial Republican Kris Kobach.
Gov. Mike Hayden, who led Kansas from 1987 to 1991, was the latest Republican to back Kelly, a veteran state senator. He said he rarely casts a vote for a Democrat but will be doing so in this race.
"After eight years of crisis, we cannot elect someone who wants to repeat the disasters of the past," Hayden said in a statement published on Kelly's campaign website. "Kris Kobach has promised to do just that – risking the future of our great state."
Kobach told Fox News he "would not want Hayden's endorsement."
"Hayden was a tax and spend liberal who was defeated by a Democrat who wanted to cut his high taxes," Kobach said in a statement. "I would not want Hayden's endorsement. It would contradict my message of reducing taxes."
The race between Kobach and Kelly is ranked a toss-up by Fox News. Whoever wins will replace Republican Jeff Colyer, who took over the position once President Trump selected Gov. Sam Brownback to serve in his administration. Colyer ran for a full term but was defeated in the GOP primary by Kobach, Kansas' secretary of state.
Trump has already endorsed Kobach, who was the vice chairman of the White House's controversial voter fraud commission, which was dismantled by the president earlier this year as it faced multiple legal battles and opposition from states. His involvement with the group has earned him the scorn of the American Civil Liberties Union (ACLU).
Hayden is the second former Republican governor of Kansas to publicly endorse the Democrat this year. Bill Graves backed Kelly in a video last month, noting she is the only Democrat he's ever endorsed.
FOX NEWS MIDTERM ELECTIONS HEADQUARTERS
"Laura, to me, has all the qualities, all the capabilities that we're looking for to lead the state during this difficult time to reestablish the state to what it once was," Graves, who served from 1995 to 2003, said. "Laura has integrity. I know she'll bring Republicans and Democrats together to solve problems."
Former longtime Sen. Nancy Kassebaum, too, has offered her support for Kelly. The 86-year-old Republican said of Kelly: "Her competence, understanding and dedication are leadership qualities that Kansas needs at this time," according to The Topeka Capital-Journal.
Additionally, Kelly's campaign has promoted a list of 27 Republican Kansas lawmakers who are backing her over Kobach.
Although neck-and-neck with Kobach, there's fear among Democrats that independent candidate Greg Orman, a Kansas City businessman, could draw enough votes away from her to put Kobach in the lead. Earlier this week, Orman ramped up his attacks against Kelly as he sought to boost his own standing.
The Associated Press contributed to this report.