Georgia governor hopeful Stacey Abrams could become first black, female state leader: Who is she?
Atlanta lawyer Stacey Abrams is one step closer to making history. With her Democratic primary win, the Georgia gubernatorial hopeful has a chance to become the first black female governor in America.
Abrams, 44, stood out in her bid to win the Democratic nomination. She insisted throughout her campaign that the way to dent the GOP's domination in Georgia wasn't by cautiously pursuing older white voters who have abandoned Democrats in recent decades. Rather, she sought to widen the electorate by attracting young, diverse voters who haven't been casting ballots.
That campaign plan is in line with her past work as founder of the New Georgia Project, a nonpartisan group that has helped register nearly 70,000 new voters since its 2014 launch, according to its website. The group now has its sights set on the more than 700,000 unregistered voters of color in Georgia.
Abrams will face either Lt. Gov. Casey Cagle or Georgia Secretary of State Brian Kemp in the general election. The two Republicans are headed for a July runoff.
Read on for a look at five things to know about Abrams.
She's had a busy career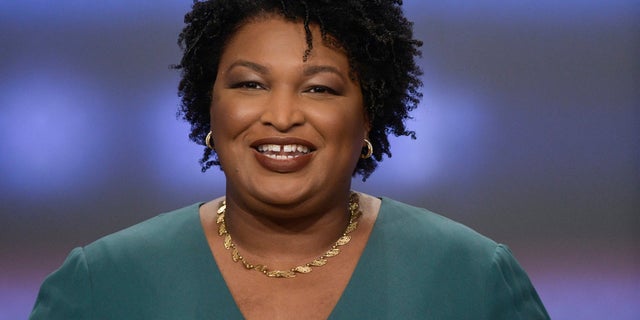 From serving in the Georgia Assembly to working as a tax attorney, Abrams has had a busy career.
She was sworn-in to serve in the state legislature in 2007, working more than 10 years as a Democrat representing Atlanta. She was a part of the state House Appropriations, Judiciary and Ways and Means committees, according to her biography.
Abrams also co-founded the NOW Account, a payment services system for businesses. By helping to establish the NOW Account, Abrams "helped create and retain jobs in Georgia," according to her campaign website.
She's already made history
Abrams was the first woman to lead a party in the Georgia General Assembly, according to a Fortune profile. Additionally, she was the first black leader in the Georgia state House, serving as minority leader.
"I've been lucky," Abrams told Fortune. "I've led a life that demonstrates difference is not a barrier to achievement."
"The one thing I don't have on my side is history," she added. "It can be discouraging when people only look to the past to determine what you're capable of. But I use that as fuel. My job is to remove this as a barrier for every person who runs after me. I've always seen my success in that light."
Abrams is an award-winning romance novelist
Under the pen name Selena Montgomery, Abrams has written eight romantic suspense novels, selling more than 100,000 copies.
She wrote her first book when she was still a student at Yale Law School, according to the Atlanta Journal-Constitution. She initially intended to write the book as a spy novel, but made her characters fall in love so she could publish it as a romance novel -- a genre she said publishers were more open to working with women on.
Abrams told the newspaper her main characters are typically African-American females who are "faithful Democrats" with names inspired by her colleagues in the state legislature. In one of her novels, she named a Supreme Court justice Bobby Franklin. She said it was a reference to the conservative who served in the state legislature until his death in 2011, according to the Journal-Constitution.
"He was a good friend, and he actually read all my books," she said.
Abrams grew up in Mississippi
Abrams was raised in Gulfport, Mississippi -- about 400 miles from Atlanta-- with five siblings, according to her campaign website. Her parents were United Methodist ministers.
Abrams has graduated from Spelman College, the LBJ School of Public Affairs at the University of Texas and Yale Law School.
She owes the IRS more than $50,000
Abrams owes the IRS more than $50,000 in back taxes, which she's on a repayment plan for, WABE-FM reported.
Her campaign told the Atlanta Journal-Constitution she deferred tax payments in both 2015 and 2016 in order to help her family with their expenses. Spokeswoman Priyanka Mantha told the newspaper that Abrams "has faced financial challenges while working to support her family" and these experiences would help her make tough decisions about Georgia's budget.
Abrams has more than $170,000 in credit card and student loan debt, according to WABE. She also loaned her campaign $50,000.
"I loaned my campaign money because we were in a startup phase. As the campaign pays me back, I'm applying those dollars to take care of my debt to my obligations," she told WABE.
"Managing your finances doesn't mean you don't have debt. It means that you never shirk your responsibilities, and you meet your obligations," she said. "And my largest obligation is to my family, to my parents and my 11-year-old niece who my parents are raising. So I have two households for which I'm responsible."
She said before Hurricane Katrina's devastation in 2005 took a financial toll on her parents and their church.
The Atlanta Journal-Constitution reported that Abrams has a net worth of about $110,00, including a recent $150,000 advance for a forthcoming book.
The Associated Press contributed to this report.