Sen. Tom Cotton, R-Ark., called on President Biden to deliver unwavering support to Israel in the face of Hamas' unprecedented attack from Saturday while also criticizing his alleged "weakness" against Iran, who is reportedly behind the attack.
"For three years, the president has appeased Iran, the world's worst state sponsor of terrorism. It's not just the $6 billion that was released from sanctions controls last month. It's $10 billion that was released from Iraq into Iran."
"It's looking the other way on more than 80 attacks against American troops in Israel, in the Middle East, or allowing Iran to threaten shipping in the Persian Gulf. Allowing Iran, without serious consequence, to arm Russia to kill more Ukrainians, releasing hundreds of millions of dollars to the Palestinian Authority since the very beginning of this administration," he told FOX News' Maria Bartiromo on Sunday.
'TIME IS OF THE ESSENCE' TO RETRIEVE HOSTAGES: COUNTERTERRORISM EXPERT ISSUES URGENT WARNING OVER ISRAEL WAR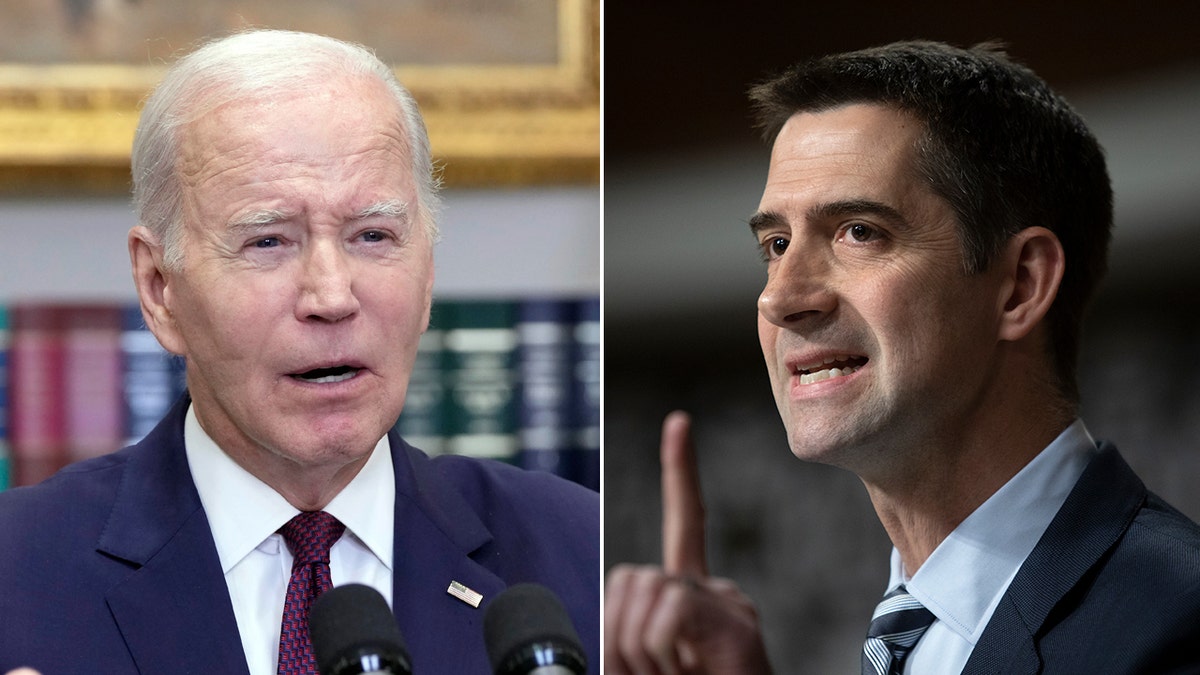 "These are all acts of appeasement, concessions and weakness that embolden the leaders in Tehran, as well as Hamas, to believe that they could launch this brazen, savage attack against Israel," he continued.
Cotton's comments coincide with criticism the Biden administration has faced from other prominent Republicans in light of Saturday's attack, including fellow Senator Tim Scott, R-S.C., who claimed Biden "funded these attacks on Israel."
"America's weakness is blood in the water for bad actors, but this is worse than that," Scott said. "We didn't just invite this aggression, we paid for it. Iran is the biggest funder of Hamas. This is the Biden $6 billion ransom payment at work."
Both senators made reference to the Biden administration's controversial move to unfreeze $6 billion in Iranian assets months before terror struck in the region.
REPUBLICANS BLAST BIDEN FOR RELEASING $6 BILLION IN FROZEN IRAN FUNDS AHEAD OF HAMAS ATTACK ON ISRAEL
Sen. Marsha Blackburn, R-Tenn., also called out the move in a statement Saturday.
"Just weeks ago, the Biden administration handed over $6 billion to Iran, and today, innocent Israelis were murdered by Iran-backed terrorists," she said, adding, "We must continue to support our strongest ally in the Middle East and their right to defend themselves against these unprovoked, horrific attacks."
Cotton blasted Iran further, condemning the nation for wreaking havoc on Americans, Israelis and Ukrainians via Russia.
"In addition to supporting Israel, it's time for President Biden to stop appeasing Iran, stop all payments to Iran, enforce all sanctions to the max, stop all payments to the Palestinians, and make it clear that we will no longer grant these kinds of one-sided concessions," he added.
Despite criticism from Republicans, Biden maintains the U.S.'s support for Israel and "unequivocally" condemned Hamas on the day the terror began.
DESANTIS BLASTS BIDEN FOR 'SLEEPING ON THE JOB,' STARTING CALLS HOURS AFTER ISRAEL TERROR ATTACKS BEGAN
"Today, the people of Israel are under attack, orchestrated by a terrorist organization, Hamas," he said. "In this moment of tragedy, I want to say to them and to the world and to terrorists everywhere that the United States stands with Israel."
Hamas militants infiltrated Israel on the Jewish holiday of Simchat Torah on Saturday, firing thousands of rockets at residential areas and holding civilians hostage.
The Israeli cabinet, the same day, declared war for the first time since the Yom Kippur War began in 1973. As of Sunday afternoon, at least 600 Israelis had reportedly died while thousands remained wounded.
For more Culture, Media, Education, Opinion and channel coverage, visit foxnews.com/media.
Fox News' Adam Shaw, Kyle Morris, Brooke Singman and Anders Hagstrom contributed to this report.