On Zarela's Mind: Eating Sencillo and a Great Pineapple Salad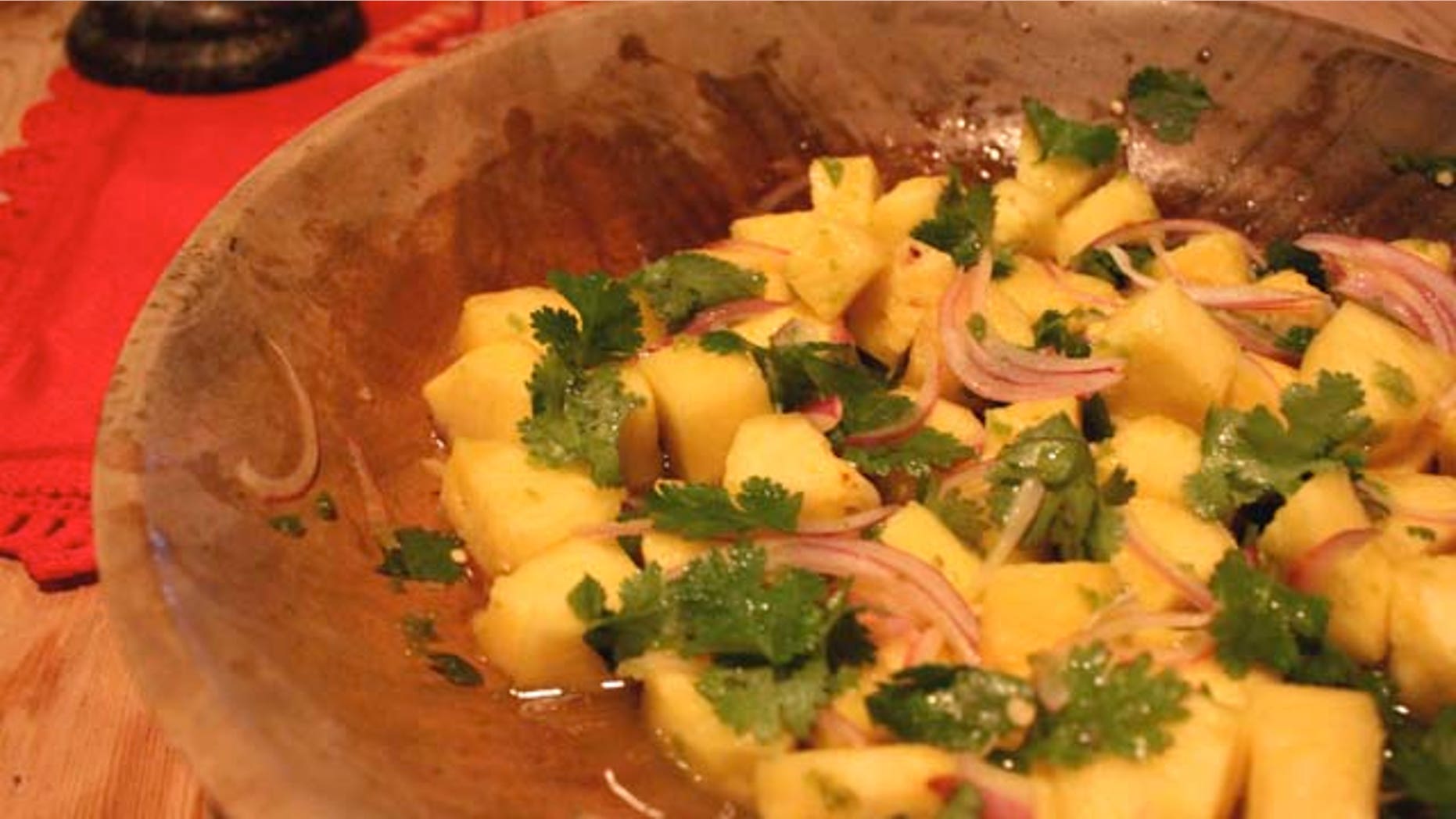 They said it couldn't be done. They said nobody could do it. But apparently it has: The entire city of San Diego—or at least my large circle of friends and relatives—seems to have been converted to eating healthfully.
"Sencillo" was the term my cousin Any used to describe almost every dish we had. By that, I think she meant organic, sustainable, fresh, pure flavors. I guess I could get used to that, though I have a theory that people get full and feel satisfied mainly through flavor, not the amount of food consumed. I prefer to eat nothing instead of something blah.
What I do object to is the 'no red meat or even chicken' rule. I almost fell off my chair when I ordered fish and someone at the table said, "So you don't care that we are depleting the ocean's fish?" Yes, I do care but I can only eat a certain amount of vegetables and grains (though they do wonders to regulate my system).
At fine restaurants like George's on the Cove that have vegan, vegetarian and regular menus, only some dishes (like their sweet pea hummus) are fantastic. It's really difficult to get all three styles right: It's not just a matter of taking out the milk or cheese. Yet between tennis and living the good healthy life all my friends do look fabulous.
Then I discovered their secret! They sneak into Tijuana if they dare and order lard-fried lobster with refried beans in Rosarito, or beef ribs or carnitas other places around town. We were heading to "el otro lado" for the weekend.
We arrived at a weekend ranch house thoughtfully designed by my niece Marissa Ellis Cervantes. It is one of those places where if you looked for a plug for your mobile phone it was right there, another for your computer. Completely rustic yet with modern comfort.
I was overwhelmed with nostalgia. It did not look like the ranch in Chihuahua where I grew up, but it felt and smelled like it. I got up early at the first rooster's crow, and sat marveling in the special blue and pink desert sunrise at the magnificent cactus gardens my host had created. I understood perfectly when he said to me, "I only built this ranch to share with company, otherwise what do I need it for?"
Award-winning restaurateur Zarela Martinez blogs at Zarela.com. You can also check out her how-to videos on YouTube.
Follow us on twitter.com/foxnewslatino
Like us at facebook.com/foxnewslatino