Hurricane Florence evacuee in South Carolina finds surprising handwritten note on windshield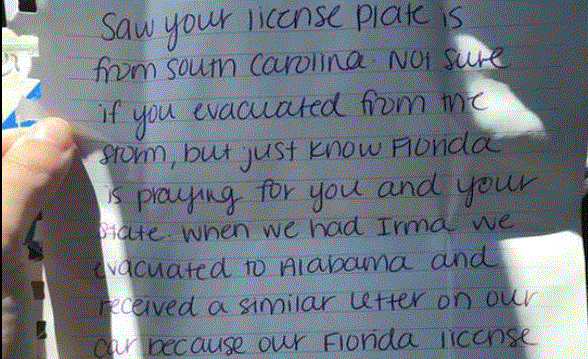 Ashleigh Gilleland was leaving a Florida restaurant with her fiancé when she spotted a piece of paper folded underneath her car's windshield wipers. The 21-year-old from South Carolina, who evacuated the state due to Hurricane Florence, was expecting to find a nasty note about her parking — instead, she found a letter that nearly brought her to tears.
The handwritten note, written by a stranger, offered words of comfort for the Florence evacuee and included $5 and a Walmart gift card.
"Saw your license plate is from South Carolina. Not sure if you evacuated from the storm, but just know Florida is praying for you and your state," the letter, signed by a woman named Chelsey, read. "When we had Irma, we evacuated to Alabama and received a similar letter on our car."
'LAWN MOWER PARENTS' ARE THE NEW 'HELICOPTER MOMS'
Gilleland, who's expecting a baby boy in February, was stunned.
"I was overwhelmed and automatically starting thinking about how I could pay it forward for someone else," Gilleland told Fox News. "The smallest gestures can make the biggest impacts on people's lives."
Gilleland and her fiancé, David Greer, left their Myrtle Beach home on Wednesday and headed to Sarasota after receiving warnings about Florence, which made landfall near Wrightsville, North Carolina, on Friday as a Category 1 storm. At least 17 people — 11 in North Carolina and six in South Carolina — have died as a result of the powerful storm.
The pair aren't sure how much damage their first floor apartment had as a result of Florence, but Gilleland is remaining positive.
"I'm hoping for the best," she said. "Fingers crossed we don't have any issues. Since the trip was so last minute, we really didn't even pack ... we kind of just took all of the clean clothes we had and the necessities and hit the road."
4 LITTLE GIRLS WHO BEAT CANCER REUNITE FOR TOUCHING PHOTO
When Gilleland returns home, she's determined to find a way to spread the kindness she received from Chelsey.
"I'm going to pay it forward once I get home because I know of all the devastation that has happened there over the past week. Myrtle beach needs some positivity," she added.
Touched by Chelsey's sweet message, Gilleland posted a photo of the note and gift on her Facebook page.
"This just made my day. I'm so happy to know there are still great people in the world. Always pay it forward! Thank you Chelsey, I wish I could thank you in person," Gilleland wrote in the post, which has received nearly 7,000 shares as of Tuesday afternoon.
Eventually, Gilleland was able to track down Chelsey and personally thank her for the gesture.
"Just know I did it because I know exactly how it feels to have to evacuate," Chelsey told Gilleland in a Facebook message, which has been shared publicly. "It's a terrifying feeling and I have lived in Florida my whole life! That was my first time evacuating and I wanted to show the same kindness we received when we went to another state."