Big Group On Campus: Cuban College Students Arrive In Miami For Semester In U.S.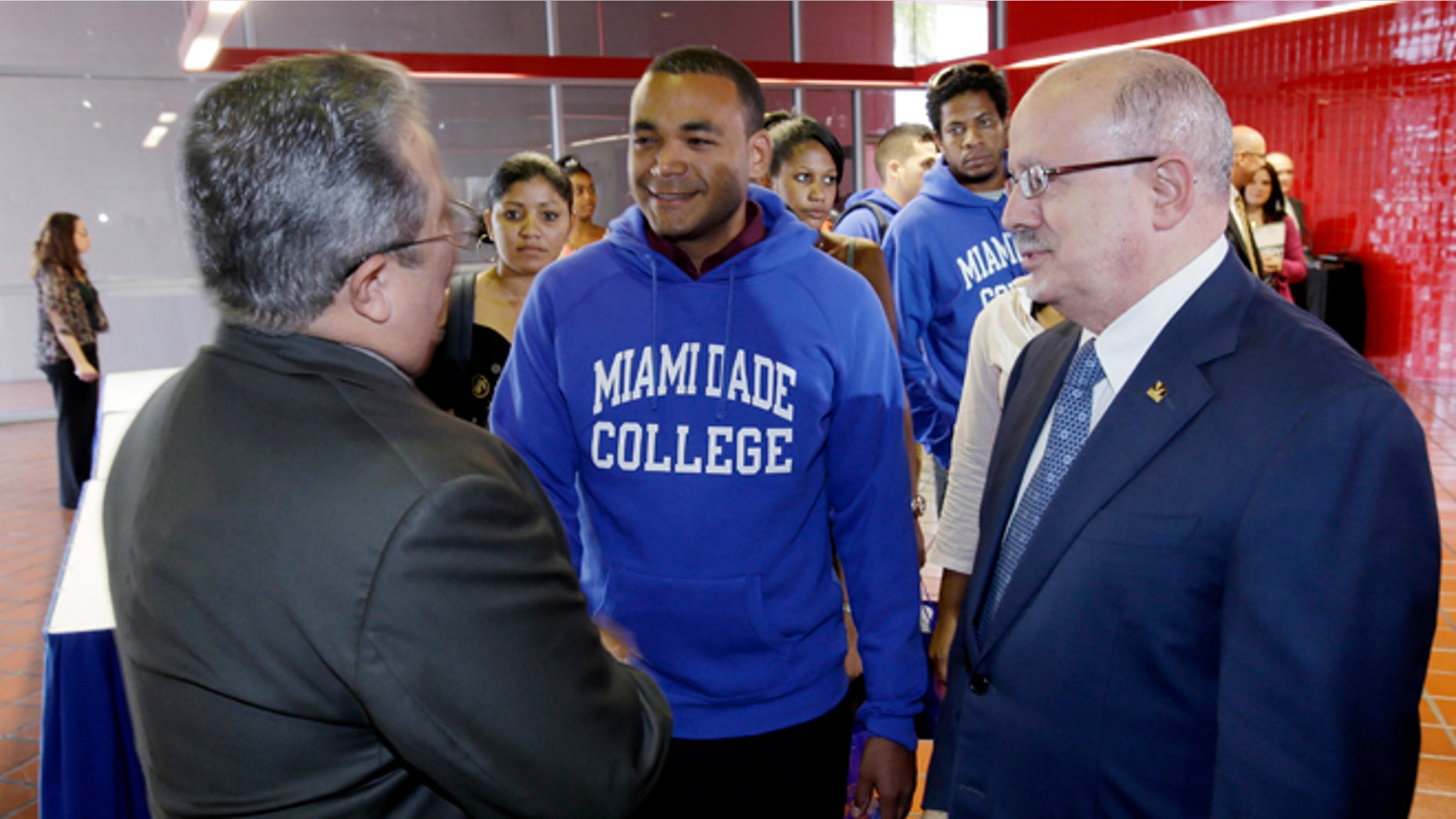 MIAMI (AP) – A group of students from Cuba is making a rare academic trip to the United States from the communist country to the largest public college in Miami, unofficial capital of the exile community.
Fifteen students have arrived and two more are en route for a semester of study at Miami Dade College, the institution's provost, Rolando Montoya, announced Monday. The students range from 18 to 37 years old and will be taking courses in sociology, computing, business and other subjects.
The visit marks the first time Miami Dade College will provide classes to students still living in Cuba, Montoya said. The college has long been one of the first stops for Cuban and other immigrants in Miami seeking an education and to establish themselves in the U.S.
"We always say we are a single people, if we are over there or here," Montoya said. "We are here with our arms wide open."
U.S. students are permitted to travel to Cuba for academic study under the "people-to-people" exchanges re-established by the Obama administration in 2011. But the exchanges are largely one-sided, with Cuban students rarely traveling to the U.S. for similar study.
Two Cuban medical students traveled to the U.S. in 2010 to speak at universities about life on the island. And Cuban graduate students and professors have visited occasionally to teach or attend conferences. But few could recall any group of undergraduate students spending a semester in the U.S.
"I'm sure there's been some, but I think they have been an exceptional, one-shot deal," said Ted Henken, a professor at Baruch College in New York and president of the Association for the Study of the Cuban Economy.
Miami is home to the largest population of Cubans outside the island. In the past many have resisted travel by musicians, artists and others still living on the island. But strong opposition has declined as younger generations and new arrivals have been more open to a relationship with those still in Cuba.
Montoya said changes in Cuba's travel laws made the visit possible: Thousands of Cubans have recently been permitted to travel after the government eliminated the much-detested "white card" needed to leave. The number of Cubans receiving U.S. nonimmigrant visas jumped by 82 percent from October 2012 to July 2013 compared to the same period a year before, according to the U.S. State Department.
"I think this is consistent with that trend in which students are looking outside the country more than before," he said.
Among the arriving students are musicians, artists, attorneys and others; more than half are women. They were granted J-1 visas traditionally given to visiting students, teachers, doctors and others.
Few such visas had been granted prior to the change in Cuba travel policy that went into effect last year. In 2012, just eight such visas were granted. Figures for 2013 weren't available.
The Foundation for Human Rights in Cuba approached Miami Dade College about hosting the students, Montoya said. That non-profit organization works to promote democracy and human rights on the island. They offered to recruit the students, while Miami Dade College helped with visas and enrollment paperwork.
The foundation is paying the student's tuition, housing, meal and transportation costs, Montoya said. A message left at the foundation by the Associated Press was not immediately returned.
The students will take courses in English, sociology, computer, psychology, business and English. The classes include "Principles of Business and Organizational Management."
"I think we picked an academic content that will really help them once they go back," Montoya said.
Montoya said the trip wasn't announced until Monday because of student privacy issues — and politics.
"We also wanted to make sure that this wouldn't be interpreted as something political that would allow Cuban authorities to deny their departure from Cuba," Montoya said.
After a news conference Monday, the students briefly shook hands with their professors. Several wore Miami Dade College sweatshirts. They didn't speak at the event and were quickly escorted away as reporters approached.
One who talked afterward with reporters, graffiti artist Danilo Maldonado, said the students want to learn, "Everything we can to make my country as free and developed as possible."
Follow us on twitter.com/foxnewslatino
Like us at facebook.com/foxnewslatino