As US Makes Student Visas Harder, Australia Says Come Study Here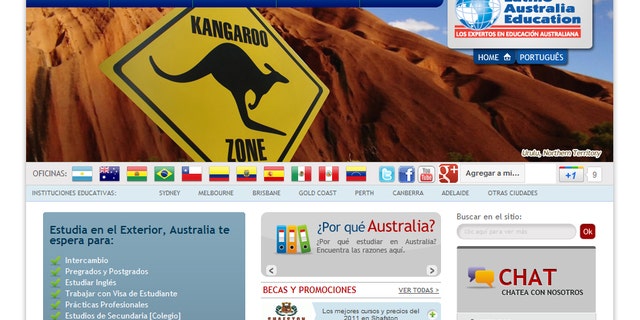 As U.S. makes it increasingly difficult for Latin Americans to obtain student visas, Australia is going in the opposite direction: It's throwing down a welcome mat for Latin American college students.
Representatives from the country's colleges are showing up at college fairs at places like Brazil, Chile, Peru, Venezuela and Colombia. And they have set up at elaborate Spanish-language website to ask Latin Americans: Do you want to study in Australia?
Even the Australian government is also taking part in the effort to push up enrollment from Latin American countries – the country is easing visa restrictions for higher education students and offering more scholarships to Latinos.
This activity has been a big and concerted effort. And I think it's making quite a difference.
"This activity has been a big and concerted effort," said Margaret Gardener, vice-chancellor from Royal Melbourne Institute of Technology and Chair of the Education Advisory Group of the Council for Australia-Latin America Relations. "And I think it's making quite a difference."
Australia's initiative began in 2000, when a governmental trade committee presented a report detailing the importance of South America.
The committee concluded that a 1992 government recommendation to position Australia in Latin America because the continent was expected to be "a significant economic force" went unheeded. As a result, the Australian government took an aggressive stance to build relationships, in part through education.
Their efforts have paid off. In 2004, there were 7,500 Latin Americans in Australia but that number jumped to over 20,000 in 2007, according to the Australian government – making them the most successful international country in trying to recruit Latin Americans.
One reason for the push? Revenue. In the U.S., foreign students and their dependents added $20.23 billion to the U.S. economy in the 2010-2011 academic year, according to the Association of International Educators.
While the United States still receives a lion's share of international students, the number has decreased over the last decade. Visa regulations in the U.S. remain tight, and the increasingly prohibitive cost of education will likely continue the drop in enrollment.
"Latin American students are not coming just to the U.S.," said Francisco Marmolejo, executive director of the Consortium for North American Higher Education Collaboration, who says the natural allure of the U.S. may not be enough to compete with the efforts made by other countries.
Educators say that foreign students diversify the college experience of native students while creating a talent pool from other countries -- both ways of carving a niche in a global economy.
In addition, these students can up the competition.
"[Universities] can set specific enrollment criteria for international students," said Enrique Murillo, director of Latino Education and Advocacy Days, which addresses educational issues affecting Latinos in the U.S. "I think they are setting the bar higher."
Soni Sangha is a freelance reporter based in New York City.
Follow us on twitter.com/foxnewslatino
Like us at facebook.com/foxnewslatino