Woman yelling at Mexican restaurant manager for speaking Spanish goes viral
A video showing a woman yelling at a manager of a Mexican restaurant for speaking Spanish in West Virginia has gone viral.
The incident took place Saturday around 3:30 p.m. at the Tampico Mexican Restaurant's Parkersburg, W. Va., location.
MEXICAN RESTAURANT'S BARTENDER GETS 'TIP' ON RECEIPT: 'BUILD THE F---ING WALL'
Sergio Budar, the general manager of Tampico and US citizen, told Fox News the customer, only identified as Jill, came up to a table where he was sitting with the restaurant owner and another partner and began to scream at them for speaking Spanish inside the Mexican eatery.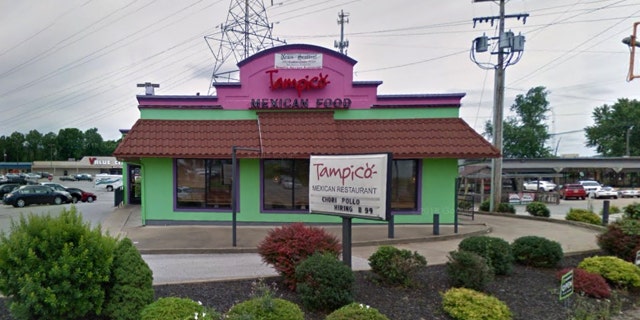 "English is our first language, so you need to speak English," she screamed at Budar, Budar told Fox News. "Get the f--- out of my country," she reportedly said.
The customers eating at the establishment were shocked by the woman's hateful speech and began defending Budar. The man she seemed to be dining with stood up and told her "you don't talk to people like that. Not here, you don't."
FOLLOW US ON FACEBOOK FOR MORE FOX LIFESTYLE NEWS
In the video, Budar is seen offering to pay for the woman's food as long as she leaves the restaurant.
"I'm going to pay for what you got, ok? Can you please exit the restaurant?"
After Budar asks the woman to leave, Jill begins ranting about how she was "raped by illegal aliens," before throwing something at Budar.
As she is escorted out of the restaurant, she continues screaming "f---ing rapists" at the staff.
Tampico released a statement to Fox News condemning the customer's actions.
"Tampico Mexican Restaurant condemns any hateful words, speech or actions towards any human being. We want to make people aware that we are shocked that in this day and date we are still having those unfortunate behavior towards any person who doesn't speak your language or look different."
CLICK HERE TO GET THE FOX NEWS APP
Budar told Fox News that he was personally shaken by the incident.
"Me personally, I was angry and sad at the same time for her behavior towards me and 'Illegal Aliens' as she was yelling. The fact that I'm a US Citizen just like her and still receiving hateful words, it's clearly telling you that something is wrong with our society nowadays and with our main leaders that need to lead by example."
The woman has reportedly not been back to the restaurant. No further action against her has been taken.