Unsettling trend of food safety violations at sports stadiums uncovered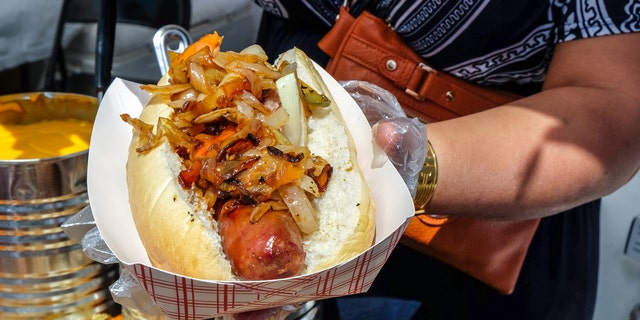 NEWYou can now listen to Fox News articles!
You might want to rethink your ballpark hot dog. And your peanuts. And Cracker Jacks.
PIZZA-SPITTER AT DETROIT'S COMERICA PARK SENTENCED TO PROBATION
A report released Thursday by ESPN's Outside The Lines showed a high amount of food safety violations at concession stands at major professional sports venues around the country.
In 111 MLB, NHL, NFL and NBA stadiums, 16,900 inspections were conducted between 2016 and 2017. Of the inspections, 28 percent resulted in high-level violations – one that "poses a potential threat for foodborne illness" – at half or more of the food concession stands, which the National Association of Concessionaires attribute as a $2 billion industry, ESPN reported.
Among the violations were meats left at dangerous temperatures that could potentially breed bacteria, employees inappropriately handling food for customers, moldy or expired food, dirty or contaminated utensils and the presence of live cockroaches or mice.
PLANE PASSENGER DISGUSTED TO FIND USED HAIR EXTENSION IN SEAT-BACK POCKET
The worst offenders were North Carolina's Spectrum Center with 92 percent of its concession stands committing violations, Michigan's The Palace of Auburn Hills – which has permanently closed – at 86.11 percent, and Texas' American Airlines Center at 83.08 percent.
Colorado's Coors Field, which had 71.96 percent of its vendors suffering high-violations, was cited for serving a Cracker Jack box with a live mouse, as well as live cockroaches in a trap in a storage room and mouse droppings in food-prep trays and a kitchen floor.
Patricia Buck, co-founder and executive director of the Center for Foodborne Illness Research & Prevention, told ESPN she does not eat at sports arenas because of the "chaotic situation where food is being prepared."
FOLLOW US ON FACEBOOK FOR MORE FOX LIFESTYLE NEWS
"There will be thousands of people at the stadium and there will be maybe 100 at a restaurant, so the sheer number of people being exposed is going to be higher, so it would tend to be riskier if something like contaminated romaine lettuce was going to be served on a taco," Buck said to ESPN.
Though not all sports stadiums had high volumes of food safety violations.
Oakland's Oracle Area, Georgia's State Farm Arena and Texas' NRG Stadium scored a 1.12 percent, 4.17 percent and 4.44 percent for violations respectively.