Tostitos 'breathalyzer' bag can tell when you've been drinking
Tostitos has unveiled a chip bag to help consumers get home safe after a big party night.
Just in time for upcoming Super Bowl festivities, the new "Party Safe" bag features a built-in sensor that can detect traces of alcohol in a user's breath.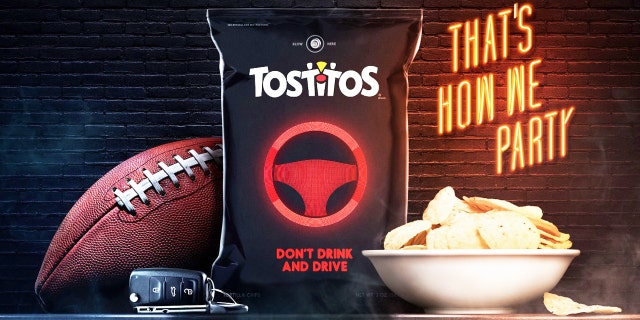 According to a company statement, "the first-of-its-kind bag features an alcohol sensor you breathe into that will turn red if alcohol is detected and green if it's not."
5 OVER-THE-TOP SUPER BOWL PARTIES
The limited edition bag of chips was designed in partnership with Mothers Against Drunk Driving (MADD) and Uber.
Tostitos is also offering a solution for those whose bag of chips turns red: a discount on an Uber ride back home. By entering a participating Tostitos UPC code under the "Add Promo Code" in the Uber app, customers can get $10 knocked off a ride.
The bag also utilizes near-field communication (NFC) technology, which allows people to tap the bag with their phone to call for the car service right away.
FOR THE LATEST FOOD FEATURES FOLLOW FOX LIFESTYLE ON FACEBOOK
"For a football fan, there is a lot of emotion involved with a game," Roger Baran, of Goodby Silverstein & Partners (the ad agency behind the bag), told Adweek.
"It's easy to drink more than you planned. And a lot of times all you need to stop short of driving after drinking is a friend who calls you off. On Sunday of the big game, we want Tostitos to be that friend."
The goal of the campaign is to cut around 25,000 drivers under the influence from the roads and highways following the Super Bowl on Feb 5.