Tokyo Dog's 'Juuni Ban' is the Most Expensive Hot Dog in the World, Says Guinness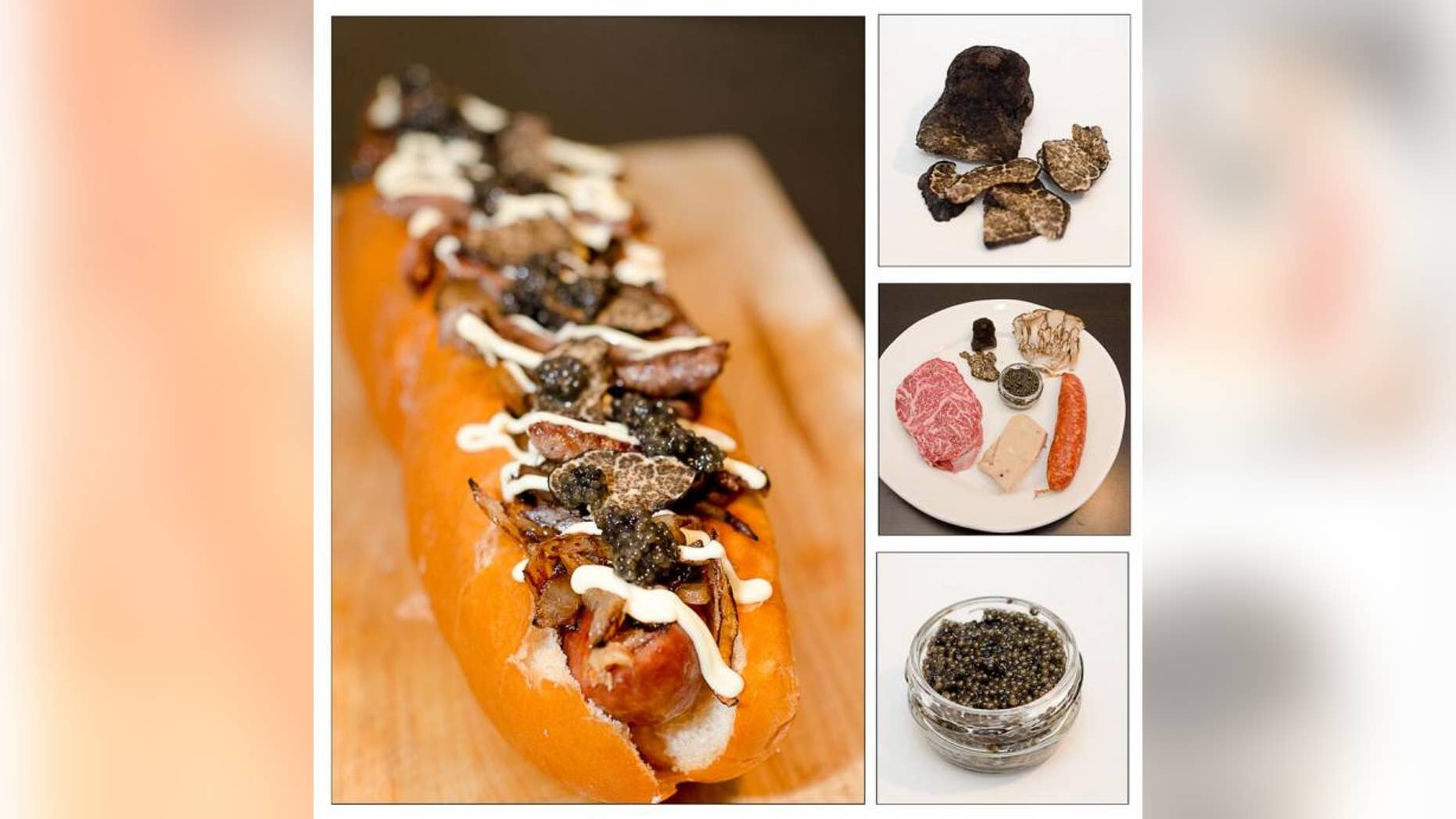 Depending on where you get it, the price of a hot dog can range from a few cents to several bucks. And usually, the cost is directly proportional to your expectations.
So what would you expect a $169 hot dog to look like?
Look no further than the Tokyo Dog food truck to find out. This Seattle institution has just been recognized by the Guinness Book of World Records as serving the most expensive commercially available hot dog in the world (above), called the "Juuni Ban." Created by Eugene Woo, Samson Kwong and Rocky Yeh, this fancy frankfurter features a foot-long smoked cheese bratwurst on a brioche bun, which is then topped with Maitake mushrooms, Wagyu beef, foie gras, shaved black truffles, $250-per-ounce caviar, Japanese mayonnaise and buttery Teriyaki grilled onions.
But it takes more than a bunch of expensive ingredients to make a record-breaking dog — to be officially recognized, Tokyo Dog was required to sell at least one Juuni Ban (as per the "commercially available" stipulation) before claiming the title. Fortunately for Tokyo Dog, they sold six Juuni Bans on the day of its debut, thereby beating the previous record holders at Sacramento's now-closed Capital Dawg for their $145.49 "California Capital City Dawg" (pictured below, courtesy of Capital Dawg's Facebook page).
Furthermore, the owners of the Tokyo Dog truck donated all the proceeds from that day's Juuni Ban sales to the Red Cross, which presumably made their customers feel slightly better about choking down a greasy, meaty frankfurter that cost as much as a cell phone.
If you find yourself in the Seattle area craving a Juuni Ban, however, don't think you can just waltz up to Tokyo Dog and ask for one. Each Juuni Ban needs to be ordered two weeks in advance, which, unfortunately, is sufficient enough time to heighten your expectations to a place that even foie gras and caviar can't meet.
Judge for yourself in the video below: