Put some gusto in your gut this Valentine's Day: The new age of aphrodisiacs
With romance on many minds this Valentine's Day, you might be wondering what really puts someone in the mood.
Is it low lighting? Slow and sexy romantic music? Or, just maybe, is it a certain gourmet creation?
Sure, it's been said that foods like oysters and pomegranates may enahnce the mood. But is there any truth to these old wives' tales?
"Most foods considered aphrodisiacs do have some kind of ingredient that stimulates blood flow, be it ginger, chili peppers, strawberries, chocolate, yams or artichokes," Jenny Levison, owner of Souper Jenny restaurants in Atlanta, told Fox News. "And many are associated with fertility, such as figs or pomegranates."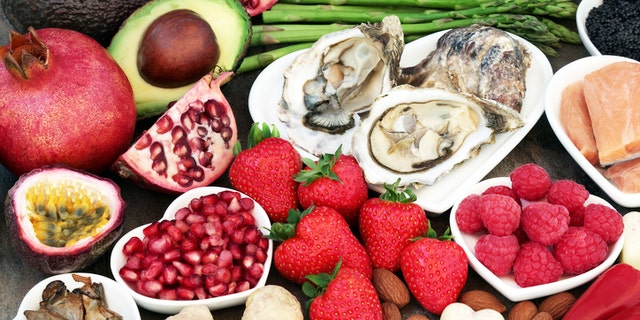 Levison adds there's also the belief that certain foods-- like a fig's deep pink flesh flecked with fertile seeds-- look sexy and so they have the effect of seeming sexy. "So there's a double entendre," Levison adds.
But many researchers believe the amount of pleasure-enhancing properties in any of these foods is too minimal to have any measurable effect on desire-- unless consumed in great quantities.
Mary Ellen Camire, the former president of Chicago's Institute of Food Technologists told Fox News that the meaning of aphrodisiac varies, and it's difficult to standardize research studies like scientists do for diabetes and other conditions with clear biochemical markers.
STIFF BULL APHRODISIAC COFFEE SLAPPED WITH FDA WARNING
"We can test a food to see if it lowers people's blood glucose, but measurements for aphrodisiacs are not so well-understood," Camire says. However, she notes that one way to measure whether a food really has any special properties would be to be see if "improved blood flow to the genitals" occurs which  "might make sexual activity more pleasurable for both genders."
She adds that medicines like Viagra relax the blood vessels to increase blood needed for erections, and recently, there has been more research on how certain foods might do the same thing. She sites red, purple and dark blue foods-- such as red wine, blueberries and pomegranates-- that contain natural colors called anthocyanins which also relax blood vessels and improve blood flow in the body.
Still, others argue that in today's busy world, aphrodisiacs may not be the ingredients themselves, but the way people are dining.
Katherine Miller, senior director of Food Policy Advocacy at the James Beard Foundation, told Fox News that entrees meant to be shared, often eaten with your hands, create a fun, relaxed and sexy vibe for diners.
"In an era, where so many of us are connected to our smart phones 24-seven, I really hope people take advantage of ways to be disconnected," Miller says. "These include some of the sexier food trends chefs are talking about such as shared plates of luscious lamb shoulder, beef cheek or hearty roasted vegetables."
She adds that these types of comforting dishes are meant to be shared and savored communally-- not alone. Plus, she says, eating with your hands can be "intimate" and "pleasurable."
5 BEST APHRODISIACS FOR ROMANCE
This Valentine's Day, instead of booking a reservation at a restaurant, Miller suggests that couples learn how to cook together.
But even in the food world, not everyone is onboard the edible erotic food train.
Chef Jonathan Zearfoss, a professor in the culinary science department at The Culinary Institute of America is a self-procliamed "aphrodisiac denier."
He says many of the symbols associated with being aphrodisiacs are somewhat misogynistic in that they're directed at arousal purely for men. A more modern approach, the chef says, would be to ensure that both sexes are enjoying their dining experience.
"I spend a lot of time writing the menu, for example, using language that inspires passion or romance," Zearfoss says.
Though eating with your hands might create sensual placebo effect, Zearfoss says the best way to really get in the mood (and not be a sloppy date) is to steer "clear of foods heavy in calories and drinking in moderation."
Soon, however, chilis, ginger and chocolate might be replaced by an entirely new culinary agent. In the era of marijuana legalization, one of the latest aphrodisiacs being tested is cannabis.
FOR THE LATEST FOOD FEATURES FOLLOW FOX LIFESTYLE ON FACEBOOK 
A study published Nov. 2016 in the medical journal Pharmacological Research, found that cannabis could be a great friend to both men and women in the bedroom.
Researchers from the University of Catania in Italy and Charles University and Masaryk University in the Czech Republic reviewed several investigations conducted in the 1970s and 80s on the effects of cannabis on sexual desire and satisfaction.
The team discovered that eople who consumed cannabis before sex experienced "aphrodisiac effects" in roughly half of the reported cases-- while 70 percent claimed that pre-coitus consumption led to "enhancement in pleasure and satisfaction."
So whether it's a classic oyster, a fertile-looking fruit, or a little something green, the mental-- and possible physical-- powers of aphrodiasics are likely here to enchant lovers of many generations to come.