Police hand out Thanksgiving turkeys instead of traffic tickets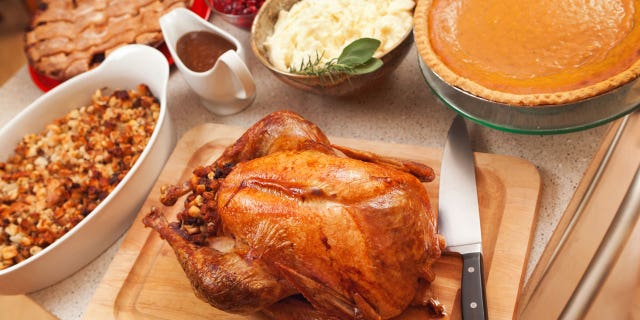 Those who were pulled over for minor traffic violations in Billings, Montana this week got a meaty surprise.
Instead of a traffic ticket, police officers handed out frozen turkeys and a warning for the traffic violation.
"The individuals that received the warnings and the turkeys have been very happy," Lieutenant Neil Lawrence said, The Daily Meal reported.
HOW TO DONATE THANKSGIVING LEFTOVERS AND UNUSED INGREDIENTS
This generosity was prompted after an anonymous local businessman donated 20 turkeys to the department for police to hand out to families. Yahoo News reports that this is the first year the Billings police department has handed out turkeys in lieu of tickets, but the support has been strong.
"Our Facebook page has received a lot of positive comments regarding it. So far it's been a very positive thing for the community," Lawrence said.
The turkeys only went to those being pulled over for very minor infractions.
"The turkeys were handed to, let's say, someone going over the speed limit a few miles an hour or rolling through a stop sign," Lawrence explained to Yahoo News.
Before handing over the Thanksgiving fowl, police officers did check to make sure there were no outstanding warrants.
FOLLOW US ON FACEBOOK FOR MORE FOX LIFESTYLE NEWS
One driver, Larry Riddle, was extremely appreciative for the unexpected present after he was pulled over for not signaling a turn, the Associated Press reported.
Riddle, whose wife died of cancer, said he lives alone on a limited budget and the turkey surprise will make this year's holiday meal he tries to cook for his daughter and himself each year, a little easier.