Pillsbury Doughboy forces small bakery to change its name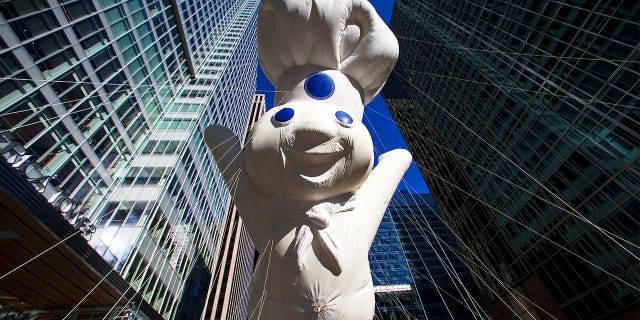 NEWYou can now listen to Fox News articles!
The Pillsbury Doughboy isn't laughing now.
General Mills, which owns Pillsbury, threatened legal action against a small family-owned bakery in New Mexico over its name, Albuquerque Journal reports.
Doughboy's Bake Shoppe opened in Albuquerque in Jan. 2017. Just two weeks later, the owners, Claudia and Mike Milladge, received a cease-and-desist letter from General Mills over the "doughboy" trademark.
The cease-and-desist order was the beginning of a months-long dispute between the two companies, but because of legal cost, the bakery couldn't afford to fight it. Instead, the owners applied for a trademark, but were ultimately denied. This left them with only one other option: change the name.
BAKER SERVES UP SWEET REVENGE TO INTERNET TROLLS WITH CLEVER CAKES
"We felt so bullied," Claudia told the Journal. "The first reaction is to throw a fit, but what can you do against a corporation like that?"
The bakery was given 180 days to change all signage and branding, which is going to cost an estimated $10,000, the owners told the Journal. While they haven't come up with a new name yet, they're extra cautious so they don't find themselves in a similar situation.
To help choose the new name, the owners are holding a name-change contest. "We want it to be good, but it has to be super original. One name I like, but my husband is not super fond of it, is Albu-Cakery," said Claudia to the Journal.
The bakery was originally named after Claudia's father, whose nickname was "Little Doughboy."
FOLLOW US ON FACEBOOK FOR MORE FOX LIFESTYLE NEWS
General Mills has gone after businesses in the past over the Doughboy name. Last year, My Dough Girl, a Salt Lake City bakery, also received a cease-and-desist letter from the company, but rather than go through an expensive legal battle, the owners decided to change the bakery's name, the Consumerist reports.
However Pillsbury didn't invent the term "doughboy." While the company has been using the name since 1965, the term was previously used to refer to American soldiers during World War I, and goes back more than 150 years, when a baker's apprentice was known as a "dough boy," according to Consumerist.
"We worked closely with the bakery owners to reach a mutually acceptable agreement to resolve the misuse of our trademark, which we have owned for more than 50 years," a General Mills spokesman said in a statement to Consumerist.