Peng Chang-kuei, creator of General Tso's Chicken, dies at 98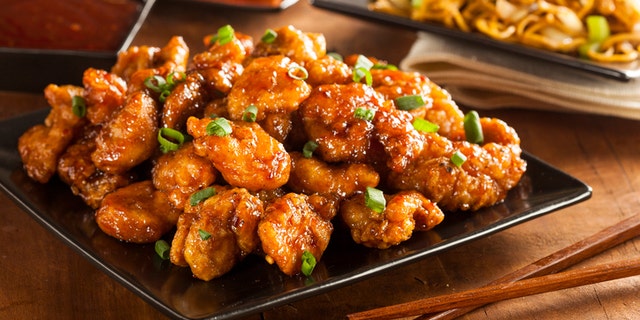 Peng Chang-kuei, the Chinese chef best known as the inventor of the iconic Chinese-inspired food dish General Tso's chicken, died at age of 98 Wednesday, according to Taiwan News.
Born in Hunan, Peng began his chef's training at just 13 years old. In the 1940s, he was in charge of running banquets for the Chinese Nationalist government. But a military uprising in the country forced his family to flee to Taiwan.
MCDONALD'S FRANCHISE OWNER WHO INVENTED THE BIG MAC DIES
He created the dish in 1952 during a four-day visit from U.S. Seventh Fleet commander Admiral Arthur W. Radford.
The dish consists of fried, breaded chicken chunks tossed in a thick, sugary ginger-garlic sauce. It is usually served with broccoli and rice
The chef named the dish in honor of Tso Tsung T'ang, a respected Hunan war general.
AMERICA'S BEST CHINESE RESTAURANTS
The dish made it to America when the chef opened a restaurant in New York City in 1973. Located near the United Nations, the restaurant drew large crowds and high praise from many high profile diners, including U.S. Secretary of State Henry Kissinger. The New York Times first wrote about the dish in 1977 praising it as "a stir‐fried masterpiece, sizzling hot in both flavor and temperature."
Fans of the dish are already morning the chef's death online:
A 2014 documentary, "The Search for General Tso," chronicled the origins of the iconic dish and the famed general behind it. That same year, Peng was honored by the Taipei city government as an "outstanding citizen" for his culinary creation.