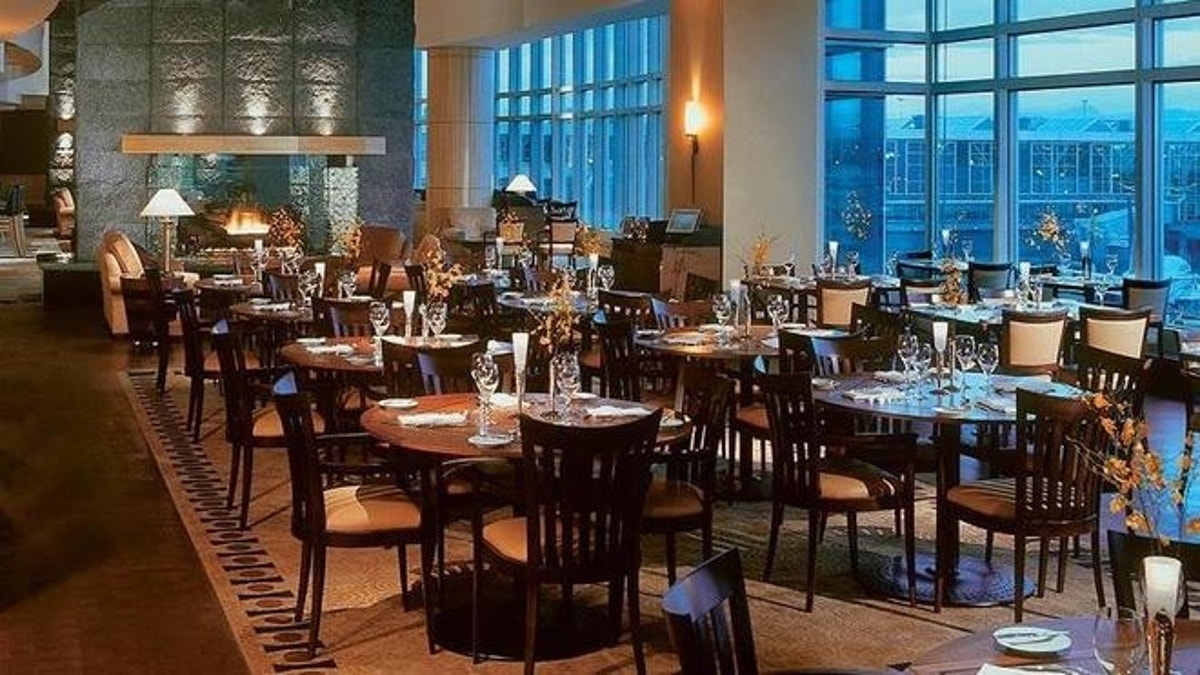 Airport restaurants haven't traditionally been at the top of globe-trotting gourmands' lists of delicious destinations. However, an increasing number of restaurants located within the terminals are becoming dining destinations.
Increasingly, restaurants like Plane Food at London's Heathrow Airport and Pink's at Los Angeles International Airport are providing portable eats and sit-down meals that are emblematic of the destination's culinary traditions.
For travelers in transit or without time to experience a region's cuisine, these nine kitchens provide a taste of hometown treats steps from the tarmac. From traditional Singaporean dumplings at Kim Choo's Nonya Kitchen at Singapore Changi Airport and poffertjes (Dutch pancakes) at Dutch Kitchen at Schiphol International Airport, The Daily Meal presents nine airport restaurants that give travelers a sample of the city's culinary creations that lie beyond the airport — many of which may even be worth missing your flight for.
Plane Food (Heathrow Airport, London)
Award-winning celebrity chef Gordon Ramsay opened Plane Food in Heathrow Airport's Terminal 5, and it has not only elevated airport dining but it has also given jet-setters in transit a chance to sample British fare without leaving the massive terminal.
The "Plane Fast" menu makes it convenient to dine quickly without sacrificing quality. The menu is organized by the amount of time it will take to be served theres a 25-minute option that includes two courses and a 35-minute option that includes three courses. Theres even an option for those with no time to sit down called the Plane Picnic, a lunchbox with a three-course meal inside that can be eaten on the plane.
Plane Food embodies traditional British cuisine, with menu options such as dry-aged British beef, stout-braised shoulder of beef, English pea and broad bean risotto, toffee pudding, and a cheese plates.
Globe @ YVR (Vancouver International Airport, Vancouver, British Columbia)
Globe @ YVR, located above the U.S. departures terminal at Vancouver International Airport, opened in conjunction with The Fairmont Vancouver Airport hotel in September 1999. In an effort to showcase Pacific Northwest cuisine, the restaurant boasts local ingredients in its dishes.
Although the menu frequently changes, Globe @ YVRs staples include simple fare like the Globe signature salad and signature mushroom soup, and one of its most popular dishes is the pan-seared sablefish with chorizo lentils. Pair these with the Honey Harvest cocktail or the Canada Line Cosmo.
Columbia Restaurant Café (Tampa International Airport, Tampa, Fla.)
Although it is the newest airport restaurant on our list, Columbia Restaurant Cafe's first location in Tampas Ybor City dates back to 1905 when Cuban immigrant Casimiro Hernandez Sr. originally founded it. Now, the oldest restaurant in Florida has expanded from a 60-seat corner caf into one of the largest Hispanic restaurants in the world, containing 15 dining rooms that seat up to 1,700 people.
The Columbia Restaurant Café opened its newest of eight locations in Tampa International Airport May 27, 2012. For the past 17 years, Columbia Restaurant Café's president and fourth-generation family member, Richard Gonzmart, dreamed of opening an airport location to coincide with the Wright Brothers flight that took place on the same year as the original opening of the restaurant in 1905.
Customers enjoy the same signature dishes from the airport location as they would from the original restaurant, so travelers who don't leave the airport can still experience an authentic taste of the city. Columbia Restaurant Café represents Tampas prevalent Cuban influence with its Original Tampa Cuban Sandwich, which was recently declared the city's signature sandwich by Tampas City Council. Other favorites include the 1905 Salad (which is tossed tableside) devil crab croquettes, and chicken and yellow rice.
Pink's (Los Angeles International Airport, Los Angeles)
Paul and Betty Pink started Pink's hot dog stand in November 1939 after seeing an advertisement for a $50 hot dog cart. Jobless at the time, the Pinks borrowed the $50 needed to purchase the stand on the northwest corner of La Brea Avenue and Melrose Avenue in Hollywood.
Pinks originally sold $0.10 hot dogs and $0.05 Coca-Colas. When the price of rent was raised to $25 a month in the 1940s, the Pinks took out a $4,000 loan from Bank of America, and the iconic location now serves about 2,000 hot dogs each day.

Of the 35 hot dogs and 12 hamburgers on the menu, Pink's signature hot dog is the chili cheese dog, which is topped with secret-recipe chili.
Pinks opened at LAX Bradley International Terminal in July 2010, giving time-strapped travelers a taste of Hollywood near the tarmac.
Salt Lick BBQ (Austin-Bergstrom International Airport, Austin, Texas)
When it comes to food, barbecue is a staple in the state of Texas. Salt Lick BBQ in the Austin-Bergstrom International Airport provides an authentic Texas barbecue experience for incoming travelers who cant wait, outgoing travelers who still crave it, and through-traffic travelers who have no time to leave the airport.
The Salt Lick BBQ started 45 years ago on a ranch in Driftwood, Texas, which was run by Thurman and Hisako Roberts as well as their son Scott, who now runs the business. Thurman Roberts dreamed of living and working on the same property that he grew up on, so he built a barbecue pit on his favorite spot of the ranch and began a barbecue business. Salt Lick BBQ still uses that pit to this day.
Salt Lick BBQ is noteworthy for its signature beef brisket and pork ribs.
Obrycki's (Thurgood Marshall Airport, Baltimore/Cleveland Hopkins Airport, Cleveland)
Originally a bar in the Fells Point neighborhood of Baltimore, Obrycki's original spot was within two townhomes bought by the Obrycki family. Eventually, food was added to the menu.
Obrycki's signature crabcakes, typically served fried and made with jumbo lump crabmeat and a little bit of seasoned breadcrumbs and egg, embody traditional Maryland cuisine.
The bar offers a drink with a local twist called the Crabby Mary, a bloody mary made with Absolut Peppar Vodka and spicy mix, served in a glass rimmed with seafood seasoning.
Legal Sea Foods (Logan International Airport, Boston)
The first Legal Sea Foods started as a fish market in 1950 under the ownership of George Berkowitz in the Inman Square neighborhood of Cambridge, Mass. Berkowitz was inspired by his father Harry's Legal Cash Market, an adjacent grocery store that aimed to be a purveyor of fresh seafood. Legal Cash Market also likely inspired the current motto of the restaurant, "If it isn't fresh, it isn't Legal!"
Legal Sea Foods first restaurant opened next to the fish market in 1968, and it quickly became a popular dining spot due to the freshness of their seafood dishes.
Berkowitzs son Roger took over the business in 1992 and opened a location in Terminal C at Logan International Airport. Legal Sea Foods now has four restaurant locations within the terminals of Logan International.
With signature dishes like shrimp cocktail, fried clams, steamers, crabcakes, oysters, lobster (in a clam bake, roll, or steamed) and baked scrod, the airport restaurant captures the seaport-dominated culinary essence of Boston.
For travelers who wish to dine like the U.S. president, order a bowl of Legal Sea Foods signature New England clam chowder, which has been served at every presidential inauguration since 1981.
Dutch Kitchen Bar & Cocktails (Amsterdam Airport Schiphol, Amsterdam)
Amsterdam's Schiphol Airport has a strip of Dutch-inspired restaurants and shops located along Holland Boulevard, with the Dutch Kitchen Bar & Cocktails leading the way with its menu that captures the essence of Holland in food, drink, and design.
Travelers can experience a slice of Dutch culture with a restaurant design that integrates elements from Dutch folklore and daily life.
Dutch Kitchen serves Dutch comfort food on the go, such as croquettes on farmhouse bread, traditional poffertjes (a Dutch pancake), and Dutch apple pie.
Kim Choo's Nonya Kitchen (Singapore Changi Airport, Singapore)
Lee Kim Choo first learned her grandmothers masterful Nonya dumpling recipe when she was 12 in 1946. The family sold the triangular. Bamboo-leaf dumplings packed with meat and sticky rice every year at the annual summertime Dragon Boat Festival. The tradition later turned into a dumpling business, Kim Choo's Nonya Kitchen, which started with a stall Lee set up under a tree in front of her house and has since expanded to four locations.
Aside from the portable dumplings, spicy chicken curry, satay, otak (meat cakes), and Nonya kuehs (sweet, colorful cakes) are also served.
See the slideshow at The Daily Meal
More from The Daily Meal

Around the World in 80 Desserts

Last-Minute Labor Day Getaways

10 Money Saving Travel Tips

13 Tragic and Unfortunate Food Deaths