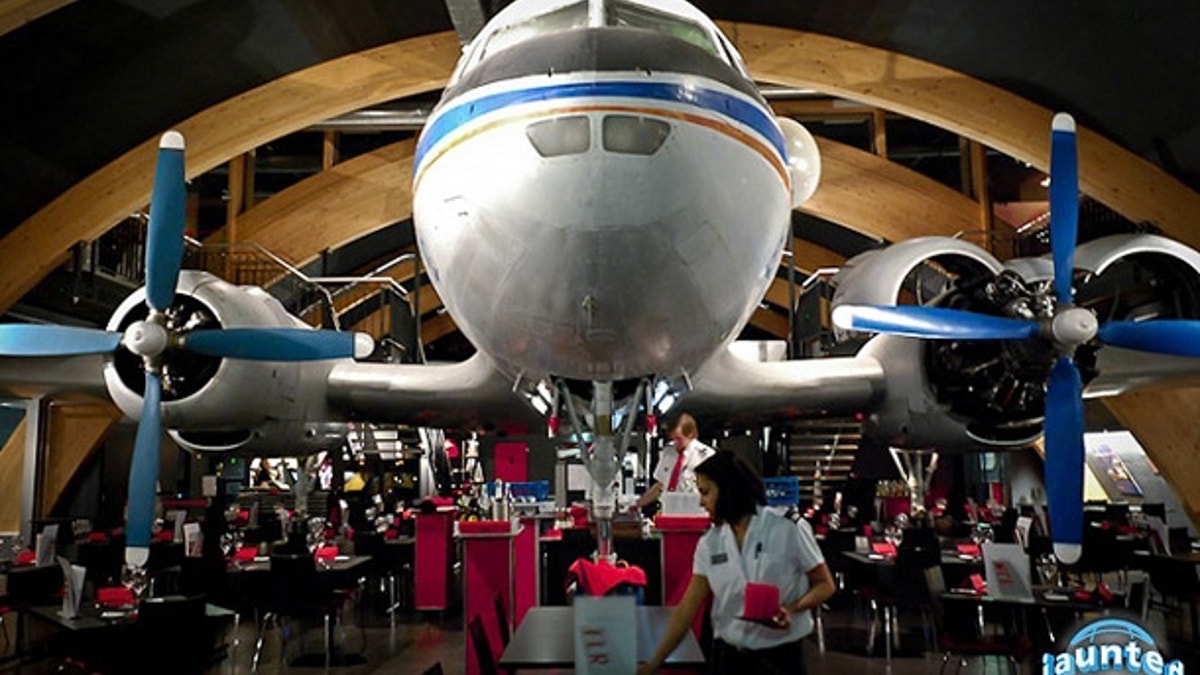 Spending your free time hanging out on an airplane before hopping on an airplane to actually go somewhere isn't everyone's cup of tea. Five airports around the world are betting otherwise, however, as they've actually taken airplanes—ones which can no longer buzz up into the air—and installed them as bars, all in the name of getting you buzzed instead.
Now, without further ado, here are the Five Airport-area Bars Made From Actual Airplanes:
Runway 34, Zurich International Airport, Switzerland This is the most hardcore of the five bars by far, considering that it not only sports a bar on the wing of a decommissioned Soviet Ilyushin IL-14 plane, but a restaurant beneath it and an events space above the other wing. The airplane, which is fully enclosed and preserved in a little hangar structure, sits at the end of Zurich Airport's actual Runway 34. If you've got a long layover at ZRH or it's your final destination, exit security and grab a taxi. The restaurant is only a 5-minute drive and completely worth it. Read about our own visit here.
Jumbo Bar, Stockholm-Arlanda International Airport, Sweden Stockholm-Arlanda has a pretty excellent secret—not only is there an old 747 parked there, but it's been turned into a hostel. Along with the hostel, however, is a whole bar back near the tail section of the airplane, so you don't have to sleep in cramped quarters just for a reason to experience this unique attraction. The Jumbo bar even features a little extra incentive to get people visiting in the summer; patrons can walk outside on the left wing! To reach it, exit security and grab the #14 transfer bus (it's free), which makes a stop next to the Jumbo.
DC6 Diner, Coventry Airport, England Can you believe this old airplane is the newest funky airport bar of them all? This Douglas DC-6 seats 40...for a meal. If you're in the mood to gnaw a steak in the fuselage, you totally can. Otherwise head up to the cockpit for the cocktail bar. May we suggest ordering an Aviation? Coventry Airport isn't the busiest place, so most visitors will likely fly into nearby Birmingham. From there, you've go to grab a car and drive the A45 to reach the DC6.
Solo's Airplane Restaurant, Colorado Springs Municipal Airport, U.S. There is a U.S. Air Force Boeing KC-97 sitting in Colorado and somehow, it usually gets left off the lists of cool airplane conversions. Of the 275 seats at this restaurant, 42 are inside the plane itself, and the whole place is covered in aviation memorabilia. The diner food ain't all that bad, either. To stop in for a drink, exit security from Colorado Springs Airport and catch the free transfer bus to the Radisson Hotel. The plane half sticks out of the restaurant, and it's at the corner of the hotel's parking lot.
Alta Quota Pizzeria, Rome Fiumicino International Airport, Italy It mostly resembles what would happen if a retro airplane drove through a greenhouse, but this little pizzeria on the outskirts of FCO was built around a decommissioned Italian Air Force Convair CV-440-96 Metropolitan. Nothing much is known about this place, other than you definitely need a car to reach it. It's at the intersection of Via Alberto Brondi and Via Trincea delle Frasche, and therefore easily Google Mappable.
How To Cancel Your Airline Ticket Within 24 Hours

Full-Body Scanners 101: How Naked Is Full-Body Scan

The 15 Best Places to See Right Now
The Hottest Hotels, Restaurants and Spas 2011