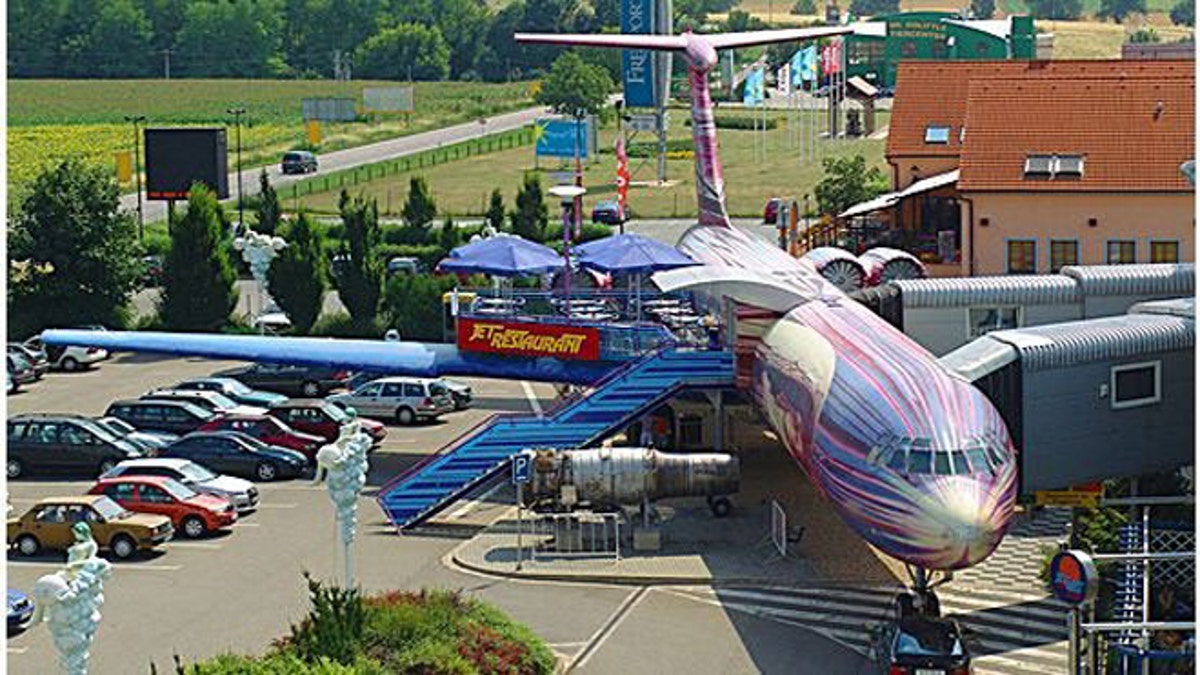 Where can you eat and sleep on an airplane without paying for a ticket? At airports, retired hangars, rural farmlands, and on bustling city streets, dining and sleeping are elevated to new heights with airplane restaurants and hotels across the world.
Whether it's your fantasy to sleep in the cockpit, pretend you are flying a jumbo jet, or eat gourmet food in first class, airplane restaurants and airplane hotels around the world give travelers the chance to live their aviation dreams for a few hours or for the night.
The decommissioned planes, from small turboprop planes to Boeing 747s, have storied pasts that include hauling manure, carrying cargo, and playing a role in covert missions in Southeast Asia,. Many of the aircraft have been claimed by airplane enthusiasts and turned into fanciful airplane restaurants and hotels.
One of the planes, a DC-3 that has been retrofitted to look like the space shuttle, still logs miles, on the road, that is. And should you decide you want your very own airplane, the mobile kitchen is for sale.
A380 Air Kitchen (Taipei, Taiwan)
A380 Air Kitchen (A380) is one of many theme restaurants on the island. A380 Air Kitchen is decked out to look like a plane complete with cramped cabin quarters and flight attendants trained by the restaurant manager who is an alum of China Airlines.
Blue, green, and red seats delineate first, business, and economy classes with first class offering roomier seats. Western-style meals like German pig knuckle with sauerkraut and steaks are served in compartmented trays just like the ones on regular airliners. The business lunch includes all the ubiquitous plane food staples like salad, fruit, and a roll.

DC-6 Diner (Coventry, U.K.)
DC-6 Diner was built in 1958 and was used by the Civil Air Transport of Taiwan, which was supported financially by the Central Intelligence Agency (CIA) who used the plane on covert missions in Southeast Asia, according to the DC-6 Diner's owners.
After exchanging hands with several airliners, the DC-6 took her last flight in 2006, flying from Deenethorpe Airfield to Coventry following filming for the James Bond movie Casino Royale. The DC-9 became a restaurant in April 2011.
Up to 40 guests can dine in the cabin of the plane which is located in a 35,000-sq-ft hangar at Coventry Airport which affords diners views of over 30 iconic aircraft operated by Air Atlantique Ltd. Passengers press the overhead call button to summon servers to bring drinks and food like lamb shank served with rosemary and red currant jus and mixed buttered vegetables and captain's home-made lasagna with rustic chips, garlic bread and salad.

JET Rest (Chvalovice, Czech Republic)
Located inside Excalibur City, a shopping and entertainment center, JET Rest is located inside an Illuschin UK-62, which serves food from five continents and cocktails from the bar. The colorful dcor is designed by artist Ernst Fuchs, one of the founders of the Vienna School of Fantastic Realism.

Jumbo Hostels (Stockholm, Sweden)
Located at Stockholm Arlanda Airport, weary travelers can book a night at Jumbo Hostel a real jumbo jet that has been transformed into rooms for one to three travelers. A quad dormitory bed option is also available. The cockpit has been converted into a suite that affords a panoramic view of the airport.
For those whose layover doesnt allow enough time to an overnight stay, theres also the JumboBar where passengers can grab a quick cocktail in the cabin.

The Airplane Restaurant (Colorado Springs, Colo.)
The Airplane Restaurant is a Boeing KC-97 that was a refueled. As a commercial C-97, it was the first plane ever built with both upper and lower decks. The location of the restaurant was determined by finding a building that could accommodate one of the four huge engines and the wing of the plane that spans the dining room.
Astronauts Joe Engle, Eugene Cernan, Brian Duffy, and the crew of STS 131 have all dined at The Airplane Restaurant. Sean Hanitty of Fox News and Dog The Bounty Hunter filmed his show in the plane.
First opened as Solos 10 years ago, The Airplane Restaurant was renamed a few years ago. The plane seats 42 guests and the entire restaurant seats 250 diners. The cockpit is intact and hundreds of aviation pictures, memorabilia and models are displayed on the walls and ceiling.
The Airplane Restaurant's menu features buffalo and Black Angus steaks and burgers along with fish, salads, sandwiches and ribs. Favorites include steaks and salmon topped with seafood stuffing and finished with Hollandaise.

McDonald's (Taupo, New Zealand)
The former DC-3 passenger plane was built in 1943 and ferried passengers around the country for a New Zealand airline company called SPANZ during the 1950s and 1960s. After her passenger life, she became a top dressing plane known as a work horse of the skies carrying rather large loads of manure. The planes last flight was in October 1984.
The plane was brought by road haulage to Taupo by a local aircraft enthusiast and placed in her current position, originally as a feature attraction for a car dealership called the Aeroplane Car Company. McDonalds purchased the plane in 1990 when they built the McDonalds which opened November 1990.
The McDonalds restaurant is separate to the plane, which is open for dining in.

Runway34 (Glattbrugg, Switzerland)
Runway34 is actually a nostalgic wooden airline hangar with a 1957 Ilyushin Il-14 parked inside. The owners flew it over from Moscow Zhukovsky Airport to Zurich Airport in June 2005.
"We are convinced that having dinner in an airplane is not very comfortable and most of the people made this experience when travelling," said Reto Seipel. Instead, guests get to touch the plane and sit inside and have a smoke. The bar is made of external fuel tanks from a Mirage lll jetfighter and is located on the wing.
We are probably the only company that offers smoking-flights nowadays, said XX. There is no airline fare here but a jetsetter menu in the shape of a wing, Dishes include a red Thai-curry, wiener-schnitzel, and Springbock steaks with sweet potatoes.
Runway34 also has an outside bar called The Red BARon, which is a converted fire engine.

Woodlyn Park (Woodlyn Park, New Zealand)
The Bristol Freighter was a former restaurant at an airport on the east coast of New Zealand. Before that it served in Vietnam and was shot at while making a supply drop in Borneo. The folks at Woodlyn Park had the wings, propellers and tail taken off to move it cross country to the west coast where it is now part of a quirky motel complex where guests can sleep in the plane, a train, and underground hobbit spaces.
The plane at Woodlyn Park has two separate units. The Cockpit Unit which can sleep up to four people. There is no floor space other than a double bed and pilot seats. To get to the cockpit guests have to climb a steep ladder and ascend into the hotel.
Rates are $195.00 per double and $15.00 for each extra person. The Tail Unit of the plane can sleep up to four people. It has a double bed and a set of bunk beds. Rates are $175.00 per double and $15.00 for each extra person.

El Avión (Manuel Antonio, Costa Rica)
El Avión is a Fairchild C-123 that originally built as a glider in World War II before becoming an Iran-Contra relic. The cargo plane is used as a two-floor 300-seat pub where drinks are served in the fuselage and diners eat under the wings. There is a dance floor in the cavernous cargo plane.
A small Metroliner plane is used as an elevator to take food from the downstairs kitchen to the two floors of bar space. El Avión serves seafood like Caribbean shrimp with a selection of sauces and steaks.
El Avión is part of Costa Verde, a 70-room resort that includes the 727 Fuselage Home, a Boeing 727 that has been perched on a 50-foot pedestal and converted into a hotel suite with two balconies on the wings and a bathroom in the cockpit.
The suite accommodates up to eight people and juts out from the jungle canopy, affords views that make guests feel like they are flying. The plane's interior is made of Costa Rican teak paneling and stocked with hand-carved, teak furniture from Java, Indonesia.
Celebrities like Paul Walker have bunked in the plane. Rates for the suite vary by season and start at $250.

Space Shuttle Café
One of the coolest aspects of the Space Shuttle Café is that it is a DC 3 airplane licensed to drive on the street. The Space Shuttle Cafe is a mobile commercial food kitchen that was built from a DC-3 airplane fuselage that was built in 1944 and flew during the last year of World War II. It is painted black and white in the Space Shuttle theme.
The fuselage on wheels was moved in 2001 after it had sat in a field for about 10 years. Over four-and-a-half-years, the owners completely stripped it down to the frame. put in a new motor and built the completely self-contained commercial kitchen.
The Space Shuttle Cafe is used for serving food at car shows, airshows, and local community events around southern California. The Space Shuttle Cafe also does private catering and school events. After being in the food service business for about 20 years and operating the Space Shuttle Café for about the last seven years, the owners have decided to slow down and semi-retire. The Space Shuttle Café is for sale for $150,000.