America's Best Airport Food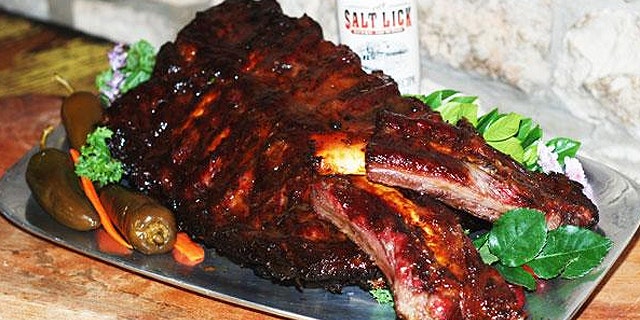 Given the questionable reliability of air travel these days, there's a chance that that booking fee is going to include a no-expenses-paid, overnight vacation in an airport terminal. Or there's always the missed connection or five-hour layover option. The situation can be especially depressing when escaping the airport is not an option.
Fret not, stranded travelers. There is some solace to be found in the food court, of all places. Some airports feature local restaurants, which offer travelers a chance to taste regional culinary favorites without even having to leave the airport. So, whether it's thanks to chicken wings at BNIA or barbecue at AUS, logging a few extra hours in transit can be that much more bearable.
Authentic Mexican tortas and fully dressed dogs in Chicago:
Besides "stuffed" pizza and Italian beef sandwiches, no food item is more quintessentially Chicago than the hot dog. For a true Chicago dog, only an all beef sausage nestled in a poppyseed bun will do. That puppy needs to then be "dragged through the garden," or topped with yellow mustard, diced onions, neon green relish, tomatoes, a dill pickle spear, sport peppers and a dash of celery salt. This mighty dog is available from Chi-town staple Gold Coast Dogs in terminals 3 and 5 at Chicago O'Hare International Airport.
Plump lump crab cakes times two in Baltimore:
As the movie "Wedding Crashers" so aptly proclaimed: "Crab cakes and football. That's what Maryland does!" Many will find the football portion up for debate, but Maryland can definitely carry the title of crab cake capitol. Needless to say there are countless restaurants around town serving up this specialty, but travelers need not leave Baltimore Washington International Thurgood Marshall Airport to have a taste. Two landmark Baltimore restaurants have set up shop at BWI: Obrycki's in terminal B and Phillip's in terminals A and B. Besides golden crab cakes, diners will also find Maryland-style crab chowder (with a tomato broth and vegetables) plus crab prepared every which way. Think crab dip, crab salad wraps, crab meat cocktail and more.
Crusty pressed Cuban sammies in Miami:
Little more than 200 miles separate Miami and Cuba, and the country's influence on the Miami culture is undeniable. When it comes to food, Latin flavors are widespread, and Café Versailles might be called the star of Cubano cuisine in MIA. But, if a day here means reclining in terminal D or E of Miami International Airport rather than on South Beach, sink into a hot Cuban from Versailles. The classic sandwich brings together ham, roast pork, Swiss cheese, pickles and mustard on a crusty Cuban-style baguette. It might taste even more like Miami when accompanied by a guava pastry and strong café Cubano.
Hot and juicy chicken wings in Buffalo:
Yes, chicken wings are available in abundance at just about every airport, but where else besides Buffalo Niagra International Airport serves the original Buffalo wing. It was at the Anchor Bar in Buffalo that the dish was invented by the owner for her son's friends as a late night snack. She took chicken wings that were usually reserved for making stock, fried them and then added a coating of "secret sauce." For a taste of the original, head to the upper level, just past security-and bring plenty of napkins.
A slew of fresh Pacific fish in Seattle:
It's difficult to think of the Pacific Northwest without picturing seafood, and lots of it. In Seattle, Ivar's has been slinging seafood since 1938. In that year, Ivar Haglund opened the city's first aquarium, on Pier 54, and began selling fish'n'chips and chowder to hungry patrons. A legend was born. Now travelers can enjoy the Pacific's catch at Seattle-Tacoma International Airport's central terminal. Taking a cue from Ivar's original snack stand, Ivar's Seafood Bar serves all that and a side of chips. Really. Menu items include: fish'n'chips, prawns'n'chips, scallops'n'chips and so on. For those not so into 'n'chips, also on deck are red or white clam chowder, salmon chowder, grilled fish and Dungeness crab cocktail.
Steaming bowls of creamy clam chowder in Boston:
It's impossible to pass through Boston without sampling "lobstah" or "chowdah." And, when facing the prospect of a long layover, a bowl of thick and creamy clam chowder might offer the right amount of comfort to the travel weary. Legal Sea Foods was established in 1950 in Cambridge, and has become a well-known name in New England seafood with outposts along the Eastern Seaboard. But, where better to give it a taste than on its home turf-even if that means Terminal C at Boston Logan International Airport. Chow down on New England classics like steamed lobster, fried clams, lobster or crab rolls, and of course, clam chowder. Legal has other outposts at Logan: Legal C Bar in Terminal B, Legal Sea Foods Café in Terminal B and Legal Test Kitchen in Terminal A, all serving chowder.
Smokey, tender barbecued meats in Austin:
Texas Hill Country is known for its barbecue, cooked low and slow. Opened in 1967, The Salt Lick is a well known purveyor of this regional specialty, based on an old family recipe of course. Beef barbecue is the name of the game in these parts (unlike in the Southeast where pork is king) and beef brisket is a sure bet. But, outside of Austin at Salt Lick, there's all sorts of meaty goodness like sausage, turkey, chicken and pork. Passengers at Austin-Bergstrom International Airport can rustle up some grub from Salt Lick in the West Concourse.
Click here for more from Aol Travel